Pamela Buxton is delighted to find unexpected vigour at the RA's Summer Show extending into Ian Ritchie's Architecture Room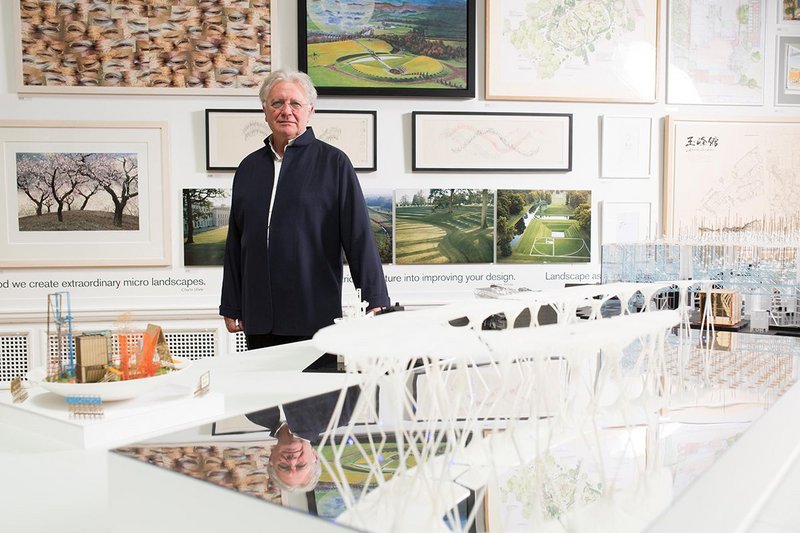 Ian Ritchie RA took landscape as the theme as he curated the Summer Exhibition 2015 Architecture Gallery

Credit: David Parry, Royal Academy of Arts.
I'm not normally a fan, but this year's Royal Academy Summer Exhibition has a zest about it that extends not only through the main show but into the Architecture Room, curated this year by Ian Ritchie.
It's not just the rather zany stripy treatment (courtesy of Jim Lambie) given to the central staircase or the vivid background colours of the main galleries that pep up the unwieldy annual exhibition. This year the Architecture Show gets a plum spot in the large Weston Room, and has enough to interest both mainstream art visitors who've strayed off the main drag and those with a particular interest in architecture.
This year's theme was Landscape, conformed to by greater or more often lesser extent by the exhibits. These range from open entrants through to 15 invited by Ritchie in addition to the contributions of Royal Academicians (including Rogers, Foster, Jiricna, Cook, Hopkins, Chipperfield et al). Around the walls are salient quotes on the theme.
There's a huge amount here to peruse in tandem with the list of works – the minimal labeling gives a sense of equality to the range of exhibitors from students to superstars. Zaha Hadid's paintings catch the eye, but I was also taken with Gordon Benson's Notation/Rotation array of energy-filled paintings incorporating musical scores and contours.
But with scant explanatory information, viewers will have little idea of the context for what they are looking at, not just in terms of location but whether the projects are speculative or live. They may be particularly puzzled by some of the more eccentric exhibits, the strangest of which must surely be landscape architect Martha Schwartz's bronze bagel, presented in a velvet-lined box like some precious artefact, which turns out to be a reference to the Bagel Garden she created at her home. Then there're curiosities such as a chess set with pieces in the form of London's recent high-rise towers (Franklin's Morals of Chess (Jade) by Karl Singporewala), and the Urban Flora Propagation Field Box, for collecting and studying flora to encourage bees, which incorporates measuring, magnification and orientation tools as well as sample storage. Submitted by Laurence Pinn, Ben Kirk & Andrew Diggle, this won the AKT II Architecture Prize for an architect aged 35 or under.
With the context missing, visitors will instead consider the work on purely aesthetic terms. In this, the Architecture Room is an eloquent demonstration of the range of expression and in particular the diversity and virtuosity of architectural model-making, created in everything from charred timber to clay, wax and perspex. The stunning mixed media landscape of Canvey Island – Gold Mine, created by Nic Clear, Mike Aling, Hyun Jun Park and Simon Withers, is particularly memorable.
So what does this room say about the state of architecture? Ritchie was impressed with the 'tactile intimacy' shown in the models by some of the younger exhibitors. He was also encouraged by newly elected Academician Farshid Moussavi's recent commission by Land Securities at Paddington.
'Even hard-nosed developers are beginning to pick up real talent,' he says.
But he believes it is important for architects to 'come off the pedestal and be proactive', pointing to the shining example of Peter Barber and his speculative proposal for affordable workspace and housing for 2000 low income people on the controversial Mount Pleasant Sorting Office site in Farringdon. His model for this new urban quarter of Coldbath Town won the show's £10,000 Turkish Ceramics Grand Award for Architecture.
Royal Academy Summer Exhibition, until 16 August, Royal Academy, Piccadilly, London
---