Ian Shaw finds the exacting standards and precision of German design are his perfect fit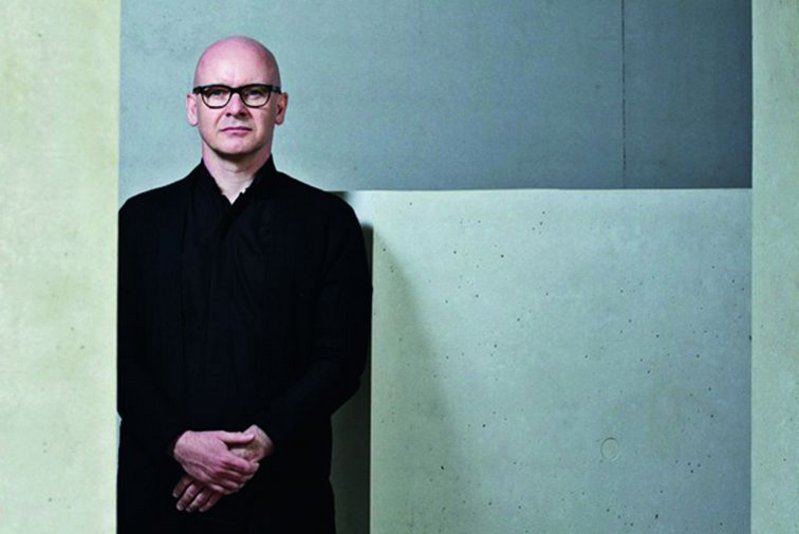 'He's more german than the Germans'. That's what they say: colleagues, clients and friends. It's a little weird, I'm a Mancunian, but it is flattering: German architecture is all about exacting standards and tectonic precision. They call it 'Baukunst' – the recognition of building as an art form – and this is what we aspire to in our projects.
Ian Shaw Architekten was established in 1998. There are six of us and I am the only Engländer. We are based in Frankfurt, but we receive commissions from all over the country. We have also completed projects in the US, Russia and India.
Before moving to Germany, I spent three years in London, having graduated from Liverpool University in 1989. I worked first with Ken Armstrong – which was quite an experience. Although the firm was small, its architecture was widely published and won numerous awards for design excellence. But after a year I was looking for something more structured. I wanted to hone my detailing skills, and I when I joined Lifschutz Davidson Sandilands this is what I did. LDS also gave me the opportunity to work on some decent design projects – the wing-like canopy roof for south London's Oxo tower restaurant building on the Thames being one of the most interesting.
Back to Europe
After three years, though, I wanted to get back to Europe – sorry, I mean mainland Europe! I was spoilt having done my internship with the acclaimed Swiss practice arb Architekten in Bern: with such clarity of thought, and its integration of design and construction, the firm does some beautiful work. The master builder ideal – 'Baumeister' – is alive and well out there. So when I got the opportunity to work in Germany – which comes a very good second to the Swiss – I had to take it. I had learnt German during my time in Bern. Actually, I had learnt Swiss German, but while I knew it was different, I didn't appreciate how different. Big mistake. It must have taken me a good six months to adjust to High German (Hoch Deutsch). My colleagues wanted to speak English, but I insisted on German. They were very patient with me.
The company that I joined, and subsequently worked with for two years, was Braun and Voight, a highly respected practice in Frankfurt am Main.
Within six months I was promoted to project director. This did feel a little odd because I was the youngest architect in my own team. One of my colleagues was in his early 60s. He was a site supervisor. His knowledge of construction was incredible; he gave me such an insight into the building culture over here: it's about 'making' architecture, creating a sense of permanence, and being part of a tectonic tradition.
'In Germany you don't have to apologise if measurements are out by a couple of millimetres – it's done again until it's right. And this applies to all areas of construction'
I need to stress that I'm not suggesting such attitudes don't exist in Britain. But it just feels more pronounced in Germany. Everything is taken to the nth degree. Building regulations are incredibly exacting, but it makes you sharper, more disciplined and more demanding. In Germany we just assume the very highest standards. You don't have to apologise over here if measurements are out by a couple of millimetres – it's done again until it's right. And this applies to all areas of construction.
Super sustainable
Another issue that is central to building design in Germany, and has been for some time, is the environment. The country's green credentials are second to none. The first Passivhaus dwellings, I believe, were built in Darmstadt as early as 1991.
In fact, we are working with one of Germany's leading environment engineers, Professor Tichelman, at Darmstadt University of Technology – developing our own version of the plus energy house concept. And within this work process it's the architect who controls the costings. We don't have quantity surveyors in Germany. Not surprisingly, this helps us appreciate how much things actually cost. Moreover, along with environmental issues, it informs how we design and how we build. This methodology applies to all our projects, both here and abroad. And yes, of course, we would love to build in the UK.
My architectural education – along with my three years of professional experience in London – taught me design theory, but the Germans taught me how to make buildings work. I still miss English humour, though. No one does irony like the Brits.
---
Ian Shaw is director of Ian Shaw Architekten BDA RIBA. He is also a director of the Frankfurt division of the Bund Deutscher Architekten (BDA), a member of Frankfurt's planning advisory committee, and holds membership of the German Federal Architectural Associations in the states of Hessen (AKH) and Thuringia (AKT).
www.shaw-architekten.de