If you know Rem Koolhaas's Casa da Musica concert hall in Porto, then you'll be familiar with the concept of the landed-meteorite building: a big space perched high in the air on chiselled flanks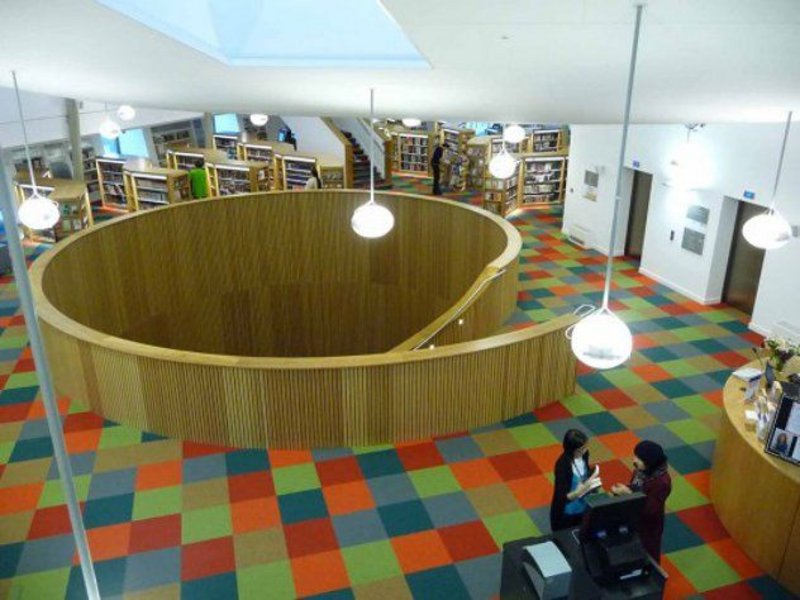 CZWG's new £14m Canada Water public library in London's Surrey Quays, however, is the Casa da Musica as re-imagined by Gerald Ratner. An aura of cheap bling hangs over it. Instead of smoothly sculpted concrete, you get gold-anodised cheesegrater mesh over a membrane. Inside you get a jaunty arrangement of multicoloured carpet tiles and a grand spiral staircase that doesn't quite come off, and gobbles up too much precious floorspace.
So, oh dear, it's trying to be an 'icon'. But it's good news nonetheless: investment in a big new public library in a deprived area of Southwark, plugged right into Eva Jiricna's Underground/Overground station alongside, funded by the developers of what is a big regeneration zone, and overlooking a remnant of old dock. it is undeniably popular: when I called by on a weekday afternoon it was crawling with people - in the cafe downstairs, at the computer screens upstairs with their free internet access and wifi, in the children's library. The adult bookshelves, despite being just as free as the computer screens, were eerily deserted. A sign of the times.
But just because libraries are virtuous - and this one also contains education rooms and a small theatre space - does not automatically make it a good building. Nor is it absolutely terrible, just a let-down. With Piers Gough of CZWG, you expect something a bit unorthodox and brazen, even crude: that's his style. So the vigour of the concept and the clunkiness of the finished product is par for the course. Its splayed flanks - it's a bit like an inverted irregular pyramid - have a functional justification: given a tight site and a large space requirement, by expanding outwards and placing the main reading room on top, you generate the necessary space.
That's fine, though I was puzzled to see that a plaza is now being laid out next to it, land which could presumably have been used. But never mind, it's a masterplan. Inside? That grand stair is nice up to a point, a timber-lined drum. But from below you get no sense of the library up above, just a view of the ceiling tiles and skylights. Perversely, Gough chooses to bring his ceiling down to a flattened point over the stair, rather than have it soar upwards. And when you arrive in the library - having passed invisibly through the admin level - you realise just what a huge chunk of floorspace this gesture has sacrificed.
The layout is a bit confusing - it's not clear at first which way to turn for the various functions - but it's an OK library with good freestanding crinkle-crankle shelving units and some nice nooks here and there. Books need nooks. Then comes another odd touch: around the very top, up a further stair, runs a narrow gallery housing more computers. Uncomfortably narrow, in fact: as you sit there, you are always aware of people brushing close past your back.
An exchange of views on Twitter reveals this to be a Marmite building: some abhor it, some defend it vigorously. Dull, it certainly isn't: from the hand of Piers Gough, it could never be. For me it is the classic curate's egg: good in parts, iffy overall. As a much-needed pubic cultural building, it must score highly. As a well-considered piece of architecture, I give it 4/10. It will doubtless be showered with awards.