After Grenfell, the basics of architecture are central stage. In an exclusive film, Francis Kéré talks about the community imperatives of his Serpentine Pavilion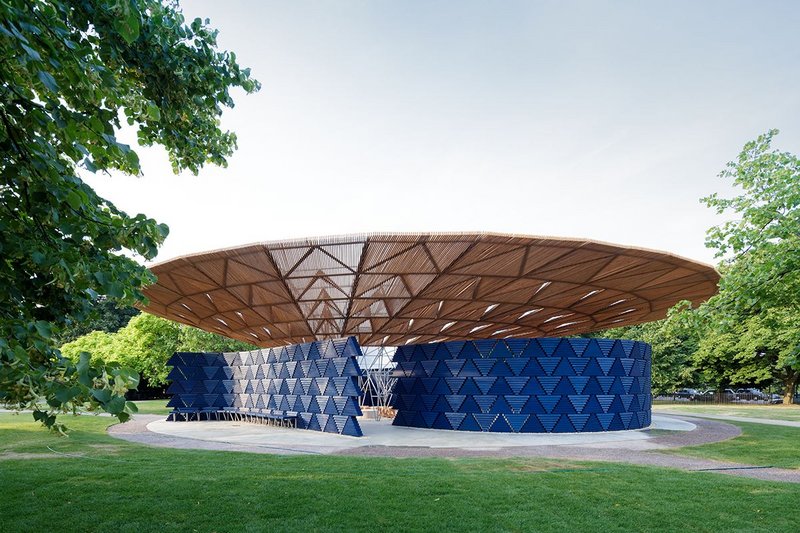 It's a difficult time to celebrate architecture. In the shadow of Grenfell Tower in Kensington, the 2017 Serpentine Pavilion designed by Francis Kéré opened to the public on 22 June just over the border in the next borough. It's usually a light-hearted event for fun and frivolity marking the beginning of summer, but as we gather architects are weary of their craft, contemplating what part – if any – their profession has played in the tragic fire that swallowed up a 24-storey, recently-refurbished, housing block a week earlier. No doubt many are concerned about the integrity of their own projects and commissions.
In this context of serious technical assessment, it is difficult to discuss the other aspect of buildings – beyond being something practical, to architecture with joy and cultural influence. Each speech at the press opening began with a tribute to those lost in London's recent disasters caused by fire and terrorism. But if there was ever a better architect to build this year's pavilion, the 17th in the series which began in 2000, against such a challenging backdrop, Francis Kéré is the one, and the Serpentine is lucky to have chosen him for such a poignant year.
Kéré's Serpentine Pavilion is inspired by the trees that communities gather around back home in Burkina Faso and, as he explains in our exclusive video below, reminds visitors what community is about. Its fabric and design embodies it. A great 25m-diameter funnel roof draws visitors under; it's free-standing free-flowing walls of blue-painted timber chamfered in alternate directions shimmer in the sunshine like an enticing African fabric below.
'Blue is an important colour in Gando, it's the colour you wear when you go to meet the most important person in your life. So if you have the chance to do something in London, you come with your best clothes,' explains Kéré.
Yet this is not architecture as a dramatic showy image, it's about the fundamentals: a shelter for people's lives, connected to the outside world, but also protected from them. Glimpses of light enter through slits in the walls and between the fanned out timber slats of the roof soffit. Kéré has used simple materials – concrete, steel and wood – to create the most inclusive shape, a circle, to define his community, brought together under an enveloping umbrella roof that gathers together in the middle too. The hollow of the funnel, open to the sky, gives a feeling of being touched by heavenly light if you cross it on a bright day, and becomes a waterfall in the rain. All the elements of Kéré's architecture are there, assembled in London with even more dynamism and energy – braver and bolder for a 'city that has everything'.
In all, Kéré's 2017 Serpentine Pavilion spells out the importance of finding a space for people to come together as communities, rather than architecture as object. It has the natural feeling of being a place to mill around, rest and convene. It's inclusive to all, with a playground built in as part of the architecture too. And if there is a single positive thing that comes out of all these tragedies that have struck Britain in recent weeks, it's that there is such a thing as community; communities can and do come together, and they are worth fighting for. When you strip away the material every day, Kéré's architecture and his Serpentine Pavilion champion this, knowing that sometimes bare hands and the natural, collective, caring human spirit are best. The fact he flew over his entire team from Berlin to celebrate this opening proves it.
To see more on Francis Kéré read our profile detailing his journey from Burkina Faso to international architect or come and listen to him at the RIBA's International Conference.