New buildings rarely get a book to themselves, but three slim new volumes tell the story of modest projects in revealing and inventive ways
Making books on individual contemporary buildings is something of a niche activity, even within the niche field of architectural publishing. One reason is financial: the potential readership is small and the numbers rarely stack up. Most single-building monographs that do make it into print deal with big, expensive projects. Swedish publisher Arvinius & Orpheus' handsome new volume on JKMM Architects' Amos Rex Art Museum in Helsinki is a case in point. It is the first in a planned series of books covering 'pioneering' projects in Finland. Later in the year the same publisher is set to produce a 500-page doorstopper on Bjarke Ingels' Amager Bakke – the Copenhagen power station with a ski-slope roof. So it is a treat to see the publication of three slim monographs on small buildings: a funerary chapel by David Chipperfield, a house by David Adjaye, and a temporary pavilion by Price Gore with artist Yinka Ilori.
Two in particular take unorthodox and imaginative approaches to form and content, seeking novel ways of representing buildings that accord with the spirit of the projects. They point to one of the pleasures of such studies: the space and freedom to be digressive or experimental, even at the risk of being indulgent. That contrasts with many other places in which building projects are presented – from practice websites to awards brochures and magazine features – which have the advantage of concision, but are necessarily reductive. With the scope to come at buildings from all angles, to explore process and product, false starts and unexpected outcomes, such studies offer encouragement to think harder about how we tell stories about architecture.
---
Inagawa Cemetery Chapel and Visitor Centre
Buchhandlung Walther König, 136pp, £30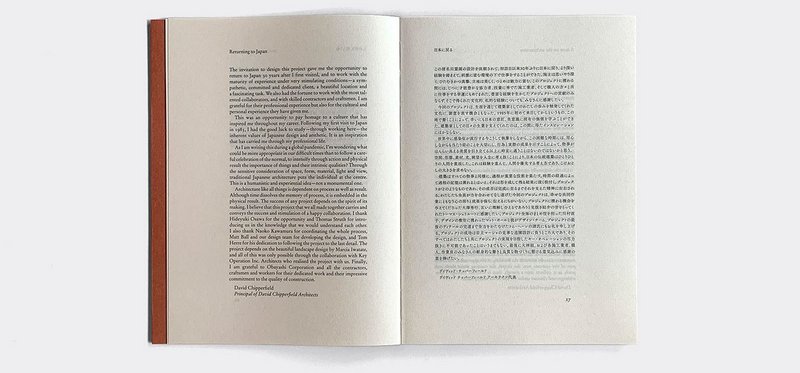 Every page of this exquisite book on David Chipperfield Architects' chapel at Inagawa Cemetery in Japan is redolent of the slow and careful deliberation that went into the building's design, and its quiet, contemplative atmosphere. Published by Cologne-based Walther König (which has also put out a compendious scrapbook on DCA's Amorepacfic headquarters) and designed by John Morgan Studio, it is a seriously beautiful object.
A dust-wrapper of salmon-coloured Japanese paper, barely heavier than tissue, alludes to the pink concrete structure set in the forested folds of the Hokusetsu mountains. An intimate connection between the building and the landscape is reflected in the structure and content of the book. Photographs by Risaku Suzuki and Thomas Struth showing the building in its verdant setting are interspersed with gorgeous close-ups of wildflowers and tree branches, as well as thoughtful essays – presented in English and Japanese – architectural drawings and botanical illustrations, printed on a matt stock reminiscent of traditional washi paper.
Over the course of the book we move through the seasons, in a conscious echo of the way that the building uses light and changing foliage to draw attention to the passage of time. The deep shadows of summer give way to drip patterns on the walls in autumn, and a dusting of snow in winter. It ends with spring, and pink cherry blossom against the pink walls: a new beginning, and a symbol of the ephemerality of life.
---
Pricegore & Yinka Ilori – Dulwich Pavilion
Park Books, 36pp, £25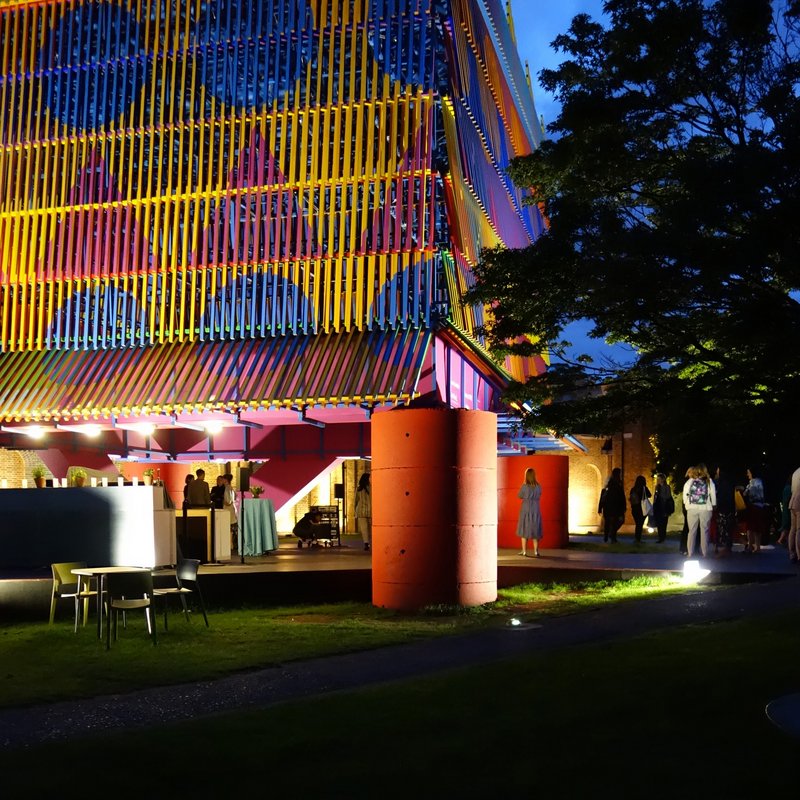 The freedom afforded by the single-building study is fully exploited in Pricegore & Yinka Ilori – Dulwich Pavilion in London, published by the Swiss imprint Park Books with the support of the Graham Foundation. This 36-page, board-bound volume is a record of the Colour Palace, a temporary structure sited at Soane's Dulwich Picture Gallery and designed by architect Price Gore and artist Yinka Ilori. The project drew on both Ilori's Nigerian heritage and the architects' 'euro-centric' interest in architectural history, seeking instances of cross-cultural connection which directly informed both the structure and decoration of the pavilion.
The architect-editors have opted not to spell this out in detail. Instead, the project's intellectual context is brilliantly but obliquely evoked in a text – almost a prose poem – contributed by South African architect Sumayya Vally. A string of 32 factoids describes a web of historical connections between south London and Nigeria, taking in the distant past of the site, the Scramble for Africa and recent migration. A second essay by architect Job Floris meditates on colour.
The book also eschews the sort of perspective-corrected architectural photographs that show pristine buildings in the kindest light. Instead, all of Sophie Roycroft's shots were taken at a single night-time event. All of that might frustrate readers looking for a comprehensive account, but Pricegore & Yinka Ilori – Dulwich Pavilion works as a snapshot of a moment in time, capturing something of the creative energy generated by a last-minute competition entry, and the hum of social activity around a project that flowered brightly but briefly.
---
Lb 01 | David Adjaye Mole House
Amag Editora, 64 pp, £27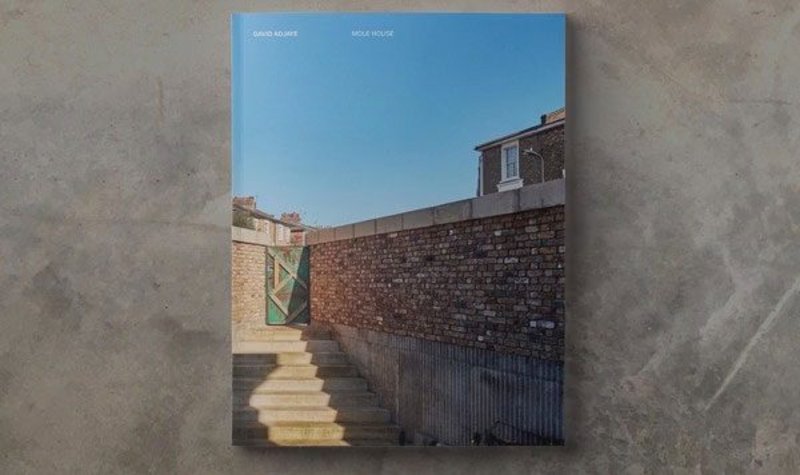 Portuguese publisher Amag has a long-running series of small-format single-building monographs called Square Books, mostly featuring work by architects from the Iberian Peninsula. It has recently launched a new series, Long Books, covering 'projects which establish new paradigms in architecture', issued in editions of 1000. First off the press is a study of David Adjaye's Mole House in East London.
It's an extraordinary story: Adjaye created a home and studio for artist Sue Webster from a ruined dwelling formerly occupied by the Mole Man of Hackney, who – for reasons known only to him – spent 40 years digging tunnels and chambers under his dilapidated property and its rubbish-filled garden. Traces of this activity are preserved in Adjaye's 'archaeological' overhaul, a process of excavation, stabilisation and reinvention. It's a shame that texts by Adjaye and by the critic Peter Allison aren't accompanied by visual evidence of the found condition, or the architect's careful surveys of cracked plaster, but much of its character survives in the renovated building. That is thoroughly documented in drawings and large-scale photographs by Ed Reeve, which are given ample space to breathe by the minimalist layout.