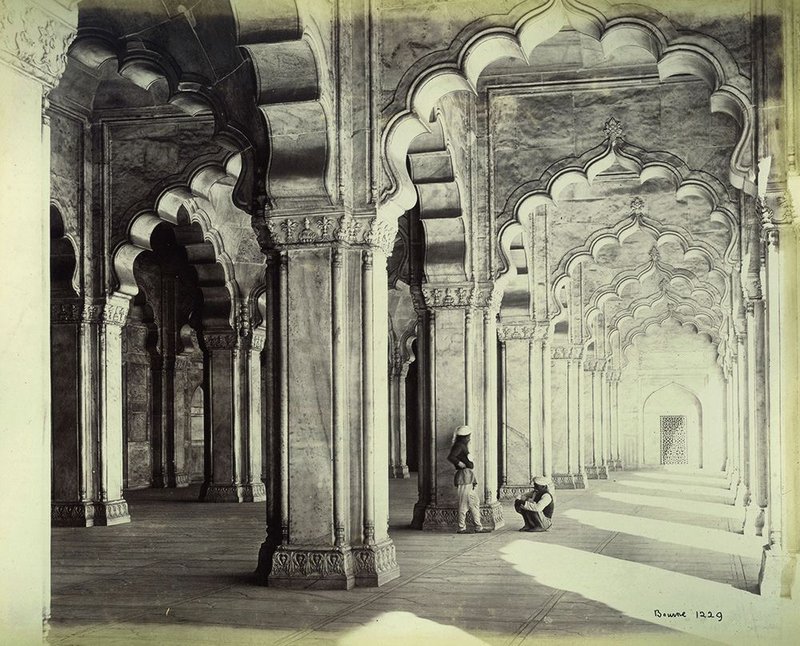 Credit: Samuel bourne | riba library photographs collection
Photography was introduced to India shortly after its invention in the 1830s when the East India Company employed the new technology to document topographical information previously recorded with drawings and watercolours. Following in the footsteps of painters, these photographers revealed the subcontinent's rich architectural heritage back to society in Britain.

Samuel Bourne spent only six years in India but, with his partner Charles Shepherd, formed its most successful commercial photographic studio – their Calcutta branch still operates today. While there, he shared tales of his adventures through vivid letters published in the British Journal of Photography. He returned to Britain with 2200 glass plate negatives of the landscape and architecture, including such monuments as the luminescent white marble-clad Moti Masjid, or Pearl Mosque, in Agra Fort, which he published as Photographic Views of India.

Bourne was technically brilliant, producing artistically accomplished compositions in challenging a physical environment using a laborious wet collodion process. His major income stream was certainly Anglo-Indian and his photographs epitomise the then Western vision of the exotic East populated by beautiful temples and mysterious natives.
---
More images at ribapix.com