The Beirut-born architect describes her move to Paris, the transition to opening her own studio, and the importance of the natural world to her work - including this year's pavilion
Isabelle Priest: Why and when did you start Lina Ghotmeh studio?
Lina Ghotmeh: I started my studio in 2016. In 2006, I began a partnership with Dan Dorell and Tsuyoshi Tane. I had been working at Jean Nouvel on a collaboration with Foster + Partners near St Paul's Cathedral. I was always looking at competitions and found one for an Estonian National Museum. Estonia had regained its independence in 1991 and joined the European Union in 2003. I identified with this country that had lived through occupation and war. I was 25 years old, and we won. It was a long ride. Coming from Lebanon, you learn to pull things along yourself. People didn't believe it would get built. We delivered the project 10 years later, but during the collaboration I naturally started developing my own way. I started Lina Ghotmeh Architecture by taking over some of that company.
IP: Tell me about the studio
LG: We are an international team of 25-30 people. We're in Paris, but we have people from everywhere: Africa, the US, Europe. It's a microcosm of the challenges of our world.
IP: You were born in Beirut. How has this influenced you and your work?
LG: Growing up, I saw the city destroyed by war. I witnessed what humans can do to places and each other. At the same time, I saw the power of nature, because between the ruins nature spurred, giving beauty and hope. Symbolically and physically, it made one think about architecture as an act that brings people together and the pleasure of feeling at home. Beirut has been buried seven times. Wherever you walk you have texture and layers of history, and a feeling of unfinishedness. I was fascinated by the process of searching, tracing, assembling and constructing a story. I wanted to be an archaeologist, but I also wanted to be active in the space rather than relating only to the past.
Unfinished spaces unleash the imagination. It's precious how as architects we can allow spaces to be open. Beirut has a porosity. For example, the sidewalk is a public space to sit, put a table, have a coffee or appropriate. This fluidity is spontaneous. It's inspiring to think about architecture not as an act of creating closed spaces or boundaries, but of relationships and porosities. At our Hermès project, which opened in April, you enter a courtyard that's open. It feels almost like a ruin, which allows it to be used in many ways.
IP: Why is the studio in Paris, and what are the differences between Beirut, Paris and London?
LG: Paris is where I first landed from Beirut in 2006. In a way it's a coincidence, I had an apartment to go back to. There are different ways of thinking about creativity in London or Paris. London is more cutting edge and experimental. Paris is more historic. They are an interesting mix and complement my culture. I went to French school and I did my studies at the American University of Beirut. Paris is an in-between point between Beirut, London and the rest of the world.
IP: How did you come to be an architect?
LG: My mum was studying architecture when I was little, submitting her diploma when I was six or seven. I remember her models and Rotring pens. This was from 1980 to 1992 during on-off bombing. Creativity was the place where one could unleash, imagine, dream of another world. I spent so much time drawing. My mum never practised as an architect, she taught design. When I started studying, I was also interested in genetic engineering. I was fascinated by the body. At the American University you can do other courses so I did some in biology. Now, when I think about them, they're all interlinked. Architecture is an expansion of the body and nature.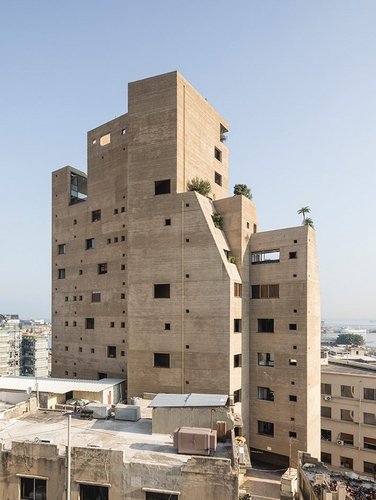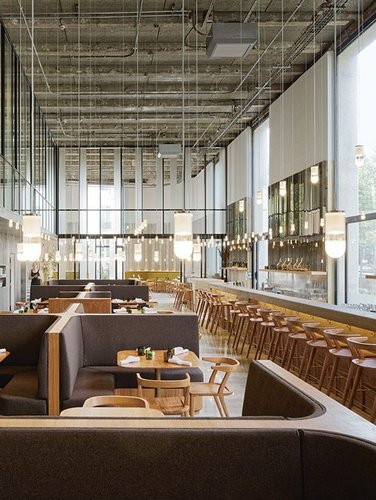 IP: What is the role of sustainability in your work?
LG: At Lina Ghotmeh Architecture, the 'A' of architecture is a multiple 'A' for architecture, aesthetics, artisanal and artefact. Architecture can envelope multiple disciplines, but the environment has always been at the heart of my practice – what ties us to this world and how can we make sense of what we're making and make it worthwhile, especially with the pressing environmental crisis.
More and more I believe we are climate beings, linked to our geography, the soil, topography, weather and what we eat. We're rooted in a place in the ways we grow up. The relationship to the climate is strong – mine to the Mediterranean, sun, colours and feeling of intimacy on your skin. I look for this in architecture to create places that are warm and cocooning through colour and texture.
IP: How did you go about designing the Serpentine Pavilion?
LG: I was invited in August last year. The design is not spectacular, but subtle, and about interior. We started by looking at the concept of the park and how the Serpentine galleries are separated by the lake. Our perspective was how the pavilion can emphasise nature. Historically, the building next to the pavilion was a tea house so this idea of eating and being together was already part of the space. The table became the starting point. Then it was about creating a structure that would not disturb the tree roots and canopy. That gave a circular form that follows the ribbed structure of a leaf. It looks organic, but the same beam supported by two columns constructs the space. This generates a gallery on the perimeter, leading towards an open centre in the roof where people meet. It's playful, almost like a carousel. I've enjoyed that it's time apart to make something from scratch and explore. There are no constraints except for park regulations and low-carbon requirements. It's also open to everyone, a joyful place. That's exciting – as is the seriousness of the discussions that can take place there.
IP: How do you go about designing new projects?
LG: It's about materials. Hermès in Normandy is a manufacturing facility for leatherwork. It was a push into how we use local resources, like bricks, and vernacular construction; how to take them forward using technology, our understanding of material consumption and the beauty of architecture. The bricks are made close to site. We did bioclimatic studies on how to reduce the environmental impact, taking advantage of north light and prevailing winds, and using geothermal energy and solar panels. Designers tend to design, then work out the structure. What we did allowed Hermès to be low-carbon, energy-positive and passive with ambitious architecture. We brought back local bricklaying skills that had been lost. The building is on an industrial estate, with hills and nature beyond. We aimed to restore the dignity of the site.
IP: What has been your turning-point project?
LG: Every project is a learning process to push boundaries. However, Stone Garden in Beirut is most personal because it's in my home town. It tries to critique housing strategies in the city. The project started when I met Fouad El Khoury, a photographer. He had inherited land from his father who was a Lebanese modernist architect. He wanted to develop the site next to the port that was destroyed by war. The question was how a residential building can speak of the memory of the city, and not be just another developer tower.
The housing does not repeat the footprint. We are in the Mediterranean, so we don't need glass buildings. The openings are spaces for nature, full of planters. I also wanted the building to emerge from the ground, worked by hand. Beirut is a systemic area, so we couldn't build using earth. The facade is a hand-combed render. The photos were taken by Iwan Baan before the explosion in 2020. It wasn't finished, but I'm grateful I had some. The structure was solid, but the windows were blown out. It's an unfolding building.
IP: What is on the horizon next?
LG: We have won a competition to design a museum in Saudi Arabia that is in partnership with the Pompidou Centre. The project is a cultural oasis in an agricultural setting, so it plays a role in reviving agriculture, intertwining arts and agriculture, building with the earth and local industry. We are also in the process of finishing a logistics building, where the envelope is sculpted by hand.