Tim Heatley, co-founder of Manchester developer Capital & Centric, is ambitious, savvy and successful. But as he draws together quality projects and investors, his aims go far beyond simply making money
If Tim Heatley is feeling smug that he's now building his £250 million Kampus development on the city centre site of the university that failed him for his law degree two decades ago, he's not giving anything away. But then Heatley, 41, heads Capital & Centric, the Manchester development firm he co-founded in 2007 with business partner Adam Higgins, and that sports the kind of statistics that speak quite happily in his stead. Half a dozen major schemes now in construction in the city centre and around are worth in the order of £300 million. Of the 12 other commercial and residential projects listed on Capital & Centric's achingly on-point website, six are fully up and running with another half dozen in planning. We're sitting in the slick offices of the 500-apartment, build-to-rent Kampus mixed-use development near Piccadilly station. Overlooking the bars of Manchester's famous Canal St, he might be forgiven for feeling quietly self-satisfied.
But don't think Heatley is a shrinking violet. Anyone who saw BBC2's 'Manctopia', which aired late last year, will recognise him as one of the people that its producers followed over 20 months as they investigated the implications of the property boom in the Northern Powerhouse's capital. From the mayor of Salford to Manchester's homeless, Heatley was one of a curious, compelling menagerie shedding light on the unfettered property speculation affecting the lives of the city's residents. In it, he seemed either to be in a hard hat and high viz,trudging round his £35 million, Grade II-listed, roofless, rain-soaked, delayed Crusader Mill residential scheme, or musing while driving to face off squatters of the derelict buildings he bought up to create his Piccadilly East quarter. Heatley makes for good TV – driven and straight-talking, whether that's to mayor Andy Burnham (who must be on speed-dial) as head of his 'A Bed Every Night' homeless initiative, or at a Salford's Buile Hill Park planning meeting, where (spoiler alert) disgruntled residents scuppered his proposal for 60 affordable homes to be built in the council-owned park around its derelict Greek Revival mansion.
But he doesn't seem at all bothered about being portrayed as the bad guy. 'Manctopia homed in on notions of jeopardy and conflict in order to make interesting TV. While I watched it over lockdown with my Mrs behind a cushion at times, I was happy with it generally,' he says, aware of the Faustian pact he signed up to. 'I agreed at the outset with the BBC that nothing would be off-limits and we tried to be open and honest, which I reckon gave us more air-time in the end. Any aggro I got since was from people who hadn't watched the whole thing through,' he adds.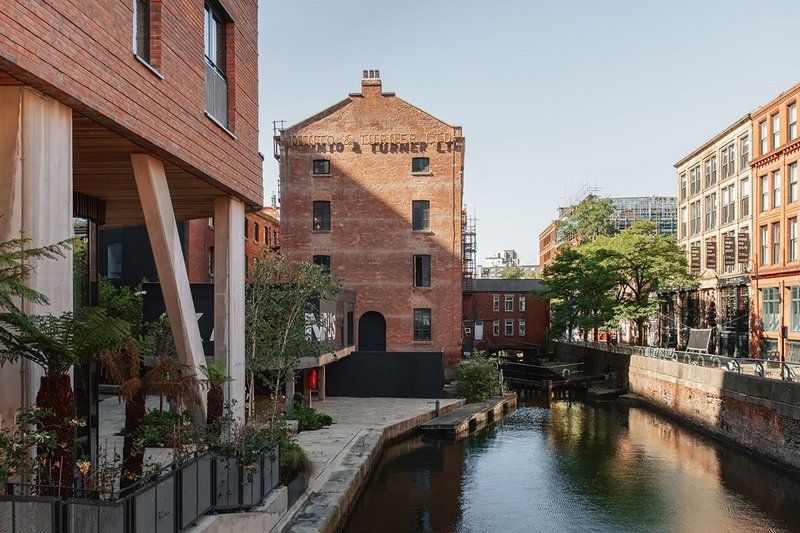 The £250 million Kampus development occupies a highly desirable site beside the Rochdale Canal in the centre of Manchester's 'Gay Village' nightlife district.

Credit: Capital & Centric
Sitting in front of me, sharply casual in black tailored trousers and buttoned-up polo, he has an easy, affable nature – and presence. Viewers will be aware of his 'wheeler dealer' student days, where he bought discarded art student work, framed and upsold it online before doing the same with cars, selling them for hundreds more than he bought them for 'while my mates were still working for minimum wage in the Trafford Centre.' Then he tried it with a run-down, £65,000 house in Salford, spending £15,000 to do it up and selling it for twice what he paid. So far, so developer; but what viewers won't know about is his own inner-city Salford upbringing and 'lefty' care-worker parents, home-fostering vulnerable, mental health children alongside him and his two sisters. When his father lost his job in the 1980s and Heatley found himself in the free dinner queue at school, a penny dropped. 'I remember standing there looking at other kids living in way worse situations than mine and thinking how lucky I was. Those memories don't leave you; the awareness of that level of disadvantage.'
While this might not quite have turned him into Mother Teresa, it certainly affected the way he does business all those years later at Capital & Centric. 'I think it helped inform the core social agenda of our business – to have in place some form of positive social legacy,' he explains. 'Our aim was to be as inclusive as possible, to somehow help with local job creation and try to create exemplary architecture, accessible to all.'
But with developers like Bruntwood, Peel L&P and Argent clamouring for their slice of the city pie, what made the BBC pick Heatley? He thinks it was the owner occupier aspect of his housing projects: 'We don't sell on to buy-to-let investors and I feel that piqued their interest, as it was different to the norm.' Even today, a sign on the wall of the firm's still incomplete Crusader Mill development reads 'Do not buy this apartment if you're an investor' – a provocative campaign that saw local residents rush to his nascent Piccadilly East quarter to buy the 123 shedkm-designed flats off plan. Heatley admits that the government's Help To Buy scheme contributed to the long queue. The 'keep it local' policy worked wonders, though there were awkward meetings later, with owner occupiers anxious when the project got delayed. This turned out to be good TV, not least for showcasing Heatley's skills at taking flack and charming buyers.
And charming people well is crucial when your business model, in the main, involves convincing others to part with their money. Heatley points out that Capital & Centric holds no debt as 'banks just didn't understand us. They obsess on rent and yield and what something is worth on paper and we're, like, "forget that". We want to work with organisations who are keen on long-term city regeneration and care about what's created. They're the ones that lend us money.' Delays at Crusader Mill could have spelled the end of the project, but the funding partner here is the Greater Manchester Combined Authority – which, he adds, is keen as mustard on the saving of a historic building, the resident buy-in and use of a local contractor. Again, at the bold Jenga Hotel that Capital & Centric is building on Adair St, the £2 million site acquisition and £22 million build cost was financed by the Greater Manchester Pension Fund. Fattal Group, which owns Leonardo Hotels, has paid more then £35 million for the development. Funds for the firm's less glamorous Bunker and Tempest workspace in Liverpool came from the City Council and European Regional Development Fund. The same with its 25,000m2 re-envisioning of Liverpool's old Littlewoods building into an academic creative arts faculty with workspaces. Dubbed Littlewoods Studios, the near derelict building is a tie-up between the City Council and John Moore's University – local organisations local organisations deeply invested in its success. Heatley sees this as the future of education.
And what of the architecture? Heatley smiles wryly when I call Capital & Centric 'Urban Splash 2.0' but concedes Tom Bloxham's pioneering model highlighted that good design could make a critical difference to a project's viability; perhaps more then, when Manchester margins were harder won. Heatley is clearly an advocate of good design and the real benefits it brings to both his bottom line and the lives of those who buy-into or rent their properties. For example, he says the sharp brick detailing of architect SixTwo's Foundry building, one of its early owner occupier workspaces, almost doubled the off-plan unit values when it was finally built. 'Behavioural psychology interests me with architecture,' he says. 'We get a premium of 10% over standard rents and sales values compared to generic developments – that's based purely on how it is designed.'
It's an outlook that has informed his roll-call of architects. SixTwo for starters. And shedkm, which has become the go-to firm for Capital & Centric – not least at Kampus, where with Chapman Taylor, it took on the massive Mecanoo-designed masterplan. But, next to its finished Phoenix apartments at Piccadilly East, the architect is also busy completing the Crusader scheme. Nearby, the sizeable, trendy city centre Ducie St Warehouse was refurbished by hospitality architect Archer Humphryes; while the Leonardo Hotel is by local Stephenson Studio. Heatley says it took three iterations for the practice to loosen up enough to give Capital & Centric the 'WTF factor' it was looking for. Clearly, the business is as keen to nurture homegrown architectural talent as it is to see projects locally funded, but ultimately he says it's about long-term relationships. Small firms will go the extra mile whereas big ones, though they can really drive projects, can also be less flexible. 'It can be like Tinder with them. They'll say "Let's meet up. I want to get married – and here's the bill for the reception",' he adds. 'We prefer an informal lunch and a chat, then maybe we can have dinner some time…' It's the same when pushing the design envelope. 'We look for firms that can make things look great without costing a fortune. Ambitious, pragmatic architects who stand up to builders and fight their corner; ones with a sparkle in their eye, making clever use of space or materials.'
But the firm is also aware that the kind of raw, industrial aesthetic commanding its £1500/month rentals comes at a price. 'It can end up being a bit Dolly Parton – costing a lot to look cheap,' Heatley quips.
While Capital & Centric might have benefited from Manchester councils' seemingly negligible demands for affordable or social rent homes in its developments, it's gone on record to state that its business model of higher quality newbuild and costly warehouse refurbishment cannot work on that basis. Instead, it pays undisclosed cash sums into the councils' general Affordability Funds. It's a shame. With Heatley's driven, 'can-do' attitude it would be interesting to see what he could turn up given the leverage. For now, we have to be content with his Jon Matthews Architects-designed prefabricated Embassy Village, done with Peel L&P – a stepping stone for the city's homeless, being built under the rail arches west of Deansgate.
But that it doesn't mean Capital & Centric isn't thinking about housing in other, lateral ways. Most recently, it's been looking outside central Manchester to see if it can, albeit selfishly, activate housing markets in nearby depressed, post-industrial satellite towns as a spur to wider regeneration of urban centres. And again, it's about purchaser psychology, Heatley explains. 'Manchester is now competing on an international stage. It has a great business ecosystem, is aspirationally green, has good healthcare and is LGBT friendly, and is attracting talent from places like Copenhagen and Berlin. We may stigmatise the towns of Bolton, Rochdale and Stockport but new, international workers don't.' So the firm is working with the big guns to build cases for higher density living near these towns' transport hubs for an easy commute. Homes of 1-5 beds, with play streets, café culture, running tracks, electric car charging – curating new communities within the existing. Hence Farnworth Market in Bolton (200 homes) and Weir Mill, Stockport (253 homes) with BDP. And shedkm's Neighbourhood Rochdale with some of the council's £400 million regeneration pot – 235 homes built on a former retail park. At around £50 million each, Heatley knows such schemes are a risk. 'What sold here last week is our benchmark value; and we know for sure that on Day 1, the value of any home we build will be less than what it cost us to put it there. So we have to eke out a margin over a 15 year period and to do that we need patient equity; not a bank but local pension funds and socially aware venture capital.'
But you feel these are the challenges Heatley gets up for in the morning. Quoting a TV line back at me, he boasts that the firm spends £2 million a week on its developments. Every new resident that moves in gets 15 minutes of fame on the firm's hyperactive social media accounts, because 'if you're doing a job, you have to tell people about it too.' And Heatley's young enough to be acutely aware of the online community's value 'even if it isn't real estate per se. Showing funders and backers that we have the ability to influence and create communities around ideas – when you own the real estate that community exists in – has immense value.'
By contrast, Heatley is off our screens for now; but that's only because he's changing the face of the city he loves, moving-in his new canalside community – whose 10 floors of flats sit atop the lower-level social spaces he carved out of his old MMU campus. And he plans it to be SOCIAL. 'There's a separate entrance if you don't fancy the hustle and bustle – but getting to your apartment through a café – how cool is that?'