Relive the intoxicating world of nightclubs, a synthesis of all art forms including performance, at Into the Night at the Barbican Art Gallery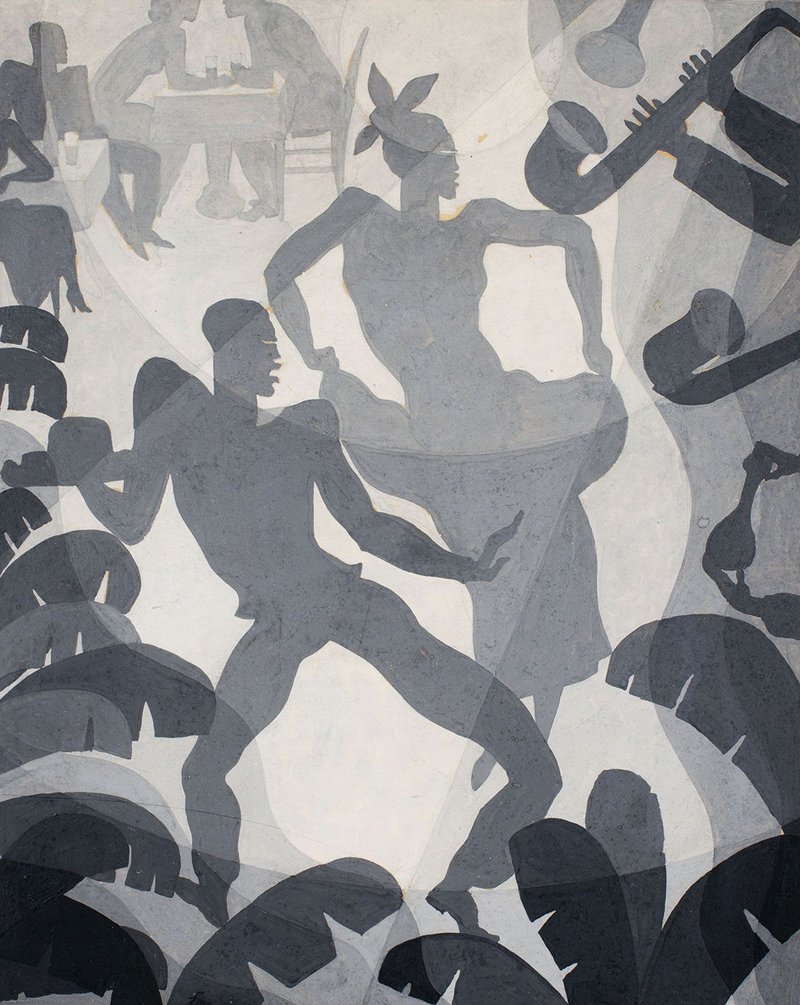 Aaron Douglas, Dance, c. 1930, © Heirs of Aaron Douglas/VAGA at ARS, NY and DACS, London 2019
The rich creative collaborations behind avant-garde night-time venues is explored at Into the Night, a new exhibition at London's Barbican Art Gallery. Whether a nightclub themed on hell with devil-inspired furnishings, a radical hybrid venue combining cinema, dancing and eating in a single space or a setting for experimental performance and self-expression, these intimate and atmospheric spaces offered great scope for artists and designers, both in creating these influential venues and as inspiration for the art of others.
Curator Florence Ostende was intrigued by tantalising references in modern art history to the numerous long-gone and often short-lived cabarets and clubs and set out to find out more about their design. After much forensic research, this exhibition tells the artistic stories of 12 venues and uses installations in the gallery to reinterpret aspects of four of these most effectively.
The clubs were chosen for their strong design identity, which was, says Ostende, often a synthesis of all art forms including performing arts. These include contributions from a significant number of women designers, artists and artistes, whose often overlooked role is made clear in this show.
Designed by Caruso St John, the exhibition starts off strongly with Cabaret Fledermaus, created by Josef Hoffmann and others in the distinctive Wiener Werkstätte style in 1907. From the architecture of the space and the striking posters right down to ashtrays and plant pots, this was clearly a total artwork of architecture, design and branding. Hoffmann sold postcards of Cabaret Fledermaus to raise money for the club and these have helped in the reinterpretation of the venue's extraordinary bar in the exhibition. Here, a black and white chequerboard marble floor is combined with walls covered in a multi-coloured patchwork of 7,000 decorative tiles showing various fantastical motifs and scenes including plenty of grape imagery and a figure riding a snail. The aesthetic of the performers was also part of the artistic story, captured evocatively in the posters and costume drawings. The effect, when combined with atmospheric lighting and guests fuelled by cocktails, must have been intoxicating in the original. The venue, and in particular the organic shape of the auditorium, caught the attention of Le Corbusier, whose 1:100 plan of the space from 1907 is included in the exhibition.
One of the key spaces from the L'Aubette club in Strasbourg is also re-interpreted in an installation within the show. Designer and dancer Sophie Taeuber-Arp was originally commissioned to design this radical venue, which opened in 1928. She brought in her husband, Hans Arp, and Theo van Doesburg to design various rooms and the latter ended up taking the lead. The result was a deconstructed architecture full of bold, abstract geometric elements, most notably in Doesburg's extraordinary Cine-Dancing room, which integrated a cinema, restaurant and dancehall into a single space.
Paris's Chat Noir was clearly a hugely successful venue that became a centre for artistic performance and political debate and even sustained its own magazine. Above the entrance, a sign urged visitors to 'be modern'. Operating in the 1880s and 90s, it was particularly known for its shadow plays – some of the metal figures are displayed to great effect in the exhibition. In contrast to the relatively sedate art of the shadow plays, other performers were bringing more dynamic acts to the nightclubs of Paris including American dancer Loïe Fuller, who developed a whirling technique using voluminous costumes supported by poles and illuminated with lighting effects. Watching footage of dancing in this style, it's easy to see why her act caused such a sensation.
Its longevity contrasted with many of the other venues, which were often both short-lived and/or financially precarious. Cabaret Voltaire in Zurich may have lasted only a few months in 1916 but was notable as the birthplace of the Dada movement, with participants embracing radical art in response to the conflict of the times. In London, The Cave of the Golden Calf was created in 1912 by artists at the forefront of modernism including Jacob Epstein, Spencer Gore and Wyndham Lewis. Patrons were greeted in the foyer by Eric Gill's sculpture of a golden calf, a symbol of paganism and inside, the atmosphere was a heady mix of dancing, talking, ragtime and exotic performance. Despite its popularity, this bohemian nightspot struggled financially and closed owing money to many of the artists.
Inspired by Dante's The Divine Comedy, the Cabaret del Diavolo in Rome sounds like a lot of fun. Designed by Fortunato Depero on the theme of the Inferno, this 1921-22 venue had three levels representing variously heaven, purgatory and hell, with suitably devil-inspired furnishings. While the club's motto was Tutti all'inferno!!! (Everyone to hell!!!) and the design theme was followed through with conviction, archive photos show a rather staid looking bunch of customers.
The exhibition also touches on the role of these venues as incubators of emerging alternative lifestyles – as was particularly the case in the heady nightclub scene of Berlin in the 1920s and 30s is captured evocatively in Max Beckmann's atmospheric lithographs and etchings of waiters, performers and guests (all very Cabaret!) as well as Jeanne Mammen's depictions of bars frequented by women with bobbed hair and masculine clothes.
In addition to the European venues, the exhibition includes clubs from Mexico, Tehran, jazz-age Harlem in New York City, and Nigeria as part of a concerted effort to take a less Western-focused lens to the story of modern art and design. The latter, the Mbari Artists and Writers Club in Ibadan and Osogbo, was set up by leading cultural figures including writer Chinua Achebe and became a centre for post-colonial artistic practices including Yoruba opera and Fela Kuti's Afro-jazz in the 1960s. The most recent example in the exhibition is from 1966-69 - the Rasht 29 club in Tehran, an avant-garde creative space that attracted those who worked in art, film and literature.
At the launch of the show, Barbican head of visual arts Jane Alison talked about how the designers and artists of the day found community, freedom and an outlet for artistic creativity in the nighttime spaces celebrated within the exhibition. This spirit shines through in this highly enjoyable exhibition. Yet it's hard to think of nightspots that perform an equivalent role today.
---
Into the Night - Cabarets and Clubs in Modern Art, until 19 January, 2020, Barbican Art Gallery