Stunning drawings and big ambitions: Robert Adam's London laid out at the Soane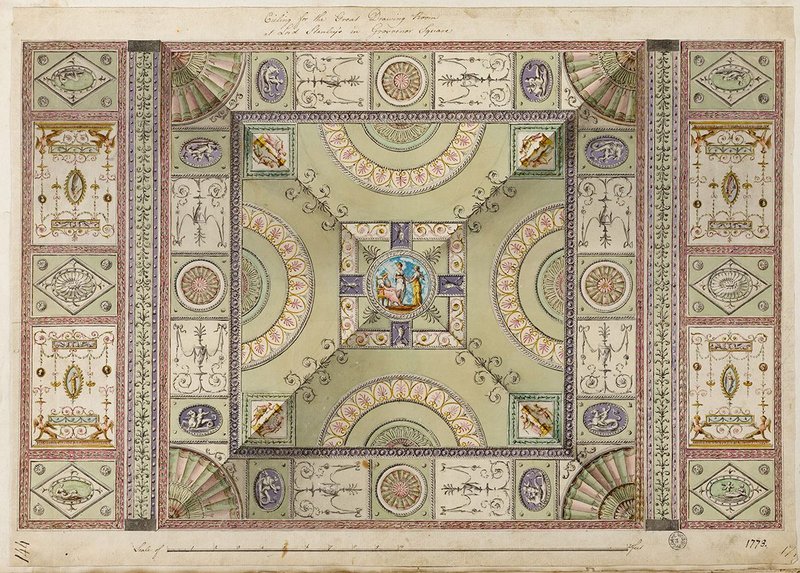 Finished drawing showing the ceiling of the great drawing room at 23 Grosvenor Square, 1773.

Credit: All images © Adam office
Even if you thought you knew all you'd ever need to about Georgian neoclassical architect Robert Adam, the Sir John Soane's Museum's exhibition Robert Adam's London offers a fascinating insight into the cultural milieu of the day.
As well as featuring some of his better known urban projects, it tells us that Adam had the niche market of second wives' townhouses pretty much sewn up – he even designing a fantastically ornate sedan chair for one Lady William Wyatt – and was the go-to designer for financially independent female clients as well as royalty and the nobility.
Hugely fashionable and much imitated, Adam designed everything from prisons to fabulous spaces for entertaining and some of the most expensive furniture ever made by Thomas Chippendale. Yet his style of interior design fell completely, and suddenly, out of fashion after his death in 1792.
Even if his story is fairly familiar, it deserves retelling, especially through the stunning drawings on show in this exhibition, selected from an archive of some 8000 purchased by Soane himself some 40 years after Adam's death.
Adam was born in Edinburgh and settled in London in 1758 after completing a four year Grand Tour that was the impetus for his hugely successful neoclassical style, which incorporated Roman, Etruscan and baroque influences. He was prolific, producing designs for some 1700 London based projects – often unrealised – on behalf of 350 patrons including King George III and other royalty. Grand West End schemes included the Admiralty Screen at Whitehall, Portland Place, Buckingham House (before it became Buckingham Palace) and the super-ambitious, speculative, and almost disastrous Adelphi development on the banks of the Thames. And that's without some of the London houses that Adam is best associated with today – Kenwood, Osterley Park and Syon House – since they lay outside the capital when built.
The show is a good insight into the promotional techniques employed by ambitious architects of the day. As a proponent of stylish urban living, Adam well understood the importance of image, creating a mini museum of his own in his London house where he could display his antiquarian artefacts and position himself as a man of classical taste and learning to potential and current clients.
He had a money-spinning sideline selling loose-leaf prints of his designs via a London bookseller and had financial success with a lavish catalogue of his designs, which cleverly appealed to the vanity of his patrons. No doubt today he'd have a great website, be busy on Twitter and designing for the super-rich residential clients of the metropolis – celebrities, Russian oligarchs and all.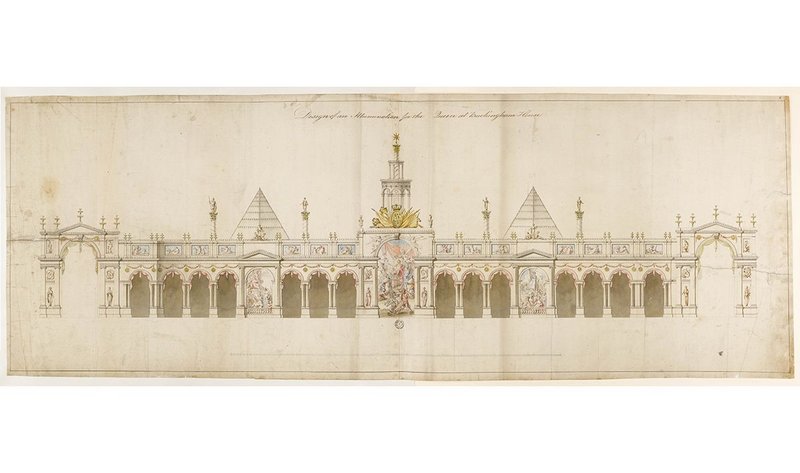 Design for an illumination for the garden at Buckingham House to mark George III's 25th birthday, 1763.
Exhibition curator Dr Frances Sands, curator of drawing and books at the museum, points out that Adam didn't just design for the wealthy. It's true the exhibition does include drawings for a relatively modest town house for his bookseller associate and another for a coffee house, but the lavish nature of the latter (never built) demonstrates his natural inclination towards designs of a grand nature, and often a grand scale. Many of these are in the exhibition including plans for a vast, castellated new curtain wall around the medieval King's Bench prison and a grandiose scheme for Lincoln's Inn, and a series of mini-palaces progressing up Portland Place.
As Dr Sands puts it: 'He tended to design things people couldn't afford to build.'
Maybe this fuelled his entrepreneurial pursuit of the Adelphi as a speculative residential project that he and his brothers could develop themselves, which they did by employing some 3000 construction workers. Refusing to be beaten by rising costs and poor initial sales, they saved the project from disaster by launching a successful public lottery scheme for the properties and managed to get the development finished. It survived until it was largely demolished in the 1930s.
Surprisingly, this exhibition is the first time that Adam's London work has been examined in a London museum. As well as the rather sumptuous drawings, there's a portrait of Adam by George Williamson, on loan from the National Portrait Gallery. Well worth a visit.
Robert Adam's London, until 11 March 2017, Sir John Soane's Museum, 13 Lincoln's Inn Fields, London.
---