What would George Gilbert Scott do if he was alive today?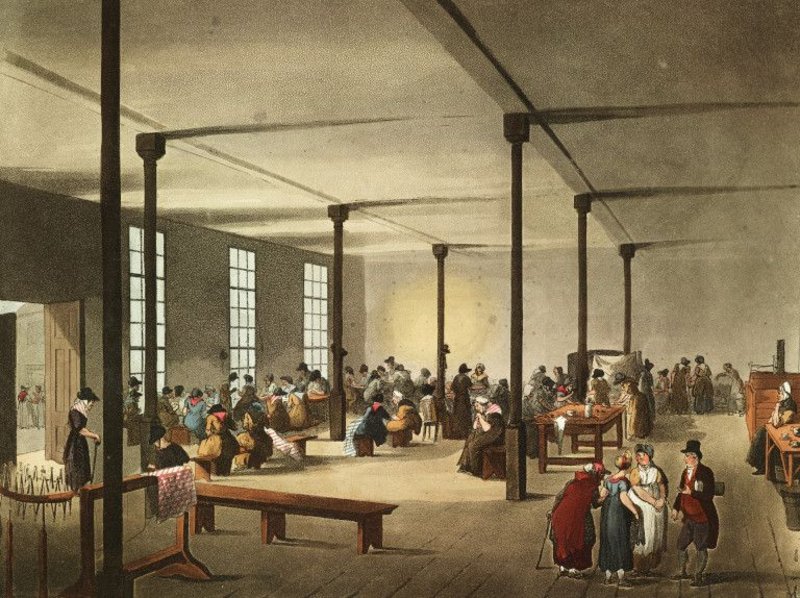 The women's common room at St James's workhouse, Westminster, London as drawn by Augustus Charles Pugin in 1809.

Credit: RIBA Pix
Two young architects are struggling to get work. It's 1835, the RIBA is just one year old, the nation is racked with mass unemployment and like any architects setting out on a career, they want to establish two things: their reputation and a reasonably steady income. But the 24-year old George Gilbert Scott (for it is he) and his 23-year old assistant William Bonython Moffatt have a plan. The government had just decreed a nationwide building programme of workhouses to help tackle joblessness and the poverty it brought. Scott had worked on one of these for the Poor Law Commissioners, and reckoned that not only could he produce better designs, but so many of these buildings were needed that a resourceful architect could surely land a respectable number of commissions.
What's fascinating, as Scott recounts in his posthumously-published autobiography, is how he and Moffatt set about their task. The workhouses were procured and invitations to tender published locally. So they haunted Peele's Coffee House on London's Fleet Street, because it carried all the country papers. When they spotted likely competitions in the classified ads, off they would go – in the cheap seats on the outsides of night coaches, this being pre-railway age – to look at the sites and get the competition brief from the people involved. Then it was back to London, the drawings would be done double-quick, back to Peele's, off on the coaches again. They travelled huge distances and divided the country between them – Scott doing east and north, Moffatt south and west.
Not only could he produce better designs, but so many of these buildings were needed he could surely land a respectable number of commissions
Their strike rate was high. Scott and Moffatt worked together for 10 years and built some 50 workhouses. Some were basic, some surprisingly lavish architecturally in a Jacobethan style – Scott even admitting that he got a bit too ambitious sometimes. Several survive, usually as parts of hospitals as at Lichfield and Belper or converted to housing. Scott developed an extendable collegiate approach of buildings laid out around quads, with an entrance gatehouse/porter's lodge.
This relentless focus on a particular area of bread-and-butter work served its purpose but was obviously time-limited. Scott's wife Caroline never cared much for the increasingly extravagant Moffatt, he and Scott parted company, and Scott won the prestigious competition for the Nicolaikirche in Hamburg. He started to become famous and was later president of the RIBA. But he remembered those mad days of youthful overwork fondly.
Are there lessons in this? For sure – they certainly met Malcolm Gladwell's '10,000 hours of practice' theory of greatness, though I wouldn't recommend that kind of sleep-deprived, relationship-straining existence to anyone. Scott and Moffatt found a way of generating work, first by identifying what and where it was, then by steadily improving designs that were a cut above others on offer, bringing dignity and planning clarity which could be scaled up and applied elsewhere. And Moffatt, Scott admiringly recalled, was adept at presenting a scheme. Their project worked. How could we can apply that level of thinking and determination today – to the housing crisis, say?
---