James Gorst has designed many remarkable homes over his long career and it turns out his London office is one too
Stepping from Lamb's Conduit Street into the front room of James Gorst Architects' central London office, you are surrounded by a warm intensity of saturated green wall, hundreds of books and robustly handsome dentil cornices. A bold painting mixes up the colour and energy of the room. It is as beautiful as you might expect from an architect who has spent his career designing remarkable homes.
But nothing is quite as it seems. The aesthetic experience might kid you this is just a decoration job on the Georgian townhouse, but the walls are lined with 40mm cork insulation and covered in lime plaster. And when Gorst (above left) jumps up to check the chicken ('20 minutes at 210 degrees') you realise you are in his home, not just a beautifully appointed tiny office for him and business partner David Roy (above right).
As the rooms unfurl the picture becomes clearer. Here is the meeting room cum dining room with special, block-printed wall­­paper and the piano nobile of the second office, alive with industry, then follow the Georgian curves of the handrail under a clerestory light upstairs to the bedrooms.
The story of Gorst's practice is the story of his life. He has been in and out of architecture, rejected for study by Cambridge for his portfolio of postcard tracings, returning to study it half way through a history degree, doing up his homes in Bristol, Islington and Suffolk with his own hands for the love of it and making more money that way than ever from clients. In his 30s he gave up on architecture as being too subject to clients' will and whims. He came back for a client who trusted him with a complete job: paintings, textiles, specially designed furniture, fabric walls, marbles, three veneers. Gorst still works with him periodically and has dinner with him. Over nearly 40 years of practice he has witnessed the lives of hundreds of clients and been embroiled more or less with their relationships, finances and dreams, from his brother, personal friends and acquaintances, to a wider network of the privileged, designing their city pads and country homes.
His short stints with postmodernist John Outram and modernist Denys Lasdun, in the latter days of his practice, have left Gorst oddly interested in labelling his own work. He did classicism, and postmodernism, then worked his way through to arts and crafts before persuading clients to commission him for modernism – in his hands a freer style he could make his own. That is to say, Gorst calls it modernism but the traces of historical styles that have gone before cannot be denied and the sumptuous exaggerations of some of his work means that includes a trace of postmodernism, if one chooses to isolate some elements from the whole.
There have been RIBA Awards and critical acclaim along the way. The late Charles Jencks approved of his 'urbane' postmodernism in Islington, while other recent projects include his old office at the House of Detention in Clerkenwell, converted and then rented to the London boss of Bjarke Ingels Group (BIG), and most recently Hannington Farm which made the RIBA's House of the Year shortlist. After we met Gorst was racing back to the family home in Framlingham, Suffolk to watch it on TV with his wife and 10-year-old twins.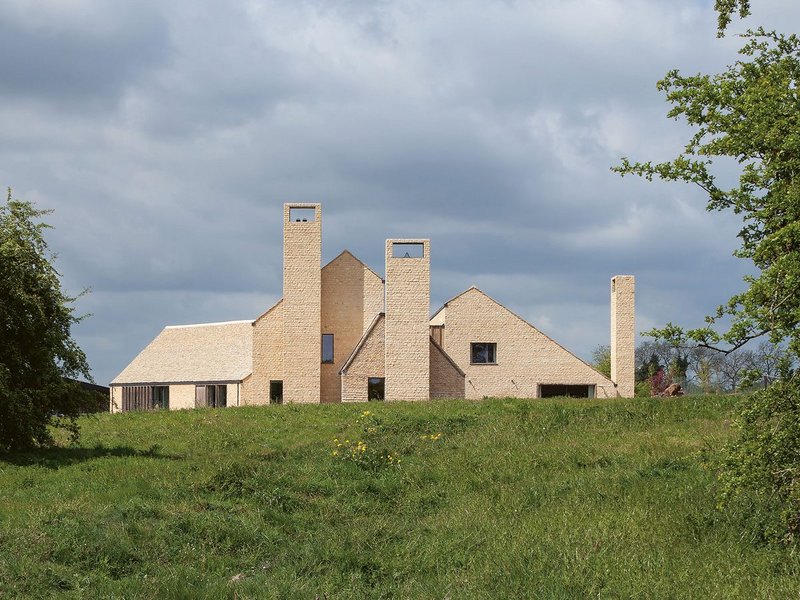 A recent project, Hannington Farm, Northamptonshire.

Credit: Milo Hutchings
He has only employed people in the last decade, since he was 50. David Roy was one of those, arriving as a part 2 student. He is still there, running the practice of six with Gorst and, one suspects, picking up much of the hard work between the elements that Gorst revels in – the people and the materials.
Gorst, lightweight body warmer pulled over a shirt, has an animal energy and trusting way of speaking lightly, but frankly, of setbacks and road blocks. In a recent monograph he talks about leaks on projects and a lack of insurance and in person he takes potshots at planners as well as amusing sideswipes at his own clients. Roy is a little more circumspect and smartly turned out, but his face creases into a smile just as often.
There is a pleasure in not being too serious, for example in the long running battle with interior decorators. Ahead of one skirmish the practice came up with panelled walls to assert the architecture inside as well as out. 'Quandam dubitare panellare,' they quote to each other in cod Latin; when in doubt panel it. Normally in lovely timber. 'It makes a difference if your life is lived in front of walnut,' says Roy. 'It elevates an argument,' adds Gorst.
Material discussions underpin much of the practice's work. 'We talk so much about solidity and tactility,' says Roy. 'I would love to do a completely concrete house,' adds Gorst. This assertion has to lead on to discussions of action on climate emergency by the practice – beyond being one of the hundreds of signatories of Architects Declare. Hannington Farm, which is 1,512m2, uses cross-laminated timber, reed beds and boreholes to push towards sustainability. Gorst feels he has already moved a long way over his career. 'There has been a big change, you used to specify teak or mahogany without a second thought.'
Retirement is in the back of his mind, though it is clear he loves life, work and the team. But when he does retire, the London office/home goes with him, as pension and income for a young family. The grand property plan of moving the office into rented space while cashing in on the rent of the House of Detention foundered with economic uncertainties so the practice moved into Gorst's London family home. Perhaps Roy will be able to buy another home for the practice, or will just rent. In the meantime other projects are calling – houses, a village hall in Gorst's Suffolk home town, but also a temple, now on site for White Eagle Lodge in the South Downs, where ley lines meet spiritualism and a pendentive stone dome at the heart of series of spaces will realise the ceremonies of the group in built form.
---
Portrait of James Gorst and David Roy by Ivan Jones