Ever fancied dangling the plan of the Pantheon from your ears or sporting the Colosseum around your neck? If so, that's another good reason to visit the Soane Museum, which has commissioned jewellery inspired by its collections as part of In Tandem with the Soane, a collaboration with students of goldsmithing, silversmithing, metalwork and jewellery.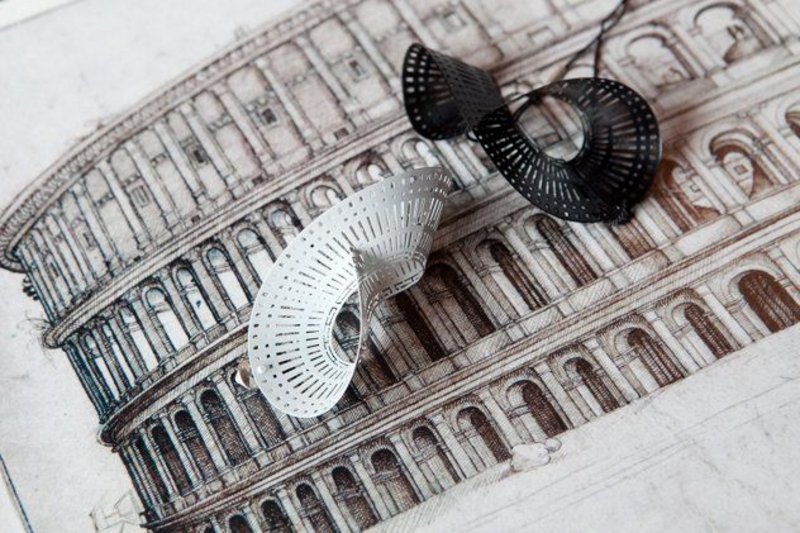 If ever there was a museum brimming with inspirational artefacts it's the Soane Museum, the charming former home of Sir John Soane in London's Lincoln's Inn Fields. Stuffed to the gills with casts of architectural ornament, artefacts and paintings by Hogarth, Fuseli and Piranesi, it is currently undergoing a much-needed £7million project to restore key rooms and improve circulation and visitor facilities. Soane himself drew great creative inspiration from his Grand Tour and subsequently gathered collection, and it is highly appropriate that others continue to do so, albeit in ways that he could never have imagined.

Tom Emerson of architects 6a recently challenged his ETH Zurich students to build a full scale representation of the famous Picture Room at the Soane, which required them to conjure up an exterior for their standalone room. The jewellery challenge, with students from the Royal College of Art, was on a very different scale, with students free to peruse the collections for inspiration. I like Phylicia Gilijamse's utilisation of architectural plans. From the Pantheon she creates two types of earings – hoops of the full plan and studs of the walls on either side of the entrance. Plans for the Coliseum are transformed into necklaces and brooches. Another jeweller, Lynne Maclachlan, takes the image of a column from the Coliseum as her raw material, manipulating it and printing it in melted powdered nylon to form the pendant for a necklace. Her aim, she says, was to 'capture some of this beauty as Soane might have if he were present in this digital age'.

Other students took references from the quality of light, the many mirrored surfaces, and the forms of space and furniture within the museum, The resulting jewellery is available in the Soane shop.
---
Sir John Soane's Museum, 13 Lincoln's Inn Fields, London.