Career academic with particular expertise in housing, who volunteered for the Archdiocese of Liverpool and chaired the precursor of ARB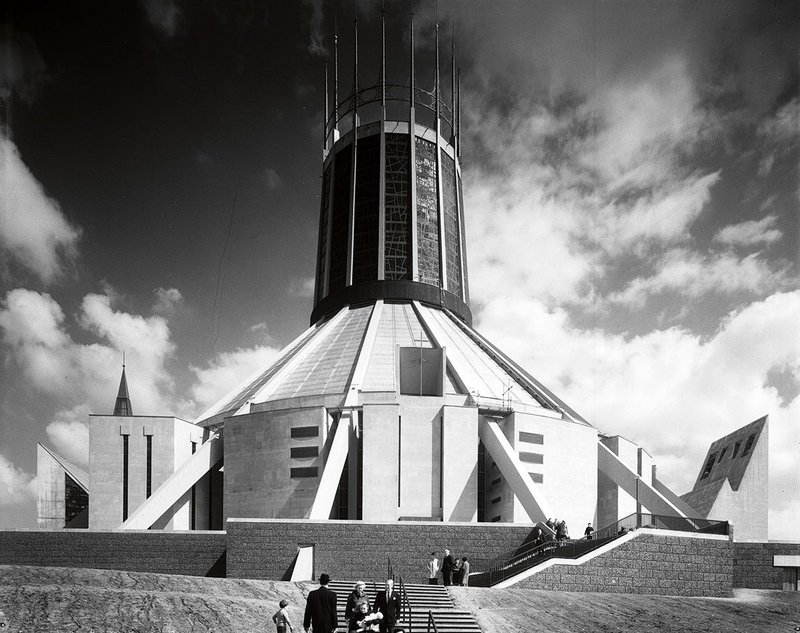 Liverpool Metropolitan Cathedral. Tarn worked with the Art and Architecture Department of the Roman Catholic Archdiocese.

Credit: Henk Snoek/ RIBA Collections
John Tarn, although qualified with the RIBA letters after his name at an early age, did not really do buildings. Born in 1934 in Newcastle-Upon-Tyne, John attended Durham University where he obtained a first class Bachelor of Architecture before continuing his study with a PhD in architectural history from the University of Cambridge.
Shortly after he embarked on a career as an academic, lecturing at the University of Sheffield in 1963 and becoming a professor at the age 33 at the University of Nottingham. He joined the University of Liverpool in 1973 as its Roscoe Professor of Architecture and stayed, holding the post until his retirement in 1999. During this time he rose up the ranks of the university to serve as pro-vice-chancellor and acting vice-chancellor. Internationally he was closely involved in The Chinese University of Hong Kong, taking a lead in developing the architecture programme there.
His early career books on housing history in Britain were influential in their day. In the 1970s he drew together work on 19th century working class housing. And in 1974 he published his best known book, Five Per Cent Philanthropy: An Account of Housing in Urban Areas between 1840 and 1914, which dealt with some of the most famous of philanthropic visions of housing in Bournville and Letchworth but also delved in smaller scale projects in Glasgow, Birmingham and other cities.
Outside the world of academia, John volunteered his expertise in art and architecture to the Archdiocese of Liverpool in the early 1970s. He went on to produce the first set of guidelines for church reordering in the Archdiocese, and helped to implement many of the significant liturgical reforms of the Second Vatican Council relating to church buildings, working closely with the Historic Churches Committee. For his outstanding contribution to church architecture and Catholic heritage, he was bestowed with a Papal Award by Pope Francis, an honour of which he was especially proud.
He was friendly and kind – in a delightfully professorial manner – and this, quite as much as his intelligence, made him very effective in public bodies because people liked him
He was friendly and kind – in a delightfully professorial manner – and this, quite as much as his intelligence, made him very effective in public bodies because people liked him. He was very much a full time academic, and a consummate committee man who was very active in a number of RIBA committees in the 1960s, 70s and 80s. He also served as chairman and vice-chairman to the Architects' Registration Council, precursor to the ARB. And in 1992 he received an OBE for services to architecture. More locally he was president and vice-president of the Liverpool Architectural Society and President of the Wirral Society.
John's ability on committees and his knowledge of housing were put to good use, as for much of his later career he took an active part in change in the social housing sector as chair of Merseyside Improved Houses – which over his 18 years there grew from a local to a national social housing provider, now known as Riverside Housing Group.
John had a great fondness for the Peak District, devoting 20 years to chairing the national park's planning committee, as well as serving as vice-president of the Friends of the Peak District. He was organist and choirmaster at Great Longstone parish church since being roped in on a rota to help in 1977, keeping it up even when he was only weekending in the Peak District. He had lived for a number of years in Darley Dale in his beloved Peak District, before passing away late last year, aged 85.
---
With thanks to Simon Pepper, Rod Tann and the University of Liverpool