The architecture's huge, each station is individual, but someone has to make Crossrail read like one project. Step forward Julian Robinson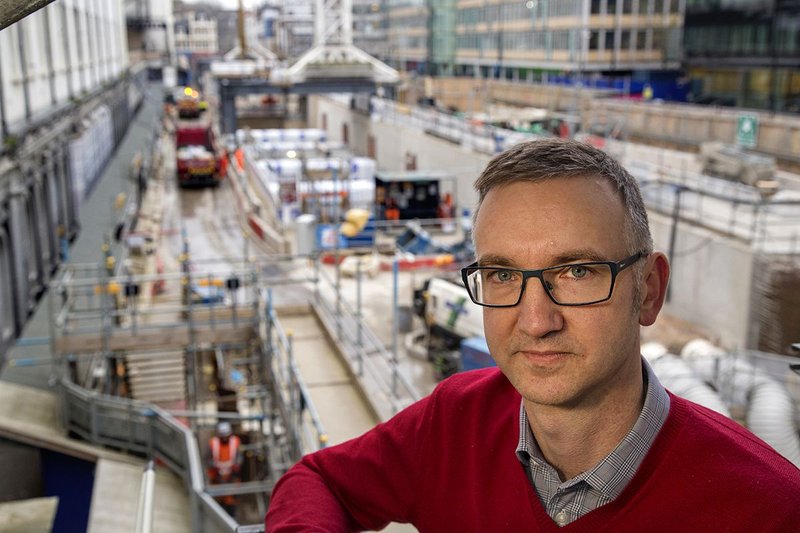 Credit: Morley von Sternberg
'This is what's great about transport architecture,' shouts Julian Robinson above the clangour of the construction site. 'It's just so BIG!'
We are on the floor of the emerging Paddington Crossrail station, architect Weston Williamson. Robinson, as head of architecture at Crossrail, has the task of steering through the designs not only of individual station designers as here – others include Wilkinson Eyre at Liverpool Street, Hawkins Brown at Tottenham Court Road, John McAslan at Bond Street, Aedas at Farringdon, BDP at Whitechapel, Allies & Morrison at Custom House and Fereday Pollard at Abbey Wood – but also the architect for the common components of all the stations, Grimshaw.
Crossrail has been criticised for not seeming design-led in the same way that Roland Paoletti's Jubilee Line extension was, and there was certainly a time during the project's long gestation when that was a real, much discussed worry. You'll never find another character as intriguingly off-the-wall as the late Paoletti, who famously guarded his commissions in an atmosphere of secrecy so as to keep the cost-cutters and dumbdowners at bay. The roster of architects is not so stylistically varied on Crossrail either, though three – Weston Williamson, Wilkinson Eyre, and McAslan – are Jubilee Line veterans. So too is Robinson himself, who not only worked under Paoletti but whose first job, fresh from Brighton architecture school in the early 90s, was on the original modern iteration of Crossrail (an idea first mooted in the 19th century) when the likes of Ralph Erskine and Will Alsop were involved. He knows every inch of this territory.
This is now becoming apparent. After that early wobble moment, Crossrail's design direction began to crystallise. There's a common approach but by no means a uniform one: each station is encouraged to be architecturally distinct and to subtly reflect its locality – which is usually very different at one end of these very long stations from the other. And at Paddington in particular, once the trains start running through in 2018, we're going to enjoy a remarkable architectural experience.
From above the construction site running along the south side of the station complex, you see plenty of length but get little of the sense of depth that Weston Williamson has exploited. By the time you get down to the bottom, however, you've experienced the full Piranesian effect. From down there, even standing below the level of the train tracks for which the foundations are now going in, you get a glimpse of daylight far up above, where the eventual roof will be a 120m long, 20m wide glass canopy with its own 'sky' in the form of 'Cloud Index', an immense, delicate artwork on glass by artist Spencer Finch. The great concrete, steel-columned trays of the various levels are organised to preserve this precious view of the outside world. As Robinson observes: 'Even in Foster's Jubilee Line Station at Canary Wharf, you can't see daylight from platform level.'
For him, it's a relatively rare visit to site and he's enchanted to see that some final-finishes are coming in, in the form of smooth precast concrete shallow-dished ceiling coffers. The ceilings are high: everything is big. It should be obvious, but it's not until Robinson explains it that it becomes clear: everything about Crossrail has to be bigger, simply because the trains are so much bigger. The Jubilee Line – including Foster's Canary Wharf station, most lavish of them all – was scaled from the 3.56m diameter of London deep-line tube bores and the capacity of the trains that run through them. Crossrail in contrast will consist of surface-gauge trains originating from Reading in the west and Shenfield/Abbey Wood in the east plus a spur to Heathrow, running beneath central London in twin 6.2m wide tunnels. Each train will be just over 200m long, with nine carriages and nearly twice the overall passenger capacity of a Jubilee line tube train. The stations are built 260m long to take more carriages in the future. To handle all that, the spaces get scaled up accordingly. 'These stations are designed to last 120 years,' says Robinson. From time to time he pauses at places where the perspective views down the length of the station give you a sense of the scale: people in the distance shrink almost to dots.
Robinson's is a quieter, more measured response to the brief than Paoletti's. There is no financial room for showboating here
So much of the impact is generated by the engineering. Paddington, the new Canary Wharf and Woolwich are 'box' stations. Others, Robinson calls 'mined' because constraints in the built-up centre of town did not allow a complete station box to be sunk. These are at Bond Street, Tottenham Court Road, Farringdon, Liverpool Street and Whitechapel. Finally there are two new surface stations at Custom House and Abbey Wood. The 'mined' stations, though still spacious from necessity, have smooth radiused transitions between concourse levels and platforms. The visual dead ends and sharp right-angled turns familiar from the old London Underground are avoided. So too, Robinson explains, is that curse of the Tube: the visual clash where you can't see a train indicator, say, because a dangling exit sign intervenes. On Crossrail he is taking advantage of the full-height wall along the platform edge (total separation of air between train and platform zones) to carry train indicators running lengthways rather than crossways.
Robinson notes that every architect develops a language within the imposed parameters – McAslan's Bond Street, for instance, is 'Germanic, mannered' while Wilkinson Eyre's Liverpool Street is more about pure geometry, in folded-plate ceilings and glass-and-steel entrance pavilions. Hawkins Brown gives its Soho entrance at Dean Street an appropriately jazzy feel. Ceiling beams at the Barbican exit of Aedas' Farringdon pick up on the massive structure of that listed development. All this develops in discussion with Robinson and his seven-person architectural team. Commissioning architects talking the language of commissioned architects: it's not a bad way to make the most significant new rail transport route in the capital for decades.
All in all, Robinson's is a quieter, more measured response to the brief than Paoletti's. But then, costs are being rigorously monitored, with an unchanging budget of £14.8 bn all in. There is no financial room for showboating here. Given the scale, though, there's less need. Seeing the big tubes of the running tunnels piercing the end walls of Paddington Crossrail station, taking in the fact that it follows the grid of Brunel's Paddington next door, noting the way Weston Williamson is manipulating colossal volumes towards the sky, I'm reassured that the architectural essentials are being observed.
Finally, we discuss fine detail: the family of signage, lighting, public address and glass reinforced concrete cladding components that Grimshaw is developing across the system. It's all very restrained, uncluttered. And the presence of the London Transport roundel logo, to be colour-coded lilac for Crossrail, recalls a key point of reference: the golden age of Underground expansion masterminded by architect Charles Holden in the 1920s and 1930s. 'We're trying to get back to something of the simple rigour of Holden's ideas,' explains Robinson. You can't argue with that ambition. Don't knock Crossrail's architecture until you get to see it finished.
---