Osbert Lancaster's pertinent and insightful drawings prick the bubble of self regard
Oh, to have been at the Architectural Review in the late 1930s! There you would have rubbed shoulders not only with a somewhat conflicted John Betjeman, but also Osbert Lancaster, brilliant visual satirist who, on moving to the Daily Express, invented the front-page pocket cartoon as practised today by the likes of Matt in the Daily Telegraph. Lancaster went on to draw some 10,000 cartoons over 40 years featuring two main characters who filtered everything happening in the world: minor aristocrats William and Maudie, Earl and Countess of Littlehampton.
But Lancaster never forgot architecture. After his first satirical tome in 1936, Progress at Pelvis Bay, he chose just one place to epitomise the changes fast happening in architecture and town planning. Drayneflete Revealed of 1949 purports to be an illustrated history of a historic town that is gearing up for the forthcoming Festival of Britain (and which is the seat of the Littlehamptons).
'Vast mammoths and sabre-toothed tigers prowled through the tropical undergrowth where now stands Marks and Spencers,' Lancaster begins, and you are instantly hooked. From here to 'the Drayneflete of Tomorrow', his words are as skeweringly to the point as his illustrations. Everything historic but for the church and a gatehouse marooned on a roundabout is swept away to make a Corbusian Ville Radieuse of tower blocks and dual carriageways. Of course Lancaster also gets Corb's drawing style spot on.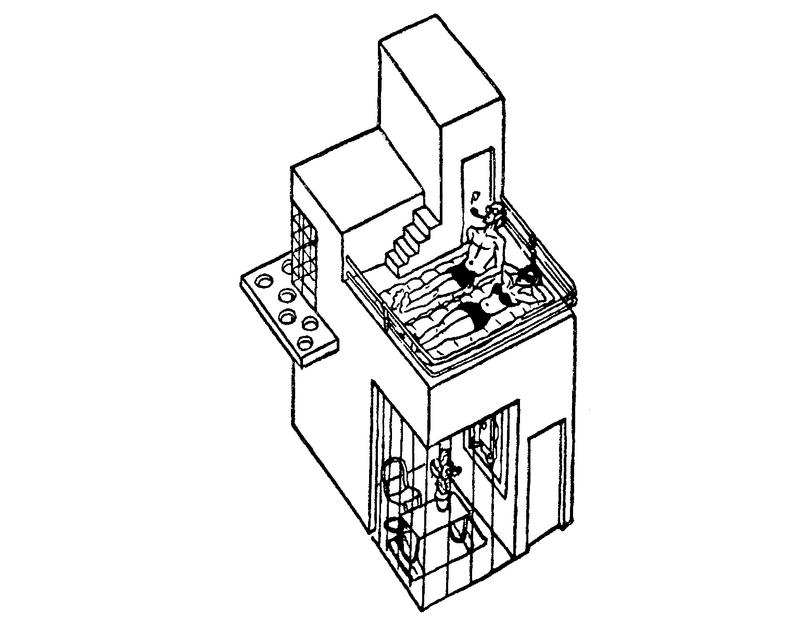 Corb sunbathes on the roof in Lancaster's vision of 1930s modern living.
I always keep one of Lancaster's key books at hand, the 1938 Pillar to Post: English Architecture Without Tears is the work that starts with off-kilter descriptions of the well-known historic styles and gets gradually more fanciful as we enter the modern era. It was he who devised the terms Edwardian Baroque, Stockbrokers' Tudor, Bankers' Georgian and Bypass Variegated – and also Pseudish ('actually our old friend Pont Street Dutch with a few Stockholm trimmings and a more daring use of colour… it has sunk a little in the social scale and occasional examples are now to be found alongside some of our more exclusive bypasses').
This encomium is prompted by the fact that three of Lancaster's key works have been republished: Drayneflete, Pillar to Post and Homes Sweet Homes of 1939 are now available in a £40 boxed set by Pimpernel Press entitled Osbert Lancaster's Cartoons, Columns and Curlicues. The set occupies less space than the average architectural monograph, but contains pretty much everything you need to know about architecture. If I cleared all the hundreds of architecture books off my shelves, I'd be happy to keep just Pillar to Post.
Why am I telling you this? Because architecture often takes itself far too seriously. Yes, making a better world is a serious business. But Lancaster, wonderfully accurate and thoroughly mischievous, pricks the pretensions of humourless professionals of all kinds. They didn't much like their foibles being exposed back then, and I can tell you they don't like it much now. We always need observers who can twist the knife a little.
---