Warmth and texture characterise architect's Edinburgh pop-up pavilion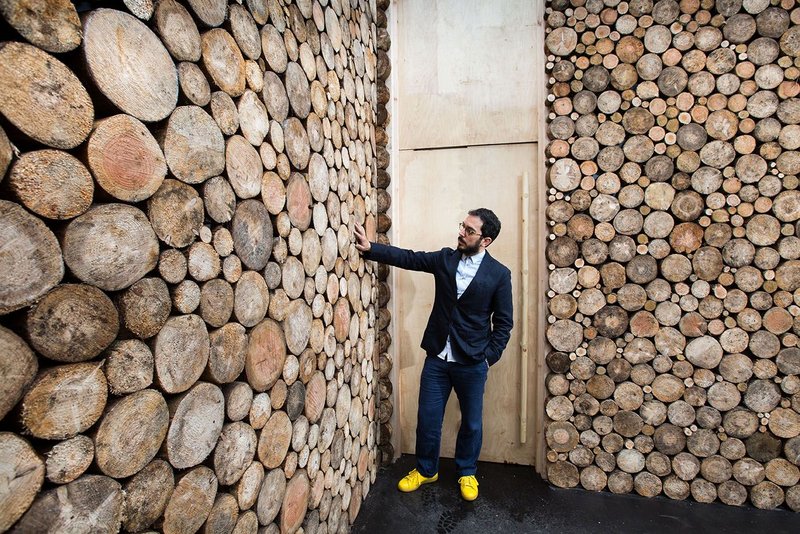 Kengo Kuma's Dundee pavilion - 5 - Maurizio Mucciola

Credit: Robert Perry
The first UK pavilion by renowned Japanese architect Kengo Kuma combines the rustic randomness of a fireside log pile with precision engineered offsite prefabrication.
The Kibako pavilion, installed at the Pop-Up Cities Expo in Edinburgh, is a 5m x 5m 'wooden box' built entirely from wind-blown trees. The different varieties of spruce were collected from Templeton Woods, a managed urban amenity woodland in Dundee.
The pavilion references traditional Japanese craft skills, and resembles a form of 'inverted' log cabin in which the timbers forming the walls have been cut up and laid perpendicular to the surface, instead of length ways.
Kuma, whose practice designed the hotly anticipated V&A Design Museum Dundee, wanted to create an environment that would communicate the roughness and warmth of timber and sit in harmony with its environment.
Grappling with a limited budget, and a mere two-day timeframe for assembly, local designer James F Stephen Architects chose to adapt Kuma's concept into a prefabricated panelised structure.
Each of the four wall panels comprises a central timber frame covered with plywood on each side. The internal surface was clad with 65mm thick cut logs of variable diameter, to give it a flat surface, the external surface was covered with 65mm to 165mm-thick projecting logs to give a more rugged appearance with variable shadows. Lifting eyes installed at the top of each panel enable fast installation and removal.
The entire structure was pre-assembled in an industrial shed in Dundee, then deconstructed and lifted onto low loaders for transport to Edinburgh where it was re-erected in just two days. At the end of the Expo, in July, the pavilion will be reinstalled at Dundee's new Slessor Gardens, part of the regenerated waterfront beside the site of V&A Dundee. It will eventually be transferred back to Templeton woods to function as a shelter for cyclists.
Doug Reid, partner at James F Stephen Architects, told RIBAJ: 'Timber frame and volumetric construction is common in Scotland, but this pavilion was a one-off approach. Kengo Kuma's initial design stipulated the use of solid 300-400mm long logs, but we had difficulty incorporating that into a prefab panel system that was capable of being lifted without some logs falling out in transit. As a result we developed an applied cladding. Time and budgetary constraints made this the preferred option.'
Dundee City council cut and delivered the wind-blown logs, which were taken from around 24 trees, he added: 'It was great to do something positive with the damaged wood and create an artistic sculptural form. Otherwise, it would have simply been chipped to create biomass fuel pellets.'
---