Member of north London set (and BDP's awkward squad), who believed in the primacy of architects – and was a very good one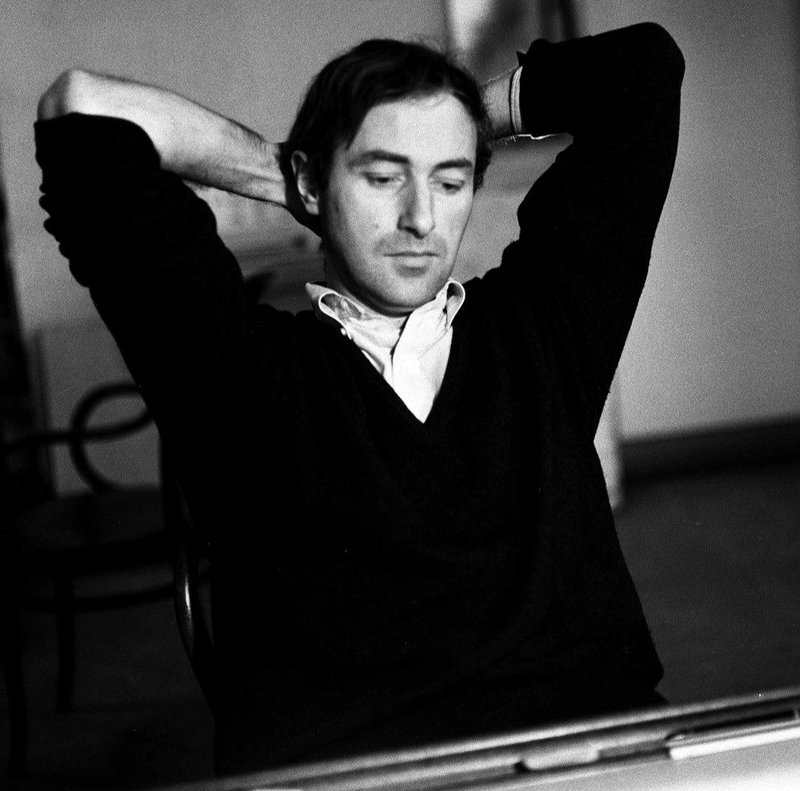 Kit Evans as young-blood architect photographed for Tatler in 1962.

Credit: Sandra Lousada
Christopher 'Kit' Evans always exuded an air of slight exasperation, languid melancholy or amused indifference. A good-looking, punctilious and well-read man, he was a member of a very particular set – the north London, AA-trained, dinner-party circle around Jim Stirling and James Gowan. After qualifying in 1955 Kit had worked for Stirling and Gowan on university and housing schemes. After they split he remained loyal to Gowan, reminding everyone that he was the creative force on the celebrated Leicester Engineering building. Michael Wilford, who arrived in the Stirling office later, recalls that his name was always mentioned there with respect.
He also worked with Paul Manousso on office designs and luxury housing, and with Chapman Taylor Partners on a plastics factory. During this period he taught architecture part time at Regent Street Polytechnic and at the Royal College of Art. He broadened his experience by spending six months teaching at the University of California, Berkeley and worked with Charles Moore.
In 1967 he was recruited by Bill Jack to join the young London office of BDP, and there he stayed until retirement. Connections mattered: Bill's wife Janet, also AA-trained, had been one of Stirling's many ex-girlfriends. Janet Jack became head of landscape at BDP but also ran an independent consultancy and nearly always got the landscape job on Stirling's buildings. The families were close, taking holidays in Normandy together. Kit would come along but, as Bill Jack remembers it, was always somewhat aloof, to be found sitting cross-legged on his own in front of his tent at the far end of the beach.
On arriving at BDP he immediately took on a complex retail-cultural project in Leicester including the Haymarket Theatre. Later he became something of an authority on airport terminal design, both theoretically and in actuality. He designed the domestic departure lounge and shuttle terminal at Heathrow. A typical Kit Evans project at BDP would be a retail-led town centre development, housing or a computer centre – he was also responsible for the extensive retail area at Canary Wharf – but in contrast to these relatively conventional projects he took charge of Falklands Mount Pleasant Airport. Following the Falklands conflict, with an urgent need to strengthen the islands' air links to the rest of the world, this was commissioned in 1983 and completed in 1986. Evans produced the development plan, carried out the environmental impact assessment and, with the BDP multi-disciplinary team, designed the buildings.
He was an awkward-squad member of BDP, believing in the primacy of architects when all disciplines were meant to be equal. 'Judged by my peers under the heading "partnership policy and methods", I had the lowest mark of all 33 partners in the firm,' he revealed in the practice magazine in 1979. 'So that tells you all you need to know about me.' For good measure he then ran through examples of architects as hero in fiction and film and observed: 'I cannot recall a single H&V or electrical engineer figuring in the literature of the last 150 years.' On receiving a written document from one of the engineers, it was not unknown for him to correct the grammar and spelling in red ink and send it back with a score – 3/10, say.
He designed his own house in Chelsea and converted a barn in Wiltshire, in retirement living mostly in France. 'Loves pizza and string quartets, hates sociologists and smoking, things are nicer than people, Wodehouse greater than Dostoevsky' was his personal self-assessment. He was also a very good architect. He is survived by his sons Dan and Toby, his erstwhile wife, now Marsha Grimwade, and his later partner Claire Jortner.
---