Zaha Hadid's blend of hands-on design and business skills makes her a true role model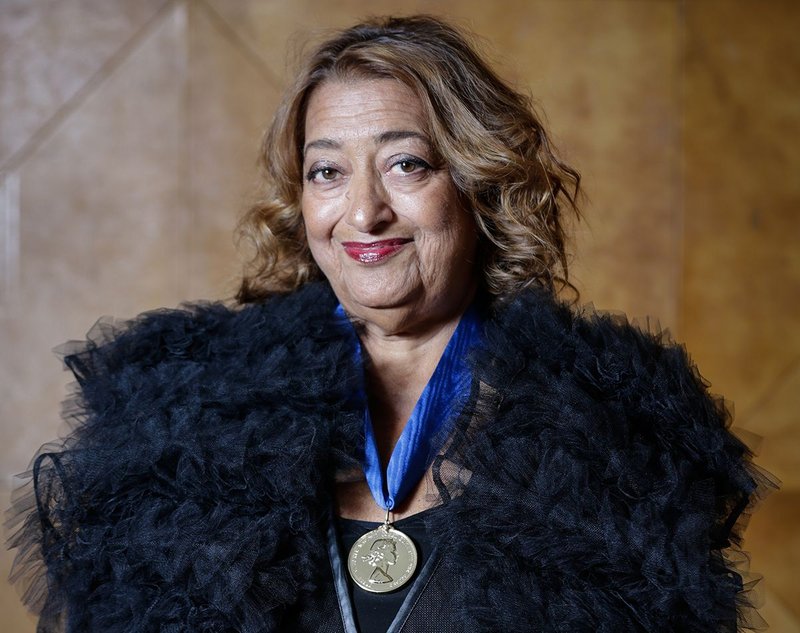 This month, I took the opportunity put some questions to the 2016 Royal Gold Medallist Zaha Hadid. Her responses portray someone who retains the excitement of creative design, alongside really good business skills: a true role model.
Jane Duncan Did your family encourage you to study architecture?
Zaha Hadid My parents encouraged me to do what I wanted. In Iraq in the 1960s all the women wanted to study architecture, medicine or pharmacology, so it wasn't unusual then. It was a particularly good time for women because of my entire generation I don't know a single one who did not have a career.
JD Could you have studied architecture in Iraq?
ZH Oh yes there was a good school of architecture in Baghdad. I thought it was more liberating to go away – I came from a very liberal family. My first degree was maths – I did that at the American University in Beirut. I became interested in architecture after the son of my brother's colleague studied architecture in the UK. When he graduated my parents hired him to design a house for my aunt. This came as a model to our house, and I remember it very, very well.
JD When you set up on your own how good were you at managing the business side?
ZH Actually I'm quite good at it. I'm very strategic in what I do. It's important as an architect that you know what you're going to do with your business. We're not so focused on making money, we spend time inventing architecture instead of going and getting work.
I became interested in architecture when my parents hired the son of my brother's colleague to design a house. This came as a model and I remember it very, very well
JD Can the businesswoman and the creative woman live side by side?
ZH There are many others who are much better at schmoozing and getting work. I'm not necessarily the best at it. I'm not known for diplomacy. I think others go out of their way to please so that when you don't do it they think you're rude. I don't intend it.
JD Are your current projects still personal?
ZH I'm involved in all the design process; I have my own cluster within the office and we design most of the buildings and then release it to the other groups. I work closely with the teams. When we were only 10 people in the office and did everything, it was very different. I think it helped me later because in every project I tried maybe 10 different iterations of the same idea, or different ideas. That allows you to have a bigger repertoire in terms of what you design. I don't have the same kind of involvement (now), sketching everything myself. But so many years' teaching gives you the ability to delegate and navigate and explain to people what to do.
JD You have a very special relationship with Patrik [Schumacher, director of Zaha Hadid Architects]. How much you rely on him?
ZH A great deal. He's a tremendous guy and I have a tremendous respect for him. He's been with me for 27 years so we work very closely together. We don't agree on everything but we agree on a lot. It's very important to be self-critical and to allow people to criticise you, otherwise it's like a dictatorship; it doesn't work. People in the office are very excited by the work and feel they bring something to the practice. It's not a hierarchy so it's very nice.
JD What does winning the RIBA Royal Gold Medal mean to you?
ZH Well I chose to live in the UK and I practise in London: it means a lot to me that the profession and the RIBA acknowledge me and I am very grateful to them.
@JaneDuncanPRIBA
---
Smart thinking
The RIBA has launched its 2016 professional programme of events and resources on the theme of Smart Practice. Talks, discussions and conferences will cover topics from demonstrating value to clients to developing business resilience, with something for practices of all shapes and sizes. Find out more and book at architecture.com/SmartPractice
---
Sanction Notices
Disciplinary Reprimand
On 15 September 2015 the RIBA Hearings Panel found that Mr Robert Barnes was in breach of Principle 2.1 of the RIBA Code of Conduct in that he did not act with reasonable care in issuing a consultant's certificate, and in breach of Principle 3.1 of the RIBA Code of Conduct in that he did not deal with the issues and complaints raised in a timely manner. The Panel decided that the sanction for this be a public reprimand.
Disciplinary Reprimand
On 21 October 2015 the RIBA Hearings Panel found that Mr Brian Reynold was in breach of RIBA Byelaw 4 in that he failed to conduct himself in a manner appropriate to his status as an RIBA member, evidenced by his receipt of a criminal conviction. The Panel decided that the sanction for this be a public reprimand.
---