Delicacy and restraint – of materials, design and their own image – guide this Edinburgh practice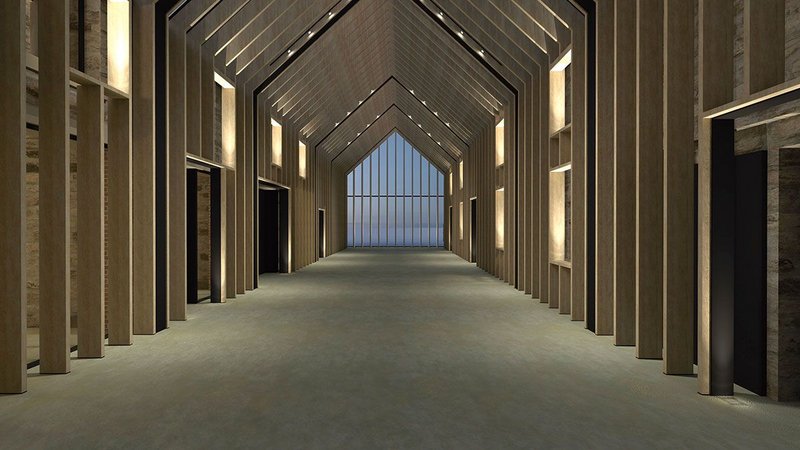 The timber fin structure of the firm's Bowhouse project on the Balcaskie estate in Fife's East Neuk.

Credit: Konishi Gaffney
As a firm, we want to be interesting, but not that interesting,' says Kieran Gaffney. It's a strange comment coming from one of Scotland's more notable design-led small practices, but once you have got under the skin of it, it's a theme that subtly resonates through its work. Edinburgh-based, even its office location talks of it; not ensconced in New Town's Georgian grandeur or tucked away in a medieval nook off the Royal Mile but far down Constitution Street in the port of Leith. Perhaps it's the three years he and Makiko Konishi spent in Japan bringing up a young family, but that osmotic deference permeates the pair's drawings too. As we talk they show me laptop SketchUp perspectives rendered in shades of grey, some hanging delicately in a frame of white, like a cobweb.
Konishi Gaffney set up back in Edinburgh nine years ago. In that time it's developed a clientele skirting the polarity of aspirational domestic jobs on tight budgets and quietly affluent rural landowners wishing to make the most of their real estate. To both they bring an instinctive, analytical sense best characterised as homing in on one flourish or detail to generate simple, affecting work.
When asked about favourite projects, Gaffney talks details on cost-critical domestic work: an expanse of glazing flush to the stone face on the £23,000 Bath Street extension or a £120,000 job with thin, crisp steel eaves. Another is of steam bent timber slats that Gaffney, his brother and the project architect formed and fixed themselves. It shows they're not only prepared to get their hands dirty but they concentrate money where it yields most benefit. 'On the early small domestic stuff, we had to obsess about something,' says Gaffney. 'To focus on one thing and just run with it to a natural end – a bit like artists do.'
And in the firm's scaled-up, bigger budget commissions, this experimental blend of artistry with artisanal still comes through, along with the 'interesting' sensitivity he spoke of. At the £800,000 Lockerbie visitor centre for UK softwood supplier James Jones, the client wanted the architect to tread a fine line between flamboyance and utility for its corporate buyers. The result is a two-storey timber proposal linked by a glazed passage to the existing 'log cabin' site office. One face curves round and up, generating a complex roof form with a panoramic picture window looking out over the 14ha sawmill. With the client providing all the spruce, larch and Douglas fir Konishi Gaffney wanted, the firm ran wild with timber. 'You'd usually run it at 400-600mm centres but we've taken it down to 175mm in places – it verges on too much' confesses Gaffney.It's all counterpointed with 0.5m thick 'I' joist walls rammed with wood pulp insulation. Indulgence blends with pared-back sustainability – and back to that client sensitivity: 'It's not just about the design but getting the restrained tone right.'
Edinburgh's Greyfriars Charteris Centre, a 1911 church turned multi-faith community hall, was an invited competition. Running against far more established Scottish practices, even Konishi Gaffney seemed surprised to have won. The £1.8 million project will see the church converted to be more accessible and function better, and a new 10m high annex will house the main reception, with a lift. Less 'annex' than lift core and narrow access corridor, the firm obsessed on this, flooding the tight, vertiginous timber structure with top light, eschewing baronial gothic red sandstone for a minimalist language of vertical structural timber fins.
'We're working with local artists on Jesmonite panels between the fins to see if we can make them ourselves,' Gaffney says nonchalantly. Neither views this as radical; moreover, both seem baffled that the city council didn't run with them extrapolating the high-level arched window to ground to read their delicate first floor timber screen prayer space beyond it. 'Edinburgh's a conservative city,' Gaffney tells me innocently. 'You can't be too challenging.'
The couple met at Thomas Heatherwick's fledgling office in 2000, after Konishi had finished her degree in 3D design from Brighton and Gaffney his diploma at the Bartlett. They were the office's first romance – Heatherwick attended the wedding – and affection clearly endures. The designer spoke so highly of them at a 2012 Dundee V&A fundraising dinner that London and Scotland estate landowner Toby Anstruther commissioned them for the Comielaw steading, turning redundant farm buildings on his Balcaskie estate in Fife into work and leisure buildings, with added architecture.
Its most recent proposal, Balcaskie's Bowhouse project, is a structure of timber fins, is on a satisfyingly grander scale. The practice's 30m by 8m glasshouse showcases local cottage industries at work and links two old warehouses it converted to farmers' markets. It is the latest iteration of its minimalist, repeating timber fin approach.
Konishi was demurely present for most of the interview but you can't help subliminally feeling that all this investigation into the nature of timber is driven by her Japanese roots. She recalls an affecting visit to Magome on the Nakasendo highland trail between Tokyo and Kyoto. Transposing its Edo-period timber vernacular to East Neuk in Fife, the 450mm fin module strikes a pleasing parallax effect between it and the warehouses' stone openings; the new structure by turns both revealing and hiding the original.
When asked what they took away from Heatherwick's office, Gaffney reflects a moment. He notes politically: 'I suppose it would be not to try too hard… maybe just relax a bit more.' But if Heatherwick proved frustrating at times, neither doubts his energy. 'He firmly believes in his own ideas and is charismatic enough to take everyone along with him and see them through,' adds Konishi.
They might need some of that resolve for the polo-shaped art gallery they're working on for a local philanthropist on a hillside overlooking Dunblane Cathedral. Set half in and half out of the slope, from the town-side you'll have to pop under its cantilever before you can pop into it. The client's consulting on it with the community now. Too 'interesting' for them? Only time will tell if Konishi Gaffney has finally jumped the shark.