Transformation of utilitarian tunnels into public spaces has opened Seoul's riverbank and created a new park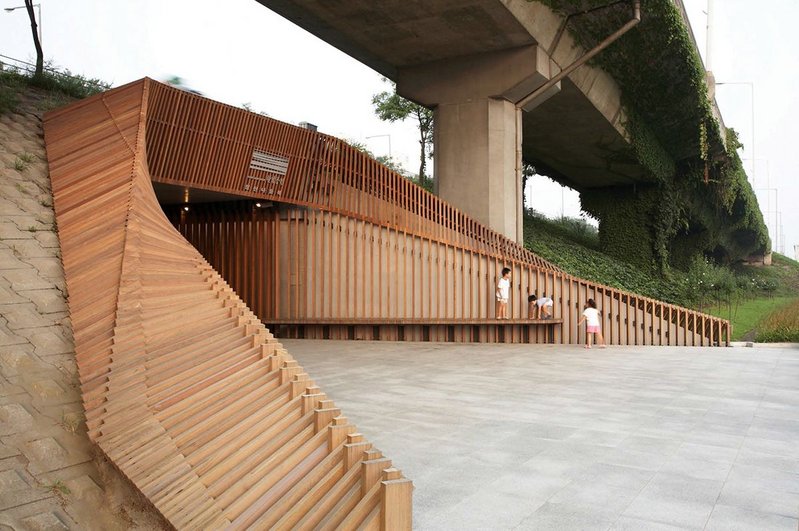 Seongsan Underpass with a reworked entrance in slatted wood hinting at the landscape beyond rather than acting as a reminder of the civil engineering above and below.
While in the 1960s Seoul's Han river was still lined with rice paddies, less than a decade later the urban fabric had encroached on its banks. During the 1970s and '80s highways and vast retaining walls cut the river off from the cityscape; formerly extensive flood plains were contained and straight-jacketed by large-scale embankments.
Today changing precipitation patterns and rising sea levels worry urban planners and the city administration alike. Maintenance and protection of the remaining flood plains, and defence of adjacent neighbourhoods against frequent flooding, have ­become priorities.
In 2007 the City of Seoul began a scheme to upgrade the river bank as a public space and improve its ability to manage floods. The Han River Renaissance Project included ecologically sensitive landscaping, the provision of leisure facilities and transformation of the desolate access tunnels to the park.
The regenerated park and city are linked mainly by 48 tunnels, burrowing under highways and through embankments. Heavily use by the public, they were conceived solely to resist flooding and accommodate powerful flood gates. Between 40m and 100m long, they were in a dilapidated state, decorated only by utilitarian lighting, and frequently inaccessible due to water pooling.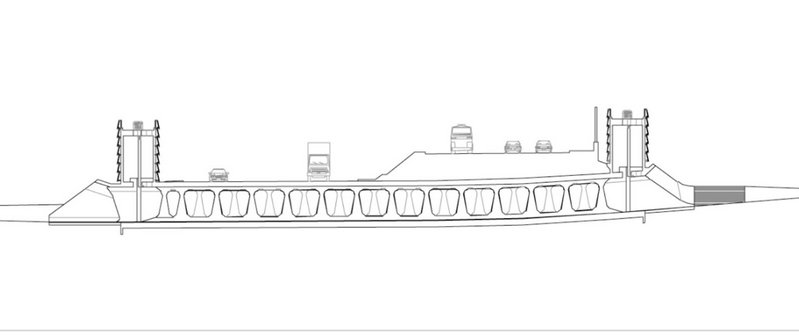 Section through Shinbanpo Underpass showing how it cuts under the 88 Olympic Highway and the sculptural concrete forms divide traffic and foot passengers
Seoul's commissioning system meant ­architects were rarely involved in its civil engineering projects. In an unprecedented move, the City of Seoul administration tasked young architectural practices with transforming 25 of the access tunnels. The project benefited from a high level of collaboration between engineers, architects, city and community representatives and urban planners.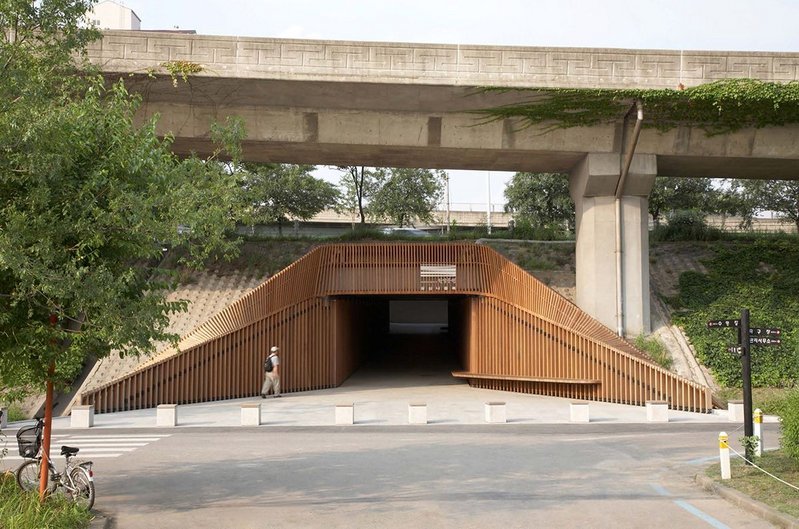 Lokaldesign was appointed design co-ordinator and commissioned to design three existing and two new tunnels. To achieve variety in approaches and design languages, Lokaldesign asked other architectural practices, among them Ateliers Lion Seoul and Jegong Architects, to join the project.
The brief for all practices was to transform the existing infrastructure of the ­tunnels from utilitarian left-over spaces into engaging, safe, and accessible public walkways. While accommodating the stringent safety requirements the tunnels are subject to, they were to primarily act as transition spaces connecting the park and river to the city.
Throughout the tunnel projects a new hybrid form of public space has emerged, shaped by and 'piggybacking' off an infrastructural framework. They subvert spaces that were built solely to address engineering requirements, now providing cool seating during the summer heat, rest places and shelter on a human scale. The flood gates are set in protective encasements, which act as tower-like markers for the gateways to the park. Each tunnel addresses its specific situation through variations in its layout, underlying engineering decisions, materials, lighting, and in particular integration into its context.
The Han River Access Tunnel Project set an example in Korea of how urban strategies, local design interventions and collaboration between architects and engineers can together create successful public spaces out of utilitarian infrastructures.
---
Haewon Shin is lead architect at Lokaldesign