An artists' exhibition exposes the role of architecture in power by considering the architecture of the technology giants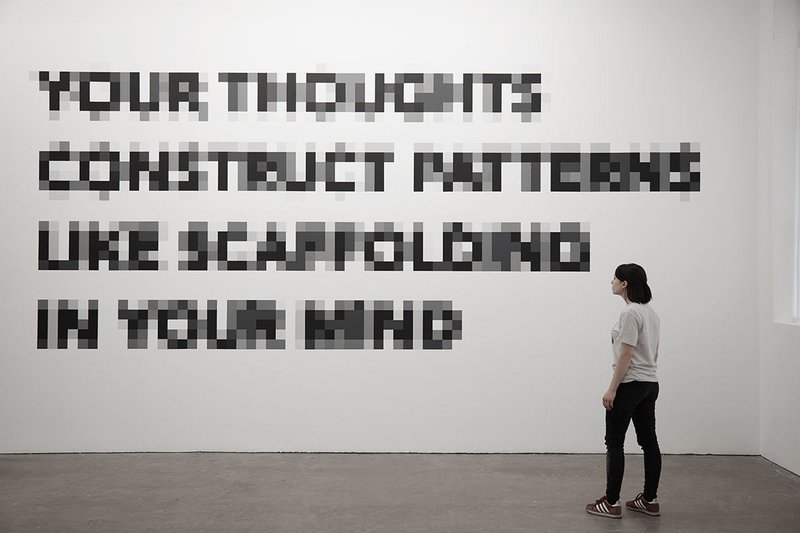 Credit: Ikon Gallery, Birmingham, ikon-gallery.org
Artists Ben Langlands and Nikki Bell have long engaged with architecture in their work. The duo's latest exhibition, Internet Giants: Masters of the Universe, at the Ikon Galley in Birmingham continues this tradition by examining the architectural output of the big global technology companies, and the values this may represent.
'It's the 40th year of our collaboration. We started working with architecture very early on and started including architectural models in our work in about 1985. At that time, architects were a little more suspicious of us and thought we were somehow trespassing on their patch. But now they're much more intrigued and engaged and there's much more crossover than there used to be – for example, Assemble and Forensic Architecture being shortlisted for the Turner Prize,' says the duo.
The exhibition features a new Ikon commission, the 3.66m high by 3.66m wide CNC-cut model of Google's new Charleston East global headquarters designed by BIG and Thomas Heatherwick, which is shown embedded in the wall as if part of an excavation. Around the gallery are eight hand-made white reliefs of buildings, mounted against colourful backgrounds, including Foster's vast circular Apple headquarters in Cupertino, California, and the Gensler-designed Nvidia at Santa Clara, as well as digital animations, portraits and other wall installations.
The exhibition, which rather fortuitously coincides with the public furore into the ethics of the activities of Facebook and others, considers the often unseen influence that the internet giants have on society and seeks to decode their architectural expression. The idea grew out of the pair's war artist commission in Afghanistan, which included an interactive virtual reconstruction of a Bin Laden training camp. This trail led them to the doughnut-shaped GCHQ designed by Gensler, and then to Foster's building for Apple, which was about to be built. At this time, the duo was also becoming aware of the increasing power and reach of the big internet and technology companies.
'When we discovered the plans of these ambitious buildings during our research, it crystallised for us that we were at a new juncture in time – architecturally, culturally, economically, technically, and politically,' the artists say.
Langlands & Bell hope the show will get people thinking about how the world is both enabled and constrained by the power of the tech giants.
'These are huge new networks. We're trying to make them visible and to reveal their extent,' they say, commenting that the scale of building that these companies undertake was historically only attempted by government or royalty.
Langlands & Bell consider whether this architecture can be considered as era-defining. They are interested in how these places seek to characterize the digital age yet look back to perfect geometry in their form.
'These are very simple, elementary archaic typologies which have been associated with great power from time immemorial such as Stonehenge and the Colosseum. Apple's circular geometry is both very futuristic and timeless, as well as being a really beautiful design,' say Langlands & Bell.
They see the marriage of Fosters and Apple as a natural fit since both share a talent for a seamless, futuristic aesthetic and both are leaders in their field. The less immediately obvious pairing of Frank Gehry and Facebook yielded the largest open-plan office in the world at Menlo Park in Silicon Valley and inspired another of the pair's architectural models in the exhibition – a plan of the building represented as an intaglio relief in colour. They are also interested in how some companies commission buildings which very self-consciously reference sci-fi forms.
As well as the models, there are five diptych portraits of tech giant founders including Mark Zuckerberg, Jeff Bezos and Steve Jobs presented as 'religious icons for the digital age' and accompanied with aspirational quotes in their own words. A monumental wall painting reads 'Your Thoughts Construct Patterns Like Scaffolding In Your Mind' 2018 (a quote from Steve Jobs) while 'Infinite Loop' 2018 'is a large scale monoprint of a model of Fosters Apple HQ rotating in space.
The exhibition has been supported by Glenn Howells Architects. Glenn Howells, who recently stepped down as chair of Ikon Gallery, commented that the work raised questions for architects, in particular how their designs cannot be removed from discussions about power.
'It brings to the surface that even though they are presented as well thought out architectural solutions for technology giants, what sits behind them is a set of values that are rarely discussed,' he says.
---
Langlands & Bell – Internet Giants: Masters of the Universe, until 10 June, 2018 Ikon Gallery, 1 Oozells Square, Brindleyplace, Birmingham B1 2HS