Langlands & Bell's Degrees of Truth at Sir John Soane's Museum show the influence tiny parts of a collection like chairs can have on artists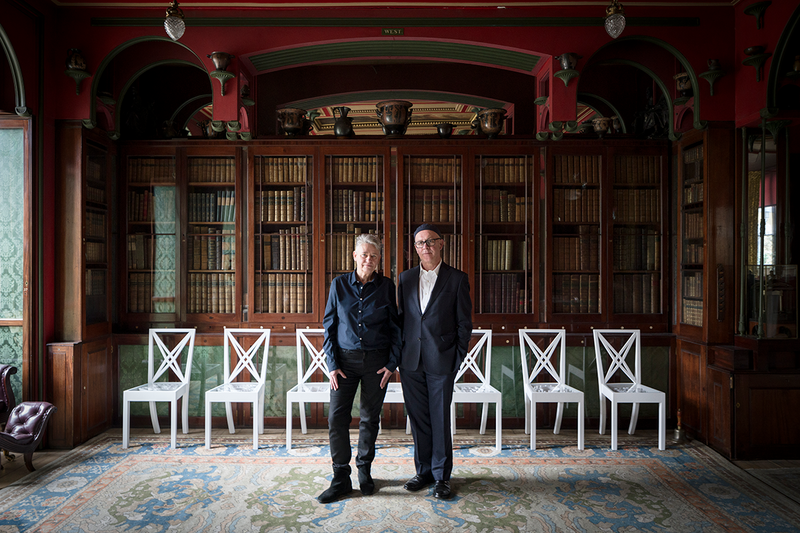 Langlands & Bell in the Library Dining Room at Sir John Soane's Museum with their artwork Grand Tour 2020 in the background, from Langlands & Bell - Degrees of Truth.

Credit: Gareth Gardner
Ben Langlands and Nikki Bell first got to know the Soane Museum back in the 1980s. At the time, the artist duo had taken on a 'ruin' of a house in Whitechapel, which maybe helped their affinity with Soane's collection of architectural fragments and artefacts.
Nearly four decades later, Langlands & Bell is back at the Soane collaborating with the museum on Degrees of Truth, an exhibition comprising two new pieces of work created specially for the show, along with an installation of past work arranged to infiltrate the many spaces of this most singular of venues. The title is a reference to today's time of blurred truths – Langlands & Bell's work explores how buildings and objects can act as 'truth tellers' that evidence the reality of relationships within society.
Looking back, says Langlands, the artists can see that the Soane Museum had been subliminally influencing their work from early on. They remember being taken with three Chinese chairs with inlaid backs that Soane had bought as objects to be admired rather than sat on, and later realised that these may have piqued their interest for making chair-based pieces, something they have returned to on and off throughout their careers.
Now they've neatly come full circle with The Grand Tour, a series of seven chairs displaying architectural models beneath the clear seats. These are fittingly displayed in the Library opposite the three Chinese chairs that caught their eye all those years ago. This piece is directly inspired by the tour undertaken by the young Soane in 1778-80 that was to have such a lasting influence on his life as an architect and collector.
The artists have researched the route Soane took and made plan models of three of the buildings he visited – Villa Farnese, Temple of Vesta at Tivoli and La Scala at Milan. They have supplemented these with models of four contemporary buildings from cities Soane visited, imagining that if he did the tour again today, he might go to see those. These are Zaha Hadid Architects' gently twisting Generali Tower in Milan; David Chipperfield Architects' Kunsthaus Zurich extension, Christ & Gantenbein's extension to the Kunstmuseum Basel and Tadao Ando's soon-to-complete refurbishment of the Bourse de Commerce in Paris.
Each of the handmade chairs has the same back – a starfish motif that Soane used in the museum. The theme of European travel is particularly pertinent today, and Langlands imagines that Brexit was also an influence on the piece, mentioning how in Soane's time, European travel was severely curtained by the Napoleonic Wars– although fortunately for him some time after his own Grand Tour.
The second new piece, Globe Table, is located in the Breakfast Room and also revisits a previous subject of interest to the artists – this time, that of air travel. Set into a table and covered in the routes of air travel, the new installation is a resin and lacquer globe that visitors are invited to turn. 'It's a kind of architecture of the skies,' says Langlands.
I enjoyed finding the artists' earlier pieces as I meandered around the museum, although some more information beyond the location guidebook would have been helpful to aid understanding. Taking their cue from Soane himself, the artists have chosen not to use labels.
Sometimes, as in the case of The Burnt Madonna lurking in the gloomy Monk's Parlour, you hardly detect the interloper's presence – it looks completely at home amid the museum's regular display. Similarly, Traces of Living (1986-2000) is a good fit in the kitchen – chairs and a table filled with found, discarded objects such as toothbrushes and cutlery while nearby on the wall is the early work Wind Dried Whippet (1982), a desiccated dog carcass. Several other chair pieces including Conversation Seat (1986) and Interlocking Chairs (1995), are found elsewhere in the museum.
There's a chance to have a go on The House of Osama Bin Laden (2003), a Turner Prize shortlisted piece where visitors can navigate a digital recreation of Bin Laden's home with a joystick. Upstairs in the two temporary galleries, further work includes recent depictions of the headquarters of tech giants such as Apple and Nvidia and prints of works inspired by the air routes of Britain and Europe.
This exhibition is a fruitful collaboration of venue and artist, with Grand Tour a particularly satisfying new work – once you realise what it's all about. And if you're not familiar with Langlands & Bell's work, this is a good setting to discover it. But you might want to read up on it first.
---
Langlands & Bell: Degrees of Truth, until 31 May 2020, Sir John Soane's Museum, 13 Lincoln's Inn Fields, London, WC2A 3BP