Build or don't build? Realistic or ridiculous targets? Classical or contemporary? Bath's controversial coliseum relights an old fire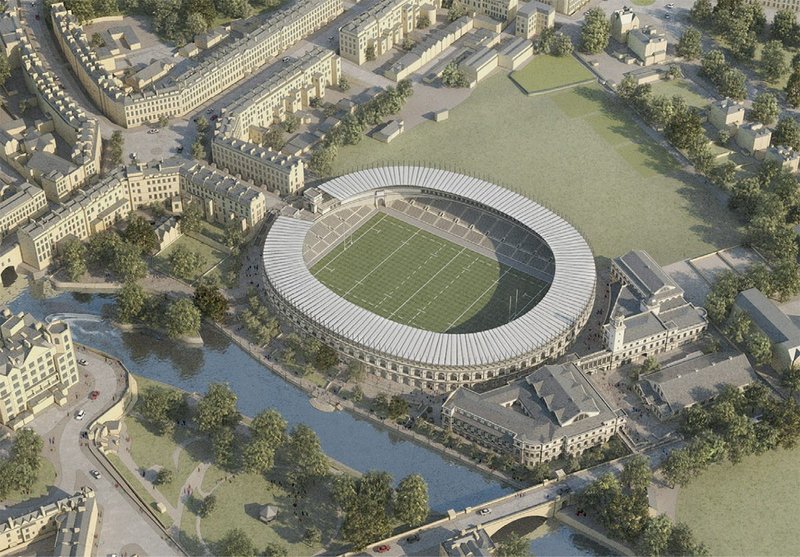 Classical but also problem solving, Apollodurus Architecture's counter proposal for a new rugby stadium in the city of Bath.

Credit: Apollodorus Architecture
Here is a project that reaches beyond the bounds of architecture, or its small-city location. Apollodorus Architecture's classical Colosseum-style Bath rugby stadium is a counter proposal in the best tradition of counter proposals. It is a dramatically alternative view of a development site that has floored the efforts of local team FCBS and high-tech hero Grimshaw. And it has gone wild online with millions of views and over 19,000 likes on one tweet/post.
It has made a mark because of its looks: stone arches, flags... Apollodorus Mark Wilson Jones, architect and historian, knows his classicism. And so the marmite conversation ensues.
To many people the coliseum stadium design looks like 'proper' architecture: 'beautiful,' they comment. But the meat of Wilson Jones' analysis of the latest proposal, designed by Kay Elliot, is the way this large building in a historic city centre meets the river and the building next to it, and a critique of a visualisation style that shows glass as transparent when it rarely is, with a roof floating above, as they rarely do. It is about the fundamentals of design and how that is conveyed.
However, beauty is a persuasive concept and it's undergoing a resurgence. I get beauty, I see it on my morning walk and I come back energised and happier for it. But it is problematic as a political concept. Beauty was threaded through Michael Gove's bombastic yet fearful speech on housing in July. He trod a careful line; protecting the shires while bolstering and building up the cities. Beauty or beautiful was used 20 times. Point three of his 10 point plan for long term housing was 'Building beautiful – and making architecture great again.' Green did pretty well too.
Beauty is a persuasive concept and it's undergoing a resurgence. But it is problematic as a political concept
It is as if, with these nebulous tools, councils will be able to conjure up the growth and new housing numbers that Gove has conceded they should no longer be required to build. Governments have often been frustrated by the inability to reach housing and regeneration targets that they set – but ask housebuilders and housing associations to deliver.
Planning has long been blamed (reform the planning system!). NIMBYs too (reform the planning system!). Architecture, of course (reform the planning system! Design codes and the Office for Place will see to that!) The housing market itself often avoids the spotlight, as do the financial norms/systems that underpin it.
The coliseum for Bath blows that out of the water for one prestige project. It offers a convincing counter vision. And it says this version is beautiful, it is worth investing in. Architecture, of any style, has to have that power.
Planning reform beckons
In the meantime look out for more reforms to the NPPF, due to be announced in the autumn, and a flying squad of planners with £13bn behind them landing on areas of regeneration focus.