Shifted from the frenzy of the biennale to the more generous time and space of Portland Place, the ideas of the Venice Takeaway have room to flourish, says Hugh Pearman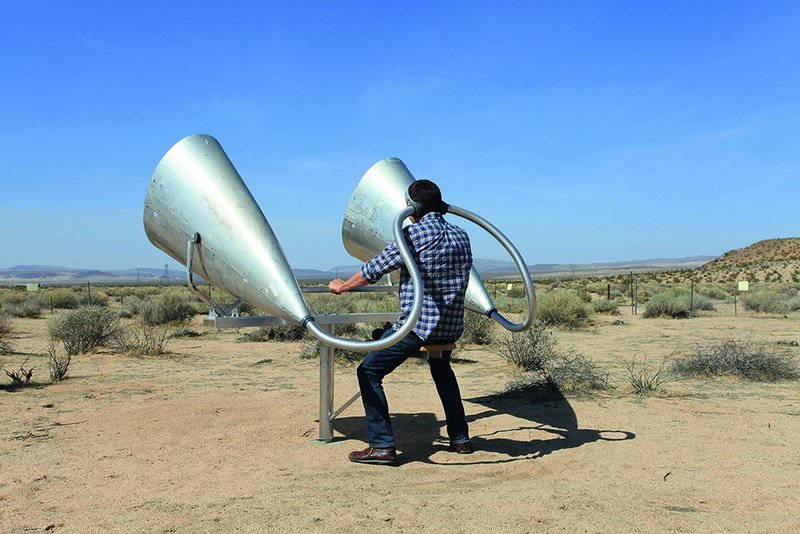 Ear on the sky: We should record our interaction with the earth's surface, says one proposal

Credit: Smout Allen
This exhibition came in for some stick when it inhabited the British Pavilion at last autumn's Venice Biennale. Some saw it as an abrogation of responsibility, a cop-out. Instead of beating the nationalist drum for British architecture – or even reflecting sadly on our failures and missed opportunities as we are sometimes wont to do – it looked at architecture from elsewhere in the world. Ten teams of 'Explorers' – picked from many invited bids, both architects and critics/curators – were sent forth to the four corners of the world to mine interesting ideas and bring them home.

I saw nothing wrong in this approach – after all, haven't the British borrowed the ideas of others ever since the Renaissance? And the various findings (not all) were often interesting, illuminating and sometimes even witty. But 10 teams doing very different things in different ways, made for a complex, reflective show that was all wrong for the Biennale. What works in the jostling fairground of competing pavilions in the Giardini is not subtlety or multiple stories: it is a single, strongly visual theme carried through with conviction and panache. But what was a weakness in Venice should be a strength at the RIBA. Taken on its own terms, without all the noise of competing attractions, Venice Takeaway – subtitled 'Ideas to Change British Architecture' – has the chance to blossom.

To be fair, this was always the intention. Co-curators Vicky Richardson of the British Council and Vanessa Norwood of the Architectural Association planned this to be a venture that snowballed to some extent. These were not to be closed research topics.

By chance, two of the 'provocations', as Norwood calls them, turned out to be very timely indeed. Although sending Alex de Rijke to the Netherlands in a boat might seem a bit obvious, following the floods that subsequently swept Britain, his researches into the potential of floating housing make considerable sense. Mind you, the waterway moorings of Britain are already jammed with residential boaters. And then Aberrant Architecture was on the money with its investigation of Rio's Niemeyer-designed prefabricated schools programme. By Christmas, Niemeyer was sadly dead and tributes were pouring in – you'll find one by Norman Foster in this issue – while a stripped-down British school-building programme is finally getting under way. What can Niemeyer teach us about good low-cost schools?

We covered two other 'explorers' – Mark Hackett and Declan Hill of the Forum for Alternative Belfast – in the last RIBAJ (December/January issue, pp 62-63) with their plans for a Berlin IBA-style international building competition in the city to fill its swathes of cleared land. Given that many British architects are twiddling their thumbs right now, how about Ross Anderson and Anna Gibb's tribute to the 'paper architects' of 1980s Moscow? And while we tend to look to work in China instead, consider Darryl Chen's suggestion of bottom-up new suburban planning based on a Beijing example.

There's hard, RIBA-style research here too. A proposal for a UK 'Exploratory Land Archive' by Smout Allen and Geoff Manaugh, based on a Los Angeles precedent documenting land use; Elias Redstone's analysis of how Argentinian architects finance their own developments; a study of the image and role of the architect by The Public Works, Urban Project's Bureau and critic Owen Pritchard; and Liam Ross and Tolupe Onabolu's comparison of the different approaches of Edinburgh and Lagos to building regulation. Learning from Lax Lagos, you might say.

Finally, architects often seem hidebound as much by fashion and ego as by regulation. So Takero Shimazaki tries to uncover the secret of Japanese architect Itsuko Hasegawa, who manages close community involvement in very individual projects. Being a facilitator need not mean dull and compromised projects.

These lines of inquiry – while undoubtedly more than somewhat navel-gazing from the point of view of the general public – can be seen as a sign of the profession's strength, not as a weakness. Recession SHOULD be a time of reflection for architects: there is merit in coming together to discuss ideas outside daily practice. The real test will be in how many, if any, of these international ideas can fruitfully be adapted and used here.
---