Léon Stynen's human-scale spaces surprise and impress at an exhibition about his work in London Docklands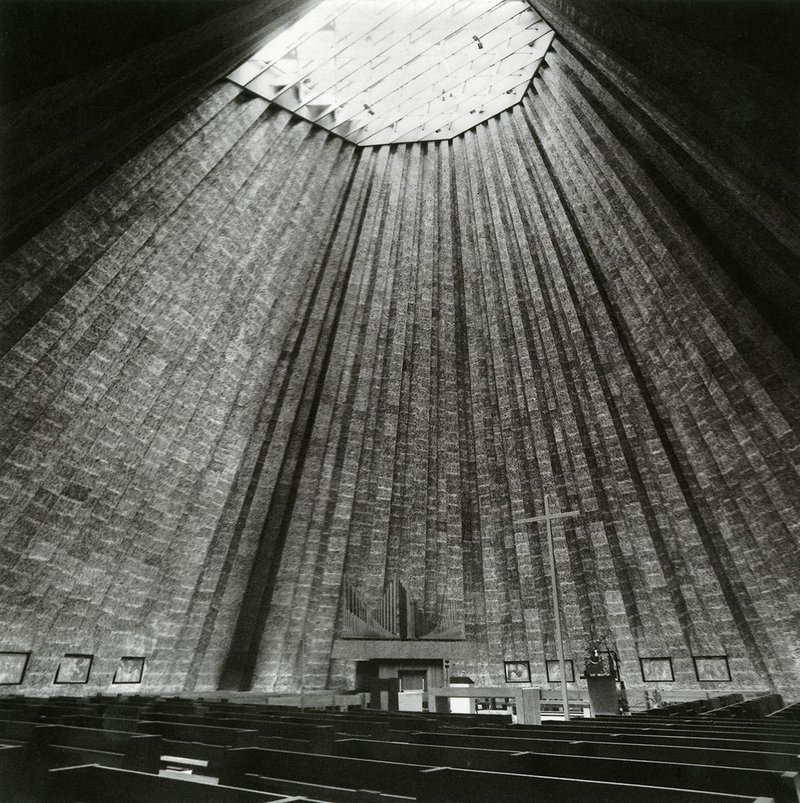 Interior of Léon Stynen and Paul De Meyer's Church of Sint-Rita in Harelbeke (1968).
The Silver Building in London Docklands was an inspired choice of venue for Brutalism on a Human Scale, an exhibition on the work of Belgian architect Léon Stynen (1899-1990) organised by the Flanders Architecture Institute.
This former brewery, designed in 1964 by Munce & Kennedy, makes for a suitably brutalist environment, thanks not only to its own uncompromising design but its challenging location practically within touching distance of an elevated DLR track in West Silvertown near the Royal Docks.
The exhibition, the first on Stynen's work to be held in the UK, is located in a raw former boiler room space within the building, which has recently been reinvented as artists' studios. Outside is an installation of large wooden structures, created by Eagles of Architecture with a group of college students to analyse the proportions of Stynen's facades.
Stynen was an architect, urbanist and designer who was active in Belgium from the 1920s to the 1970s. He also had a significant role in the development of architectural education in Belgium and was the first national president of the country's Order of Architects in 1963.
This show, part of a project by the Flanders Architecture Institute to raise Stynen's profile, looks at his progressive post-war work with Paul De Meyer, designing schools, offices, retail and housing.
The exhibition seeks to convey the generosity of what it describes as Stynen's 'refined brutalism'. It looks at his work's attention to human scale and how it would be inhabited by its users, with particular focus on the quality of communal space and natural light, as well as the positive relationship of his buildings to their surrounding context.
'He always hoped that his work would contribute to the creation of a modern environment for the contemporary citizen,' says the exhibition text, adding that Stynen's buildings were 'anchored in public life'.
We learn how he paid great attention to the spatial quality of the entrances of his buildings. This is clear in the design of the Royal Flanders Music Conservatoire at the deSingel campus in Antwerp (1968), with its spacious reception and grand, wide staircase lit by an array of distinctively shaped windows. Schools such as the Peter Pan school in Saint-Gilles, Brussels (1967) show classrooms opening on to generous terraces around a central courtyard.
The exhibition features a succession of crisp, modern high-rises with an obvious debt to Corbusier, including the structurally innovative British Petroleum office tower in Antwerp (1963) and the Esso Motor hotel (1969), which is lifted up on pilotis with the entrance slotted in below.
Perhaps the most remarkable building in the exhibition is the Church of Sint-Rita in Harelbeke (1968), an extraordinary concrete building resembling a pyramid with a lopped-off top. Inside, the single, soaring space tapers dramatically to a central roof light.
There is also a look at Stynen's enviable holiday house on Lake Garda. The display includes his drawings for a BBQ for the property, demonstrating his attention to detail in creating a total architectural entity with his designs.
The large-scale photographs and meticulous drawings make a pleasing contrast with the rough and ready surroundings of the as-found spaces, although it is frustrating that there is no translation for the film that plays in one of the display rooms.
A little more information on the individual projects would also have been useful. Nonetheless, this exhibition provides a welcome taste of Stynen's impressive oeuvre, with the added bonus of a visit to the Silver Building thrown in.
---
Brutalism on a Human Scale: Post-war Architecture by Léon Stynen (1899-1990) is at the Silver Building, 60 Dock Road, London, until 30 June.