The much-decorated Chilean architect who 'does more than just nice architecture'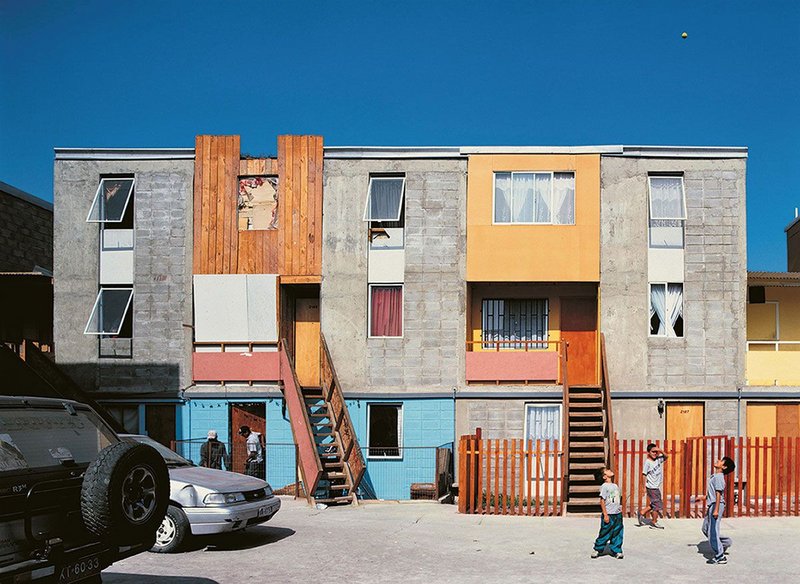 Quinta Monroy housing, Iquique, Chile from the exhibition The Architect's Studio: ELEMENTAL at Louisiana Museum of Modern Art, 11 October 2018 - 28 February 2019.

Credit: Cristobal Palma / Elemental
Be prepared to lie down at So Far…, a new exhibition on the work of Elemental, the Chilean practice led by Alejandro Aravena. Visitors are encouraged to recline as they look up to view a film of Elemental's work in a reference to the different hemispheres occupied by Aravena's practice and the Louisiana Museum of Modern Art in Denmark, which is hosting the show (chairs are available for those who prefer to view more conventionally).
Aravena has been building up a head of steam of late with a string of accolades. The director of the 15th International Architecture Exhibition at the Venice Biennale in 2016, he won that year's Pritzker Architecture Prize and has just been announced as the recipient of RIBA's Charles Jencks Award 2018. Closely on the heels of that is the retrospective So Far…, part of Louisiana's The Architect's Studio exhibition series on contemporary architects who, as curator Kjeld Kjeldsen puts it, 'do more than just nice architecture'.
Certainly Aravena fits that bill, working intensively with a small team of close collaborators and committed he says, not so much as to finding the right answer to a brief but rather formulating the right question in the first place through an extensive dialogue with stakeholders. Known as 'Workshop Elemental' this process is, notes Kjeldsen, of crucial importance to each project.
As the Pritzker Prize citation recognised, Elemental's work has clear social goals, whether delivering low cost housing or masterplanning post-earthquake reconstruction as Aravena did in Constitución in 2010. His work is realised through a function-driven architecture known for its straightforward use of basic materials and form. As the curators say in the forward to the exhibition catalogue: 'While many architects and engineers push the envelop with spectacular shapes defying the laws of nature, Elemental strives for simple, almost obvious, common-sense forms.'
Elemental has also been recognized for the sustainability of its work. Aravena himself describes his approach to sustainability as the 'rigorous use of common sense'. Tellingly, he calls his practice a 'Do Tank' as opposed to a think tank and this attitude was instrumental in his innovative approach to low cost social housing in Chile's slum areas, notably the radical 'half a house' concept. Recognising the spatial limits dictated by the budgets, the design instead encompasses scope for the resident to expand beyond their small property by providing the potential to self-build within a controlled framework. Variations on this radical approach have proved adaptable to different locations, with more than 2,500 units now built.
As well as this social housing for which Elemental is best known, the exhibition will showcase the full range of Aravena's work, from university buildings, banks and offices through to single family houses, with a particular focus on Elemental's process. These projects demonstrate the practice's willingness to challenge the brief. At the UC Innovation Center Anacleto Angellini in Santiago, for example, the client asked for a glass building but Elemental put the concrete mass at the perimeter with deeply recessed window openings, thus reducing energy consumption by a third and increasing spaces for interaction within.
There are two major site-specific installations in the show. The first, a roped structure balancing two large volumes, is designed to encourage a sense of weight, balance and traction. It also contains 120 of Elemental's sketchbooks plus construction drawings and notes that visitors can navigate via iPads.
A second, 6m high installation, explores the body's sensation of weight, balance and gravity, something that is the same regardless of location in the world. The piece also incorporates a wordless film including drone footage of Elemental's buildings shown high up the wall while visitors watch from below, and a documentation of the exhibition design and construction process itself.
Another part of the exhibition demonstrates how the practice works on projects of very different scales, from social housing estates to the design of two lamps. The show concludes with a section on the open source attitudes that are core to its practice – Elemental published a half a house manual on its website for anyone to use in their own construction project. This section also includes the Silla Chair project, which was realised by prison inmates from a basic design by Elemental.
So Far promises to be an illuminating insight into the work and processes of this most socially-engaged of practices. The Architect's Studio series will continue with an exhibition on Mexican architect Tatiana Bilbao in 2019.
---
The Architect's Studio So Far…Elemental – Alejandro Aravena
11 October 2018 - 28 February 2019, Louisiana Museum of Modern Art, Denmark.