Manalo and White has imagined a ruined Southbank to signpost its Love festival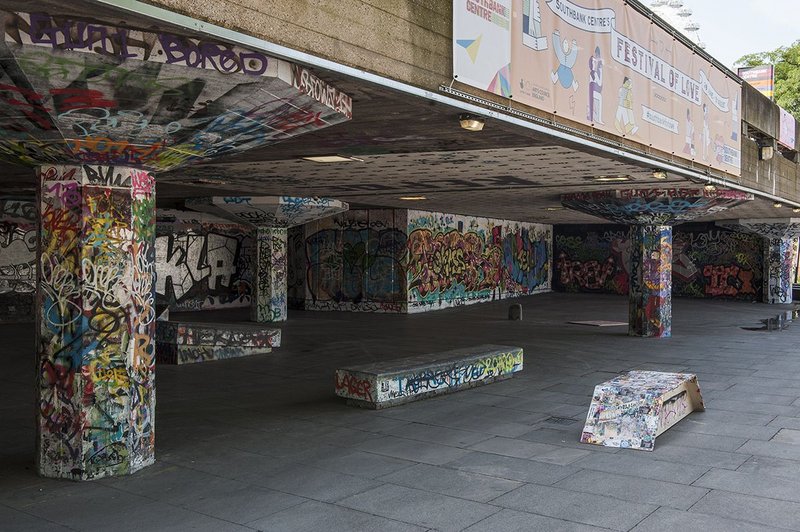 If you have ever imagined a distant future where humans live among the remains of today's architectural landmarks, then pay a visit to the Southbank Centre this month, where the heptagonal supporting columns of Queen Elizabeth Hall have been reimagined as a series of fragmented ruins.
Fluorescent green spray-painted plywood sculptures, designed by architect Manalo and White, are being used as site-wide external signage for this year's South Bank Festival of Love, a series of performance and music events and temporary installations by artists and designers, scattered among the arts complex's monolithic buildings.
The sculptures have been 'reappropriated' from last year's event, when they were painted a similarly eye-catching fluorescent orange, and are intended to stand out against the monumental scale of the site's historic buildings as well as bind the festival's diverse parts together.
Stephen Beasley, lead designer on the project at Manalo and White, commented: 'The Festival is themed on the Greek notion of love, which covers many different types of love, such as familiar, platonic, and self love. We liked the romantic idea of creating a Greek-style ruin made of lumps of column.'
He added: 'We were enchanted by the column structures in the undercroft, which are imprinted with patterns from timber shuttering.
'The undercroft is famously used as a skatepark and the only part of South Bank allowed to have graffiti on it, which influenced our decision to spray-paint the signage. The installation is also a love letter to the original Southbank Centre architects Sir Robert Matthew and Dr Leslie Martin.'
By referencing the undercroft columns, the Southbank Centre could extend an olive branch to the skaters, who had fallen out with it over proposals for a £120m Festival Wing that would have relocated the skatepark to Hungerford Bridge, about 120m away. The proposal was suspended in 2014 after the Long Live Southbank campaign gained the support of mayor Boris Johnson.
Last year, Manalo and White had just four weeks to come up with its idea for the signage, and get it fabricated and installed at the Festival, after the original designer dropped out. 'The solution had to be simple, easy to fabricate and also demountable so that it could be taken apart, stored in a warehouse in Kent, then reassembled and resprayed this year,' said Beasley. 'During the summer many of the fragments will get skated over and graffitied over, but the spray-painted plywood is able to take a battering but still look good.'
The South Bank Festival of Love runs until 31 August
---