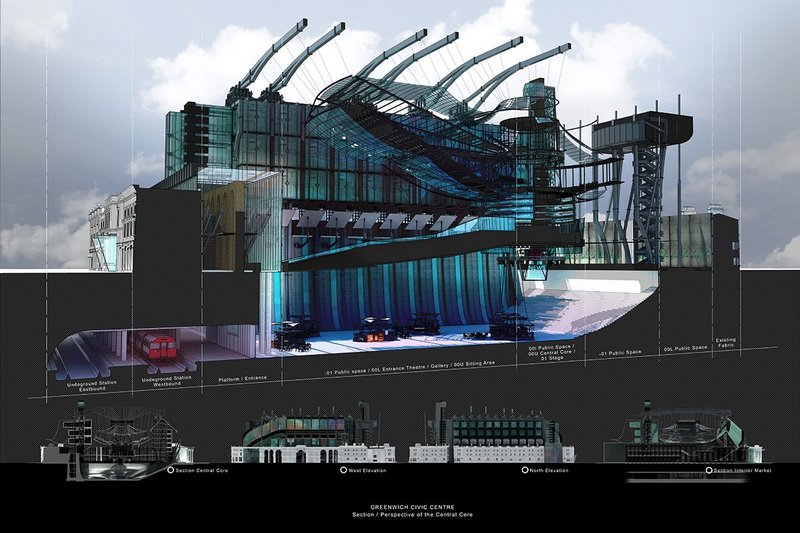 Section/perspective of the civic centre through the central core. The centre is on the site of the historic Greenwich market
New Greenwich Civic Centre: A Transformative Architecture
University of Greenwich
Tutors: Rahesh Ram, Tom Noona
In response to Greenwich's long and rich heritage, Lucian Mocanu proposes an unashamedly modern civic centre that prioritises adaptation, flexibility and modern technology.
His project redevelops the historic marketplace in the centre of Greenwich by providing a new council headquarters with modular offices, theatre, gallery, market and public space. At the push of a button the programmable building transforms itself into different configurations as required. The central core, for example, rises to accommodate a gallery or theatre. Gantry rollers create a dramatic roofline and facilitate the transformable elements of the centre.
The market is conceived as a vertical arrangement with stalls being loaded on the ground floor before rising up into their trading positions.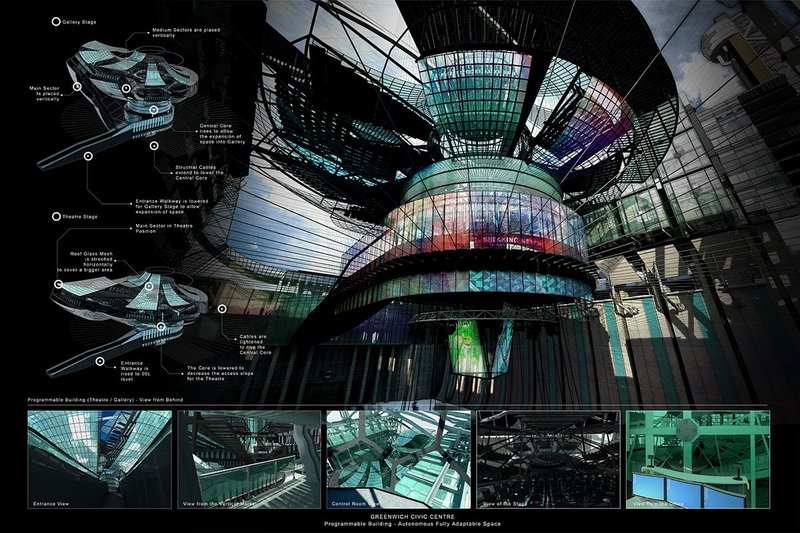 The central core rises to allow the building to expand.
Mocanu's project emphasises adaptability as an alternative to the emphasis on historic buildings for tourism. It will also bring the civic centre into the heart of Greenwich, and closer to the university.
'Through my proposal, I intend to create a new touristic opportunity for Greenwich Town Centre and at the same time, offer different activities to the local community through a contrasting architecture,' he says.
The building's surface appears in constant motion courtesy of its curved glass facade, which functions as a giant electronic information screen.
---