Socially beneficial schemes shows how architecture can heal cracks, if not divisions, in our communities. Eleanor Young weighs economic optimism against cost of living pessimism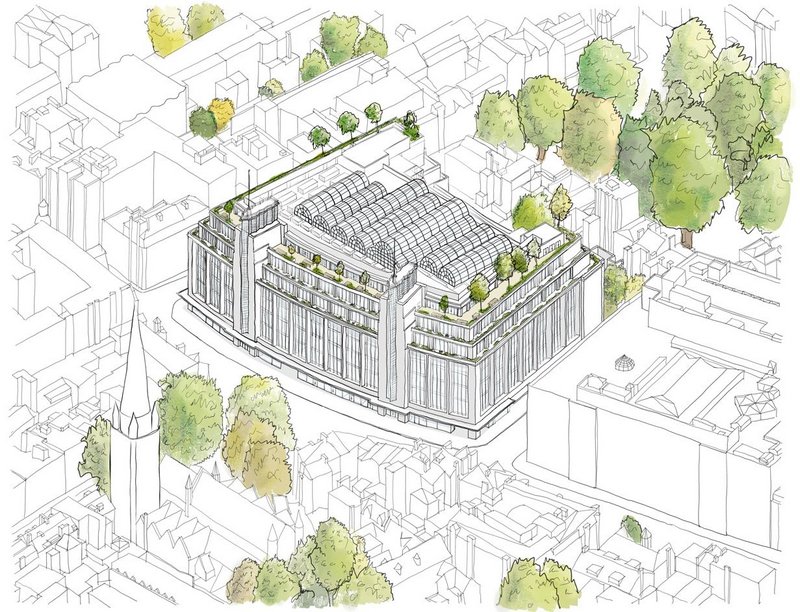 Emrys Architects' plan for Barkers of Kensington places offices around an atrium.

Credit: Emrys architects
Nothing says neglect like broken windows. The blank staring eyes of their buildings, fractured shards, often with a destructive quiff of buddleia. Every city has these lost buildings, over the years they come and go, a marker of an area's fortunes.
It is oddly unsettling seeing such degradation in our shopping centres and major high streets; thus the window stickers promising and inviting activity with bright shots of happy shoppers and glowing cafés. Can the echoing empty floors of Debenhams and House of Fraser find new life as laboratories, student rooms and hotels, or offices? Their owners have been brainstorming and business planning for the last couple of years. There are challenges; deep floor plates with dark hearts, a very particular sort of access split between pedestrian front doors to the street and behind the scenes loading bays.
Those projects are now coming through the planning system, one being Barkers of Kensington in west London. It was briefly home to fashion label Biba, and until 2018 you might have visited Kensington Roof Gardens on top – once lauded in Time Out as a location for views and cocktails when that mix was in short supply in the capital. Emrys Architects' proposal now places offices around a central atrium.
Tides of dereliction become floods in some places; in others they evaporate in the sun of architectural attention
It is a picture of economic optimism. But as I write, amid rain squalls and weeks of strikes, repurposing department stores seem a million miles away. Instead I turn to a darker portrayal of the city. When Mike Davies, who died recently, wrote City of Quartz, he took apart the community, political, racial and labour dynamics of Los Angeles. His picture of division may sound dramatic but it was given credence two years after the book was published by the city's 1992 riots, rooted in police brutality towards an African American citizen. Sixty-three people died.
Davies drew a compelling image of separation: of a fortress city for the rich and gang lawlessness borne out of need. He also dissected the organizing structures that made it what it was – from the economy to the church and political leadership, power networks that were embedded in the buildings and spaces of LA.
The UK too is unequal in terms of income and wealth. The top fifth of people hold 63% of the wealth, the bottom 5th have 0.5%, according to the Office of National Statistics. We too have seen division and unrest and we see the tides of dereliction become floods in some places, while in others they evaporate in the sun of architectural attention.
RIBAJ MacEwen Award projects cannot address the fundamental division and inequity. But they show that local people can be agents for change, piecing together funding to bring together lean projects that allow people to build communities of interest and place. They are a good antidote to what is broken in our society.