Tristram Carfrae is an engineer who understands architecture. Part of the team completing Gaudi's Sagrada Familia, his modus operandi is classic Arup: and now he is head of a multi-discipline design elite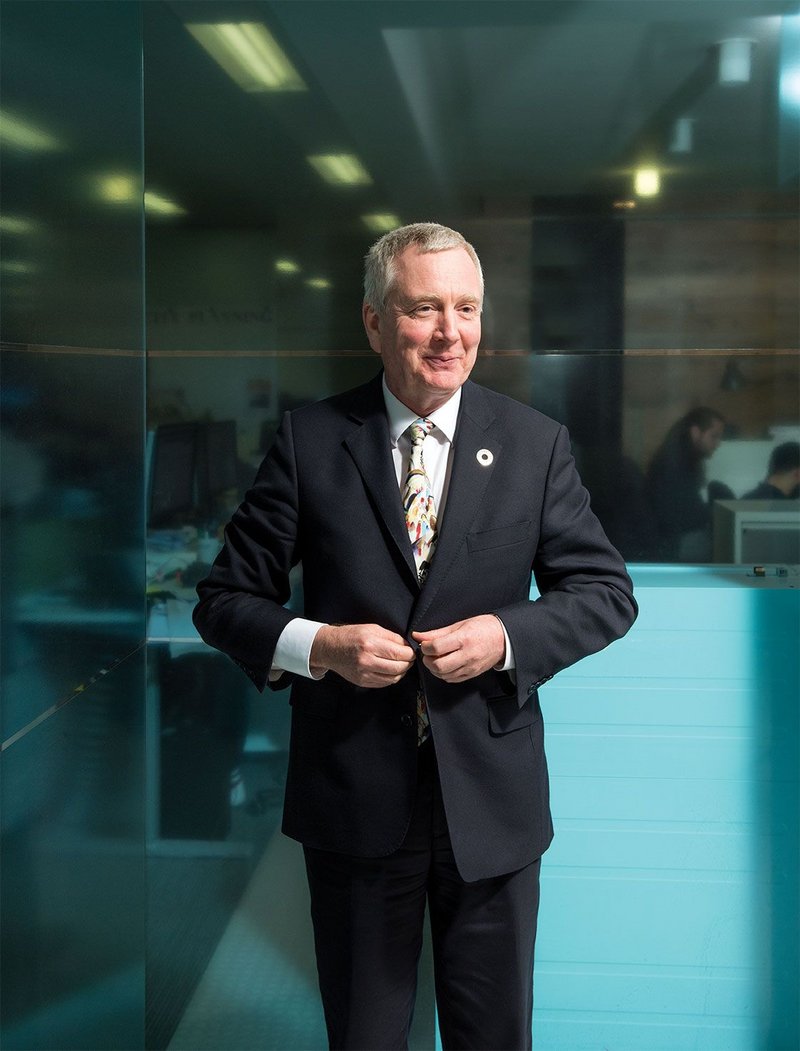 Credit: Ivan Jones
Tristram Carfrae, newly-elected master of the Faculty of Royal Designers for Industry and deputy chair of Arup, is talking about one of his favourite projects. It's a unique one: helping complete Gaudi's Sagrada Familia church in Barcelona. Among much else, this means devising ingenious ways to make what seemed at one time near-impossible: the 170m Jesus Tower at the centre of Gaudi's composition – tallest of what will eventually be 18 spires – light enough to build safely and rapidly. He's working as the only external consultant with a highly-motivated Spanish design and construction team, and the upshot is that Gaudi's 'expiatory temple', one of the greatest buildings in the world, will finally be structurally finished by the centenary of his death in 2026.
'The tower and the foundations didn't match up,' says Carfrae, pointing out that Gaudi himself was not the first architect on the project, coming on board in 1883 after the crypt had been completed by Francisco Paula de Villar. That historical mismatch is what is now being addressed by the technical team led by the project's chief architect Jordi Fauli, which also includes 2BMFG Architects. You can see why the church would look for assistance to the firm that made both the Sydney Opera House and the Pompidou Centre buildable. And Carfrae is in the Arup line of descent from those projects, having worked (on Richard Rogers' Lloyd's of London building) originally with the great Arup engineer Peter Rice who cut his teeth on the former and made his name on the latter.
It is 140 years since the church was commissioned. 'It's 60 per cent complete now,' says Carfrae. 'We set out to build 40 per cent of it in 10 years, which meant increasing the rate of construction by a factor of 10.' His solution for the Jesus tower is offsite fabrication of pre-tensioned stone sections. He has sound experience to bring to this, having started at Arup in 1981, straight from Cambridge, in its Lightweight Structures Group. Technology is finally accelerating the construction of the project of which Gaudi famously said, 'My client is not in a hurry'.
You may not have heard of the Faculty of Royal Designers for Industry, or RDIs as they are known. But you should. Based at the Royal Society of Arts (and Manufactures and Commerce, the part of the name often omitted) they have something of the air of a secret society about them. But in fact they represent the cream of the UK design industry, covering everyone from fashion and product designers to architects and engineers. Jonathan Ive of Apple is an RDI, as is world wide web inventor Tim Berners-Lee, James Dyson and Sir Terence Conran. Architect RDIs include Norman Foster, Richard Rogers, Alan Stanton and Paul Williams, Eva Jiricna, Ted Cullinan, Peter Clegg, David Chipperfield, John Pawson, Sarah Wigglesworth and – just elected – Alison Brooks. Carfrae, famed for his collaboration with architects, is now starting his two-year term as master with the intention of broadening what the faculty does.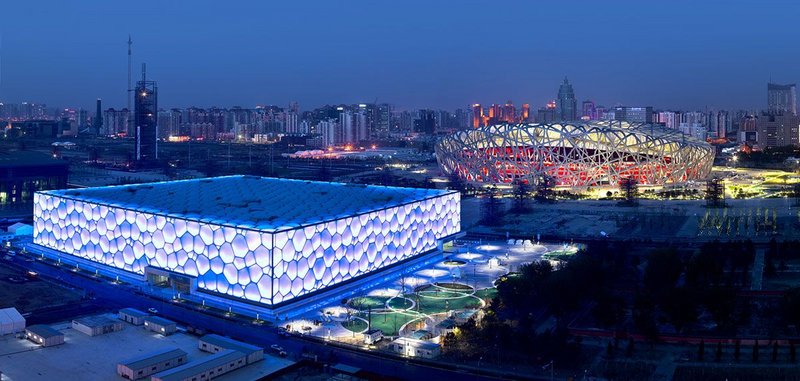 'A piece of magic': Beijing National Aquatics Centre, The Water Cube (foreground), 2008, with PTW Architects

Credit: Marcel Lam
He is a structural engineer in the classic inquiring Arup mode. At his address on taking over as master, he cited a recent Arup project, the new Forth Crossing, as an example of this. The client's brief was for a big replacement road bridge with capacity for an integrated rail link as well. Arup came back with an alternative: spend half the money for a new road bridge alone – but keep the existing bridge and road infrastructure for future needs, adapting it if necessary for rail. That is the solution that was adopted.
Carfrae has a slogan: 'What does good look like?' and an approach – in any project, pause. Step back, come out of the problem, consider alternatives. He remembers Peter Rice comparing the design process to a hound following a scent – it's not linear. And above all, Carfrae knows that design decisions are made by the emotional side of the human brain. If you thought engineers were technocratic types, think again. Artificial intelligence is on the rise, especially the aspect of it known as 'machine learning' which, for instance, allows a computer to beat us at chess. He believes that in the 'human-machine partnership' we now operate, it is creativity, intuition and emotion that will keep us ahead of the robots. 'You have to give machines oceans of data. They can't make mental leaps.'
This triumvirate of virtues, he says, is what you often find in the UK, which is what brought him back here after a long spell working in Australia – though British-born and raised, he has a distinct Aussie accent. He notes that just about every Formula One motor-racing team in the world is based here and himself has a passion for Lotus cars – because he admires the dictum of Lotus's founder, Colin Chapman: 'Add lightness, not power'.
Beyond this, he questions our sometimes conventional view of design and thinks we should get out of our comfort zones more. 'You can design a better conversation' is his way of starting the thinking on this, going on to consider designing better lives, a better world. He thinks that with design experience comes fluency but also unconscious bias – there's the danger that we'll stop inquiring and questioning, and slide into formulaic responses. 'Could designers start looking at problems that are not in their discipline at all?' he challenged the assembled RDIs.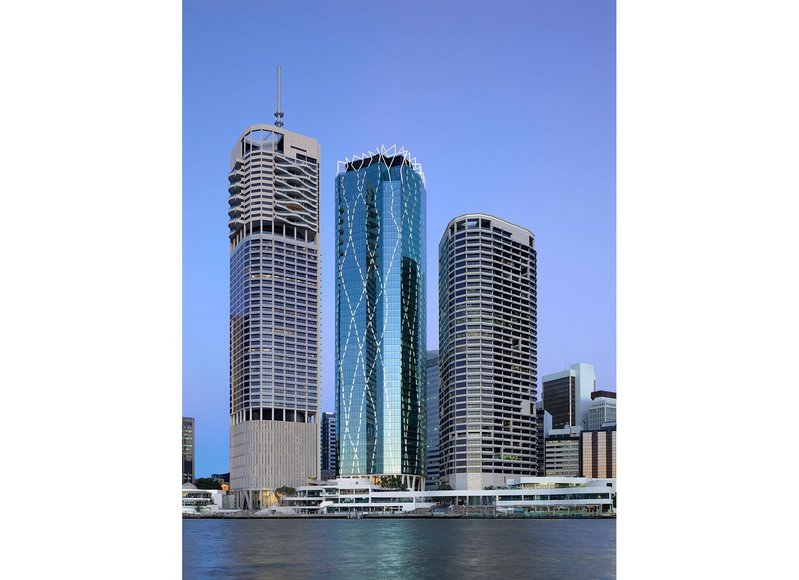 111 Eagle Street in Brisbane (centre), by Philip Cox, has an advanced algorithmically calculated structure by Carfrae/Arup.

Credit: Frederick Jones
This way of thinking – the intuitive way, if you like – is the common experience of all good designers and is teachable, he reckons – secondary school level,a particular focus of the RSA, being an ideal place to nurture it. Nor is this a solitary activity, given his history of exemplary collaborations. Apart from Lloyd's of London and his ongoing work with the team on the Sagrada Familia, the landmarks from his career that he highlights are the fabric-roofed Schlumberger Research Laboratories in Cambridge with Hopkins (1985), Sydney Football Stadium with Philip Cox (1988) – the first with an all-round roof rather than separate stands; the 'Water Cube' or Beijing National Aquatics centre ('just a piece of magic') of 2008; and the algorithmically-derived structure of 111 Eagle Street, Brisbane, another collaboration with Cox.
This is how he works – playing ping-pong, as he says Renzo Piano puts it, with architects. He's done a couple of footbridges on his own, he says, but he prefers working with others. 'I GET architecture,' he says. 'And the Sagrada Familia is the purest collaborative project I've ever worked on. The Spanish architects, engineers and builders, and us. We're in a room and the only objective is to design the best possible church.'