The Russian invasion of Ukraine has thrown much of what we knew into turmoil, writes Simon Allford. Now we must help make sense of it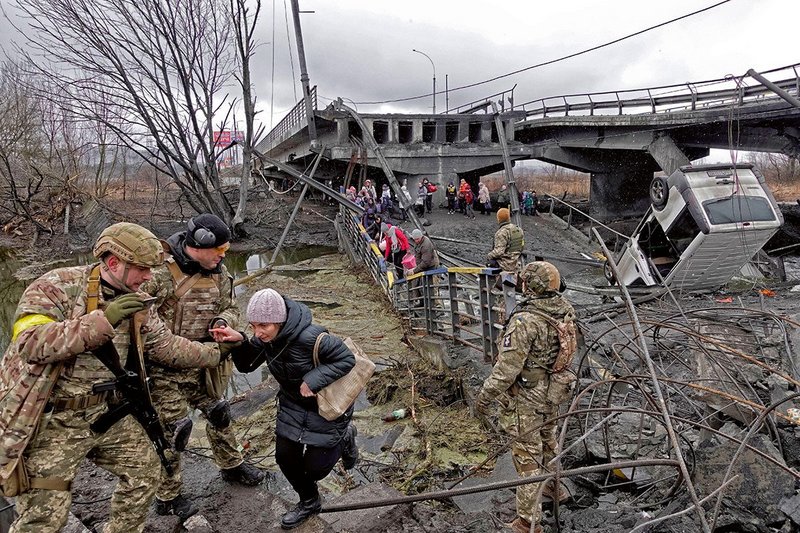 Irpin, Ukraine on 3 March by a bridge shelled by the Ukrainians to slow down Russian convoys

Credit: Newspixs / Alamy Stock Photo
The world has changed dramatically. Particularly for Ukraine and its population. Proof, if ever it was needed, that we should never assume the longevity of the post-Second World War model of European peace and security. The fall of the Berlin Wall in 1989 and collapse of the Iron Curtain re-set the European model in a remarkably swift and surprisingly (and relatively) peaceful process. None of us today, however, can have any idea where Russia's invasion will end. But we are all now aware, beyond the tragedy being played out, of some of the immediate impacts and outcomes.
One is that surprised western democracies have been galvanised to act swiftly and in concert – through the provision of arms and the exercising of sanctions – in support of Ukraine. Another is that the world has been pushed further into an economic troubles that will affect us all in many ways. Yet another is that the much-vaunted idea that future wars will be cyber has been exposed, at least in part, as a fallacy – it is troops and tanks that are leading the invasion; it is bombs and rockets that are raining down on Ukraine's cities and its people. One truth has been confirmed: energy supply and energy security are a vital driver of geopolitics. The over-reliance of western European democracies on fossil fuels – piped in from Russia – may well have informed Vladimir Putin's thinking. Though their resolve, despite that reliance, may also have surprised him.
But what does this mean for architecture? In many ways that seems a selfish and narrow question. Many practices, individuals – and the RIBA – have expressed support for colleagues from Ukraine and in Ukraine and its environs – as refugees flood into Poland and elsewhere. Some practices have announced they are stopping their work in Russia. Many have already chosen not to work there. I was struck by the courage, in an increasingly draconian Russia, of the large numbers of people taking part in public protests and by an open letter from Russian architects and planners condemning the invasion of Ukraine as 'unacceptable'. Potentially, they are putting much more than their livelihoods at stake.
The greatest impact on global architecture is the effect the threat to energy security will have on the climate challenge. Germany may consider a return to nuclear power, previously rejected, to reduce reliance on Russian gas. But that is a long-term shift that will not be in play for years. Right now, with the supply of gas precarious, energy security concerns will impact throughout Europe on plans to phase out coal fired generators. Right now, despite warm words post-COP26, it is clear our planet remains immediately vulnerable to more than global warming: political power plays and nuclear weapons are a threat at a level not seen since the Cuban Missile Crisis of 1962.
Inevitably, these concerns overshadow the day-to-day challenges. But our role as a profession is to help to address the immediate humanitarian, cultural, political and economic impacts of the war while maintaining our focus on how the day-to-day impacts on the long term. Maintaining perspective is as vital as it is difficult.