Sir Hugh Casson Making Friends is a delightful exhibition of a remarkable career. This relatively small but packed show is staged fittingly at the Royal Academy, which Casson (1910-1999), revitalised in his stint as president from 1976-1984.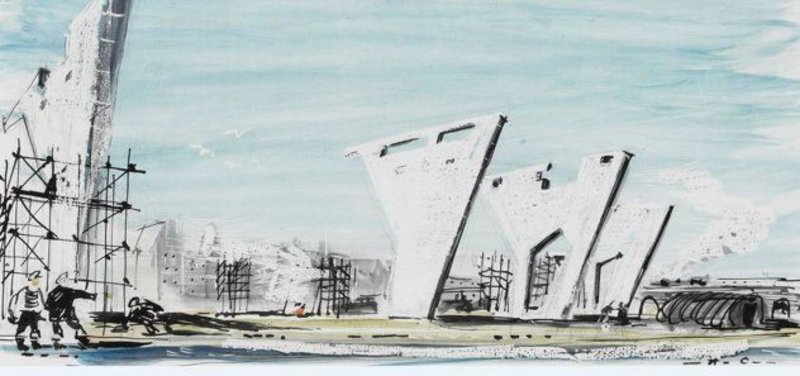 Many will be familiar with Casson's key role as director of architecture of the 1951 Festival of Britain. But as this exhibition shows, that was just one aspect of an incredibly wide-ranging career that embraced everything from buildings and cruise ship interiors to postage stamps and wine bottle labels. Casson was, it is clear, one of those rare breed of accomplished individuals who could turn his hand to designing anything, as well as teaching – he was professor of interior design at the Royal College of Art for 25 years - and writing.

Designed by his daughter Dinah's practice Casson Mann, the show is also an insight into the man, with charming drawings, letters and sketchbooks. We learn about his war-time role as camouflage officer, admire his beautiful watercolours, and enjoy photographs and drawings of his work from the interior of the Time-Life Building on New Bond Street to royal suites on the Britannia and at Windsor Castle, and the elephant and rhinoceros pavilion at London Zoo.

A film on the Festival of Britain is perhaps most revealing of his architectural approach as he discusses how he used the North Bank as a 'stone drop curtain' for the temporary showpieces of the South Bank, and played with levels, form and structure in the creation of the 'Brief City' of the festival. He saw it as a fitting blueprint for a new town – light-hearted, sensible, not too dear, practical but never boring.

Looking at the great range of work on show here, the pottery and set designs, the ship interiors, the book illustrations, one marvels at Casson's prodigious and varied output. Perhaps the answer to his creative longevity is to be found in another fascinating film of him drawing where he muses that curiosity is the secret of happiness. Knighted at just 41, he nonetheless managed to retain his zeal for new challenges for another half a century.
This exhibition is a fitting tribute, and will delight not only those old enough to enjoy the Festival of Britain nostalgia but those discovering his work for the first time, and everyone in between.
---
Sir Hugh Casson PRA Making Friends, until September 22, Tennant Gallery and Council Room, Royal Academy of Arts, Piccadilly, London