Mavericks at the RA throws up lots of absorbing questions and opinions. It's a shame it's so inaccessible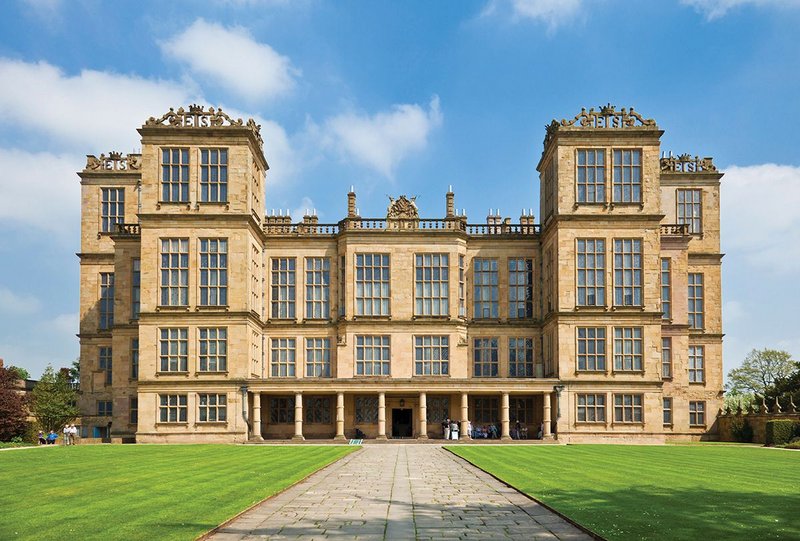 Robert Smythson's Hardwick Hall - Elizabethan high-tech

Credit: eye35/Alamy Stock Photo
Mavericks is the RA's latest show with book attached, but I'd recommend the book rather than the exhibition, which really amounts to little more than a scheme of wall decoration – lots of coloured discs bearing faint images and words – in the strange in-between spaces that the RA reserves for its more modest architectural offerings. Half of it is in the tight little café jammed around the glass lift up to the Sackler Galleries. You have to squeeze past tables to be able to see it all. The other half is on the sloping run down to the Grand Restaurant, where you are jostled by Friends up in Town, charging towards their quiche and salads. Exhibitions don't stand a chance in these conditions, a situation one hopes will improve significantly with the extra space offered by the RA's Burlington Gardens expansion.
So don't rush to the RA specially for this, though certainly take a look if you are passing – but do read the book, by curator Owen Hopkins. I say this even though I can guarantee you will disagree with his choice of a dozen names, if not his general premise. What makes a UK architect a maverick? What does being a maverick in this context actually mean? What are the criteria? Can you be simultaneously a maverick architect and commercially very successful?
This cannot be an objective matter but Hopkins makes a decent go of it – in particular by daring to sidestep certain perhaps-too-obvious examples (Hawksmoor, Lutyens, Goldfinger, Outram, or Turner Prize-winning Assemble, say) in favour of more neglected historical figures he clearly wants to give a bit of an airing: Robert Smythson, CR Cockerell, James Wyatt, HS Goodhart-Rendel.
He's on more familiar ground with Vanbrugh, Mackintosh, Stirling, Cedric Price and FAT – and possibly even Zaha, though here is where the 'commercial success' question arises, not to mention Establishment approval, as evidenced by the Pritzker Prize and Royal Gold Medal. In her case, I'd say the term is justified: the jagged corners may have been replaced by more fluid lines in her work and she runs a very large office, but no-one could say any edges have been blunted when it comes to Zaha's all-or-nothing attitude. Hopkins has to work harder to convince me that John Soane or Charles Holden – both architects very much of the Establishment if remarkably original in their work – quite suit this description. Perhaps the title of the endeavour could have been 'Obsessives' but that's only one aspect of maverickness.
Hopkins defines his terms thus: 'The ­architect who refuses to conform to the norms of mainstream architectural culture. This may be in terms of designing in an idiosyncratic way that actively disregards stylistic convention, or it could be about being at the leading edge of architectural design and thought.'
It's not necessarily about being a genius, Hopkins insists, though historically the maverick and the genius can merge. A maverick can be identified in the present, he notes, while it takes time for genius to be recognised. Nor, almost by definition, can there be very many of them – because 'maverick' tends to suggest 'difficult' or 'experimental' and there are not endless clients prepared to entertain that in architecture.
'There is nothing more detrimental to an architect's career than a reputation for buildings that don't work, either aesthetically or practically. So, it takes a special character – someone of confidence, conviction and abundant self-belief – to be a maverick architect, and it is this, I argue, that sets them apart from mavericks in other creative fields,' he says.
Internationally, we think we know who they are: Hopkins cites Brunelleschi and Michelangelo, Ledoux, Boullée, Gaudí, Loos, Buckminster Fuller, James Wines and Rem Koolhaas. We can all play the parlour game of compiling our own list – Wright? Murcutt? Mockbee? Predock? Shigeru Ban? Gehry? The director of this year's Venice Architecture Biennale, Chilean architect Alejandro Aravena? But Hopkins says he is fascinated by British maverick architects in particular because we throw them up with satisfying historic regularity. This, he suggests, might be something to do with our relative remoteness from the European mainstream.
'Britain has always been at the tail end of adopting European cultural innovations – whether the Renaissance, baroque or modernism – and it does so always on its own terms and for its own reasons,' he avers. This gets interesting. So the classical architecture of the Renaissance was slow to take hold in Britain not because we didn't know about it – we did, as Henry VII's tomb in Westminster Abbey of 1509-11 by Italian sculptor Pietro Torrigiano makes clear – but because of our national character of suspicious conservatism. This is why successive generations of talented British architects have made their names overseas before they were accepted back home while others, such as Price, were just so far ahead of the game that it took time for us to acclimatise to their ideas.
'To operate, mavericks need opportunities to take risks and, above all, to fail,' he says. That means well-heeled and adventurous clients, of the kind that Smythson was able to attract. Bess of Hardwick was only one of his roster of risk-taking clients who wanted show-off palaces in which to entertain the Court and cowe the populace.
For my money, FAT are the indisputable mavericks in this narrative because they vigorously championed postmodernism when it was in its very depths of unfashionability. For quite a while they seemed to actively enjoy their status of unbuilt provocateurs, and it is notable that it is only after they finally got a handful of mostly well-received buildings built that they called it a day. There is something admirable in that. A number of younger practices now operating fruitfully owe a lot – possibly everything – to FAT.
This, then, is a wholly subjective and partial compilation of free-spirited, convention-defying, British architects. In an age of peer-reviewed committee-written academic books, that comes close to being rather refreshing. Feel free to disagree violently.
---
Mavericks: Breaking the Mould of British Architecture by Owen Hopkins: at the Royal Academy Architecture Space and Gallery Cafe, London, until 20 April. Book by Royal Academy Publications, £16.95
---