Architect, interior and furniture designer, and sculptor and artist, who after a rich and varied early working life became famed for home and shop interiors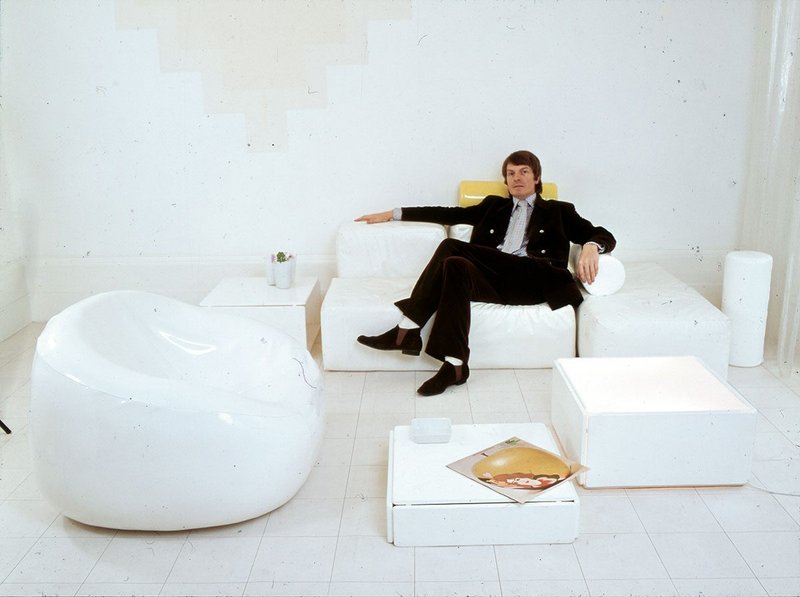 1. Max Clendinning in his white minimalist phase at home with modular plastic furniture designed for Aerofoam.

Credit: RIBA Collections
Maxwell Clendinning, who died in June aged 96, was an architect, interior designer, furniture designer, painter and sculptor noted for bold forms, use of colour and timber structure. Equally at ease with monochrome minimalism, Pop and PoMo, his work gleefully rejects easy categorisation.
Born in Richhill, County Armagh in Northern Ireland, the son of a furniture manufacturer, he took to art young. At Portadown College in the late 1930s he was encouraged by two influential RCA-trained art teachers, George McCann and Crawford Mitchell, and a lifetime of painting in water­colour and oils began. He moved in the war years to Belfast College of Art where – despite the absence of an architecture school – the professor arranged classes for a small group, making drawings from casts of classical sculpture and designing in the Baroque manner of Sir Christopher Wren. Clendinning proved to have a real aptitude in architecture, recognised when he won the Sir Charles Lanyon Prize.
Thus encouraged, he started work in 1944 with Belfast architect Henry Lynch Robinson, an important figure in the post-war development of modernism in Northern Ireland. With Robinson he worked on houses, schools, factories offices and Festival of Britain buildings in the province. Robinson had confidence in his young protégé, giving Max great freedom to use his own judgement in design and choice of materials used.
Still unqualified, he returned to Belfast College of Art to teach architectural design in 1950-1. In 1951, the year of the Festival of Britain, he won a senior entrance scholarship to the Architectural Association in London: he gained his AA diploma and ARIBA qualification in 1953.
Next he was off to Italy on a British Council scholarship, touring the country end to end to study town planning – and also managing several weeks in Tunisia.
Back in London, he worked briefly first for architect Maurice de Metz, then with Fry, Drew, Drake and ­Lasdun on colleges, a university, banks, housing and interiors. In 1956 he moved to British Railways' architects department to develop prefabricated buildings for its modernisation programme. A key survival from this ­period is his lightweight timber-shell Oxford Road ­station in Manchester, now grade II listed.
The early 1960s saw him at the firm of Sir John Brown, AE Henson and Partners, designing the civic centre in Crawley in all its aspects including interiors and furniture (sadly this was demolished earlier this year despite a campaign to save it). That done, in 1965 he set up his own practice, specialising in interiors.
From then on Clendinning forged a successful career in interiors for private homes internationally, and shops including Dior's all-grey 'London Atelier' in Conduit Street. A key client was Christina Smith, who bought up shops and warehouses to preserve Covent Garden when it was under threat: for her Max designed Neal Street East (a former banana warehouse) and the Tea House with its gridded red and black window display, which still exists today. A key Clendinning furniture design is his 'flat pack' timber design Maxima, sold by Race furniture in many configurations: on holiday in Ireland he would make prototypes in his father's factory that would then have to be dismantled to go on the plane with him back to London. He continued to design furniture for personal use until 2019.
Clendinning is survived by his partner, theatrical ­designer Ralph Adron, with whom since 1972 he had created an extraordinarily eclectic and much-praised set of interiors and art collection in their house in Islington.