How Konstantin Melnikov built his avant-garde family home and survived the displeasure of the Soviet state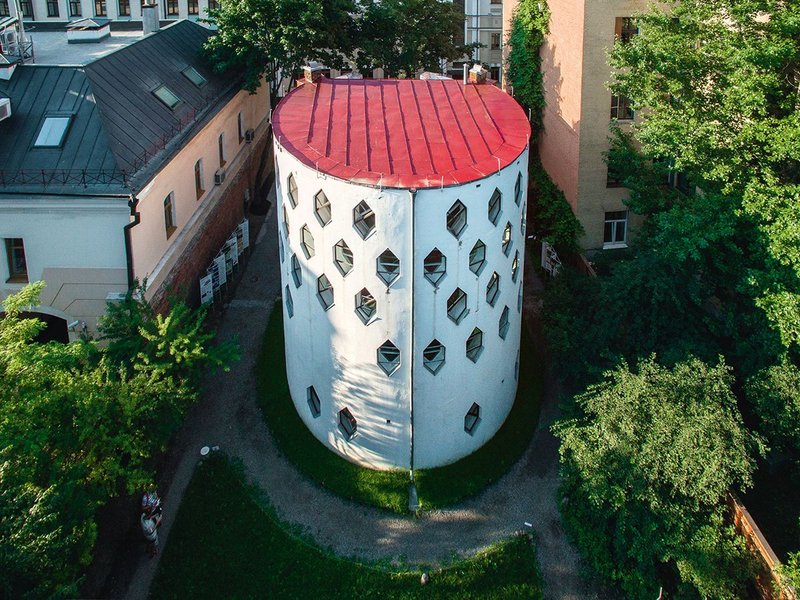 Melnikov House after restoration – view of the north cylinder from above.

Credit: Denis Esakov
Designed some 90 years ago, the extraordinary Melnikov House in Moscow still has the power to amaze. Known as the Cylindrical House by contemporaries, its distinctive curved facade is pierced by an irregular and spectacular array of hexagonal windows.
Its designer – and client – was Konstantin Melnikov (1890-1974), a celebrated avant-garde architect who built it as a family house in 1927-9 and lived there until his death. Recently, following the death of his son, the artist Viktor Melnikov, the house has been restored and opened as a museum.
This new book on the building has a great story to tell, related by author Pavel Kuznetsov, the director of the State Melnikovs Museum, and Viktor Melnikov.
The son of a peasant, Melnikov rose to became a go-to architect for the Soviet state from the mid 1920s to the 1930s. This decade included his first building, The Makhorka Pavilion in 1923 for the All-Russian Agricultural and Handicraft Industries Exhibition; a sarcophagus for the body of Lenin in 1924; and the well-received Soviet Exhibition Pavilion for the International Exposition in Paris in 1925, on which he collaborated with the artist Alexander Rodchenko. These golden years ended with his exile from the Architecture Institute teaching staff in 1936 for refusing to change his creative direction and, a few years later, his exclusion from practising as an architect.
I wish there was a bit more explanation of why he fell so drastically out of favour. We learn that he went against the grain in many ways, as a religious believer in a time of state atheism and as someone who despised modern materials but embraced an architectural form at odds with traditional buildings. He was described as 'a solo architect in a mass society' by the first foreign author to write about him, S Frederick Starr.
Although the museum's archive shows that he did manage to undertake some work despite his enforced departure from the profession, in his last 40 years, we are told, he was unable to realise any of his concepts. His reputation was attacked as late as the 1960s in a speech by Soviet leader Nikita Khrushchev, and he had to see off an attempt to evict him from his house in 1961 before the eventual rehabilitation of his reputation in 1965.
This book discusses Melnikov's other major works but it's the cylindrical house that I really want to know about, and there's no shortage of material here. We learn that he got his 300m2 house approved by pitching it as an experimental prototype for combined cylindrical house-communes. The house consists of not one but two cylinders of 8m and 11m in height that interlock for one-third of their volume. Rooms of temporary visitation such as dining room, kitchen, bathroom and children's rooms are on the ground floor with a relatively low ceiling height of 2.65m. A straight staircase leads to the much more generously proportioned first floor. Here is a huge, 50m2 living room dominated by a 4.9m high, full height window, as well as a bedroom for both parents and children with the children's area simply separated by a partition. A narrow spiral staircase at the point where the cylinders intersect leads up to the splendid studio on the second floor. This looks fantastic, rising to 4.7m in height and illuminated by a shoal of 38 windows. A ladder leads to a small mezzanine and access to a terrace on the roof of the smaller cylinder.
What was it like to live in this singular house with its curved perimeter brick wall and unusual deployment of windows? The many archive – and recent – photos give some idea. Rather surprisingly the rooms were filled not with modernist furniture but with heavy, rather traditional looking pieces from the 19th and early 20th centuries. Yet the spacious top floors appear full of light and colour and must have been very pleasant to spend time in. The family certainly enjoyed living there. In a letter, Melnikov himself describes the tranquillity he found within his cylindrical home:
'Our house, which is a solo of individuality, resounds proudly in the hubbub and din of the discordant piles of the capital and, like a sovereign unit, incites us with wilful intensity to feel the pulse of the present.'
He was described as "a solo architect in a mass society" by the first foreign author to write about him, S Frederick Starr
The book's aim is to be an informed tool for further research. While it is a little scholarly in tone, it is also packed with fascinating images – architectural drawings, sketches, paintings, archive construction photos and great recent images as well as documentation and calculations. Enthusiasts can pore over this material and the detailed account of the design and construction, right down to the number and cost of the bricks used to form the structural hexagonal apertures and Melnikov's lengthy struggles to finance the build.