In the aftermath of the Colston statue toppling, Goldsmiths Centre for Contemporary Art has asked 47 artists to challenge preconceptions of what a monument should represent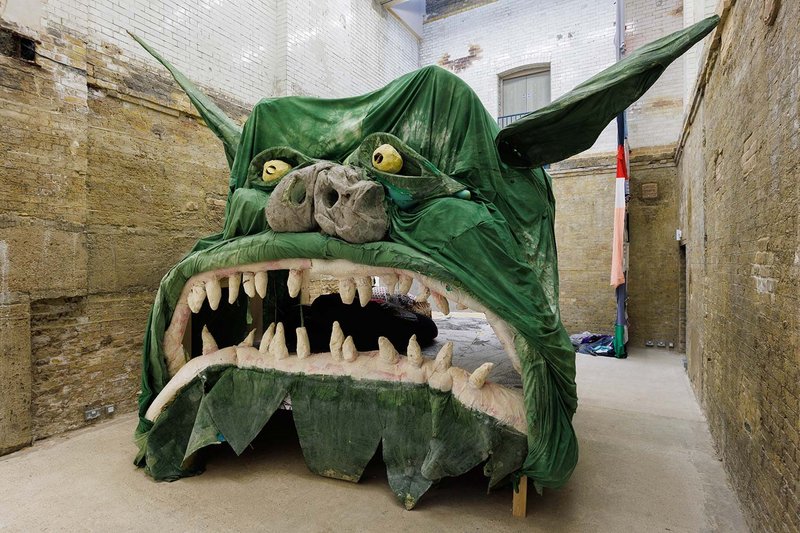 Monster Chetwynd's A Monument to the Unstuffy and Anti-Bureaucratic, 2019, from Testament at Goldsmiths CCA. Courtesy of the artist and Sadie Coles HQ

Credit: Rob Harris
What would be a suitable monument for the UK in 2022? That was the question put to the 47 contributors to Testament, a new exhibition at the Goldsmiths Centre for Contemporary Art in London.
The diversity of responses, including monuments to alien species and money laundering, certainly challenge preconceptions of what a monument should represent. Traditionally structures to either commemorate or celebrate a person or event, monuments have the potential to be powerful focal points for remembrance. But, as illustrated by the recent Colston statue toppling in Bristol, they can also be highly problematic given that they reflect the agenda of those who build them. When times and attitudes change, what should happen next to these seemingly permanent structures? In the context of Brexit and Black Lives Matter, and with the prospect of a national Covid monument of some sort in the offing, this feels like a particularly good time to tackle such a highly charged subject.
In Testament, it is the artists who are calling the shots when it comes to who or what should be commemorated, and how. The results are not celebratory memorials to glorious endeavours but mostly explore concerns about the divisiveness of contemporary society, whether issues of displacement and belonging, grieving families wronged by government, or the impact of consumer waste.
Goldsmiths Centre for Contemporary Art director and Testament curator Sarah McCrory was nonetheless surprised that the hugely diverse responses weren't even darker, given the 'awful' times. Perhaps because of this resonance with contemporary issues, they are certainly engaging with plenty of scope for interpretation.
Jeremy Deller contributed an array of bright ideas. I liked the notion of Monument to Money Laundering, conceived as a plaque that could be attached to many a high-rise new-build tower in London, as well as a Culture War memorial and a Tomb of the Unknown Refugee. He also suggests a Memorial to Civilian Dead in the Vietnam War, which would stretch 34 times longer than Maya Lin's celebrated memorial to US military deaths in the conflict, in direct proportion to the far greater loss of civilian life.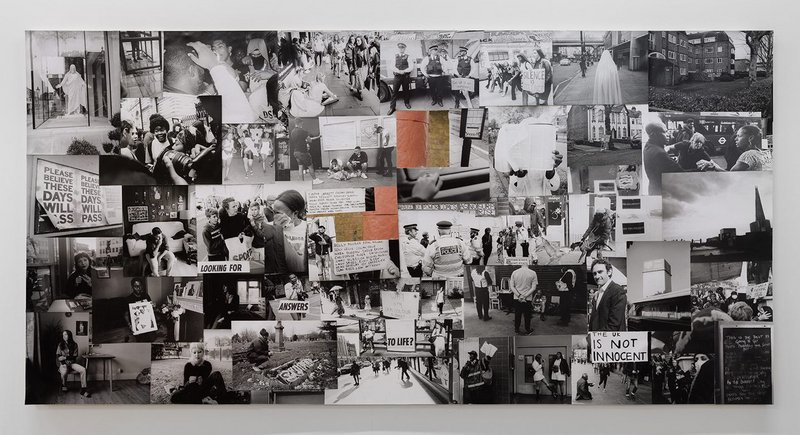 Alfie White's Portrait of Britain, 2021, from Testament at Goldsmiths CCA.

Credit: Rob Harris
Several proposals relate to ideas of displacement and immigration. Adham Faramawy's film is on one level a homage to the parakeets that have become a colourful but controversial fixture in London parks, and on another can perhaps be read as an allusion to the migrants who have also made the city their home. Jay Tan's Sojourners Settlers Sponge is dedicated to the Chinese sailors and travellers who settled in London more than a century ago. Proposed for Limehouse, it is an upbeat confection – a giant festive cake referencing dragons, phoenixes and lotus flowers. In a different take on displacement, Saelia Aparicio's monument to alien plant species is a celebration of 'plant intelligence and plant agency', proposing a walking garden inhabited by plants labelled invasive.
Some artworks are responses to real events. Roger Hiorns's placards installation draws attention to the 177 young victims of Variant Creutzfeldt–Jakob disease in the 1990s, linked to BSE disease in cows. This is a tragedy that has, as McCrory points out, disappeared from contemporary memory. Hiorns proposes a monument to honour those who died – a simple silver sheet in the Westminster built environment 'so that it becomes part of the materials and texture of remembering the systemic fault lines and limitations of governance'.
As might be expected, several exhibits reference the pandemic. Stuart Middleton's Motivation and Personality, which rises up through the triple-height space, is created from stitched together, cast-off unpicked clothing. This is conceived as a monument to human resource and also to contact, with the clothes embodying 'the smell of skin, dust and old cells decomposing' at a time when human contact was limited. Mark Wallinger's film focuses on the notorious Marble Arch Mound commissioned to entice shoppers back to the West End – billed as the only major civic commission created as a result of the pandemic. Wallinger was clearly rather more interested in the view from inside, with shadowy figures climbing the steps up, and in the happenings at the nearby Speakers' Corner, than the view out.
Proposed for further down the road, Tenant of Culture's Oxford Circus is a pertinent comment on consumerism at odds with its location in the heart of the West End. Conceived as a 30m-high sail made of post-consumer waste in the form of discarded trainers, it is intended to remain in place for 200 years, the period it would take to decompose.
Many of the exhibits draw attention to universal themes. Rabiya Choudhry's The Lost Ones proposes a giant candle-shaped light sculpture. This serves both as a testament to those who feel lost in the world or have lost loved ones, and as a light to make people feel safe in dark parts of town. Oscar Murillo's installation uses cheap, little-valued plastic chairs, chosen as the antithesis of the monumental and the idea of triumph. Instead, it is a comment on the perils facing society, whether through the general decline of social fabric or through displacement.
Alfie White's Portrait of Britain is a collage of images from the last few years, that offers a rather bleak snapshot of a fragmented society beset by a pile-up of austerity, inequality, racism, need, Grenfell and Covid.
On a lighter note, Monster Chetwynd's huge green mouth filled with seating was one of the most popular exhibits with young children when I visited – and who wouldn't want to sit inside a giant creature's mouth? They might have not realised that they were inhabiting 'A Monument to the Unstuffy and Anti-Bureaucratic', also described by the artist as a monument to authenticity and to 'emotion in art and to spiritual connection'.
A fair few of the exhibits, despite the excellent gallery guide, remained puzzling to me. But there is plenty here to provide food for thought and speculation, whether as individual pieces or part of a broader exploration on the concept of the monument. It's also a great reason for those who haven't already visited the Assemble-designed CCA, which opened a few years ago, to do so.
---
Testament, until 3 April, 2022 (Wed-Sun), Goldsmiths Centre for Contemporary Art, St James' New Cross, London SE14 6AD