Joy awaits at the end of lockdown with MK Gallery's celebration of the Memphis postmodern design movement bursting with exuberant life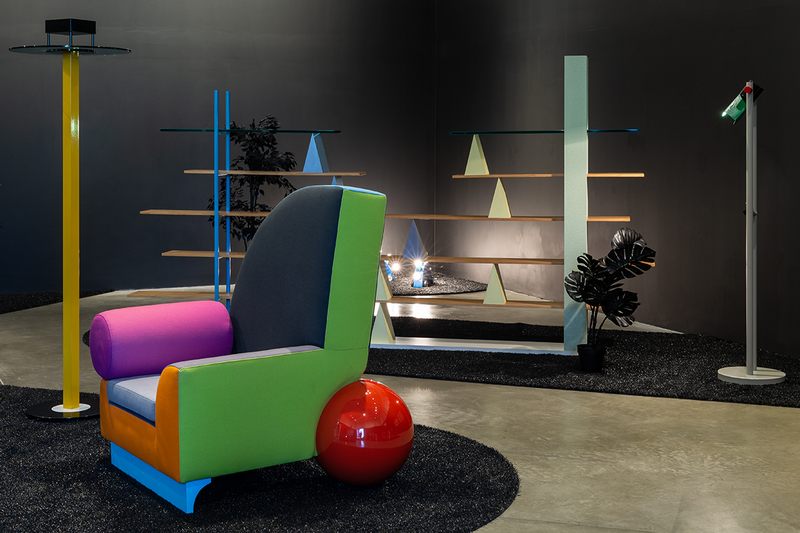 Gallery view of Memphis: Plastic Field, at MK Gallery, Milton Keynes.

Credit: Rob Harris
Memphis is very much a Marmite design movement. Love it or loathe it, it's impossible to remain unmoved by the colours, patterns and sheer joyfulness of this most 1980s of design groups, which offered a vibrant break from the functionalist approach of modernism.
What a shame then that a new survey of the work of Memphis at MK Gallery in Milton Keynes was only open briefly before closing due to Covid-19. While the gallery has plenty of material about the show available online, this is inevitably no substitution for what head of exhibitions Fay Blanchard describes as a 'sensory overload' of an exhibition. Hopefully, Memphis: Plastic Field will be able to re-open in the not-too-distant future.
Visiting the gallery in person is particularly appropriate given the synergy between Memphis and Milton Keynes. They share a certain aesthetic, says Blanchard, and the gallery was keen to feature Memphis even before hearing about the existence of a new exhibition about the collective. Designed by IB Studio, the MK Gallery exhibition is a reinterpretation of this display, which had previously shown in Bordeaux and Venice and was produced with Memphis brands owner Memphis Srl.
The exhibition explores the work and designers that contributed to Memphis, an experimental group operating between 1981 and 1988. While the group's central figure, Ettore Sottsass (1917-2007), was a long-established designer with decades of success, most notably for Olivetti, many of the other figures were young designers and architects hailing from all over the world. Many since became familiar names in the design world, such as Javier Marischal, George Sowden, Michele De Lucchi, Andrea Branzi and Massimo Iosa Ghini. Although there was a collective vision, designs were not collaborative and there was much variety under the Memphis umbrella. As Blanchard points out, a designer such as Sowden, for example, was far more austere than the more playful work of Peter Shire.
So how did Memphis make such a big and enduring impact despite its lack of commercial success? Blanchard points to the group's ability to general large amounts of media coverage for its postmodern ideas, which then enjoyed a rapid take-up across many areas of popular culture.
Memphis's liberating use of colour, form and pattern advocated a new approach to design that often challenged ideas of what constituted good taste. This was not about form follows function, and definitely not about truth to materials. Instead, the Memphis designers made a break for freedom by prioritising what Blanchard describes as sensory pleasure over function, and conveying humour and vivacity through exuberant use of decoration. Bright, bold and dynamic, these designs channelled all manner of references from pop art to African textiles (the latter in the case of Nathalie du Pasquier).
Another stream flowing through the movement was the inventive use of non-luxury materials such as terrazzo, and plastic laminate supplied by Abet Laminati. However, since the designs were not mass-produced, the products remained expensive rather than mass-market.
When the gallery does reopen, visitors can expect an array of Memphis design work across furniture, products and textiles including two of the most well-known, Sottsass's Carlton room divider/cabinet and Masanori Umed's boxing ring-like Tawaraya Bed. Exhibition text explores various themes of the work and the many designers who contributed to the movement. The Memphis designs are contextualised in a side room by a video time line showing events from the Memphis era with references to the sometimes garish work inspired by the movement in the 80s, such as MTV graphics, the aesthetics of TV shows such as Miami Vice, and films such as Tim Burton's Beetlejuice. Decades later, Christian Dior's 2010 Haute Couture fashion collection was an overt homage to the collective.
Sottsass bowed out as the leader in 1985 and by 1988, the Memphis experiment – never intended as a long-term endeavour – was over. Its legacy, however, endured, along with its associations with the 80s era.
Now easily long enough ago to be deemed retro, Memphis has recently enjoyed increasing interest from younger designers – it is clearly an influence on the exuberant work of artist Camille Walala – and Blanchard speculates that the ideas of playfulness that run through Memphis' work strike a chord. She hopes that visitors will find the exhibition joyful and stimulating when it does reopen.
'If it prompts people to question the things they buy and the way they think about them, then that's a great outcome,' she says.
---
Memphis: Plastic Field, MK Gallery (temporarily closed), 900 Midsummer Blvd, Milton Keynes, MK9 3QA. Originally set to run until 25 April 2021, the exhibition will reopen when Covid-19 restrictions allow. Online material on the show can be found at mkgallery.org