Manser Medal founder and stylistically Miesian past president who weathered the Prince Charles 'Carbuncle' storm and encouraged archtitects to lead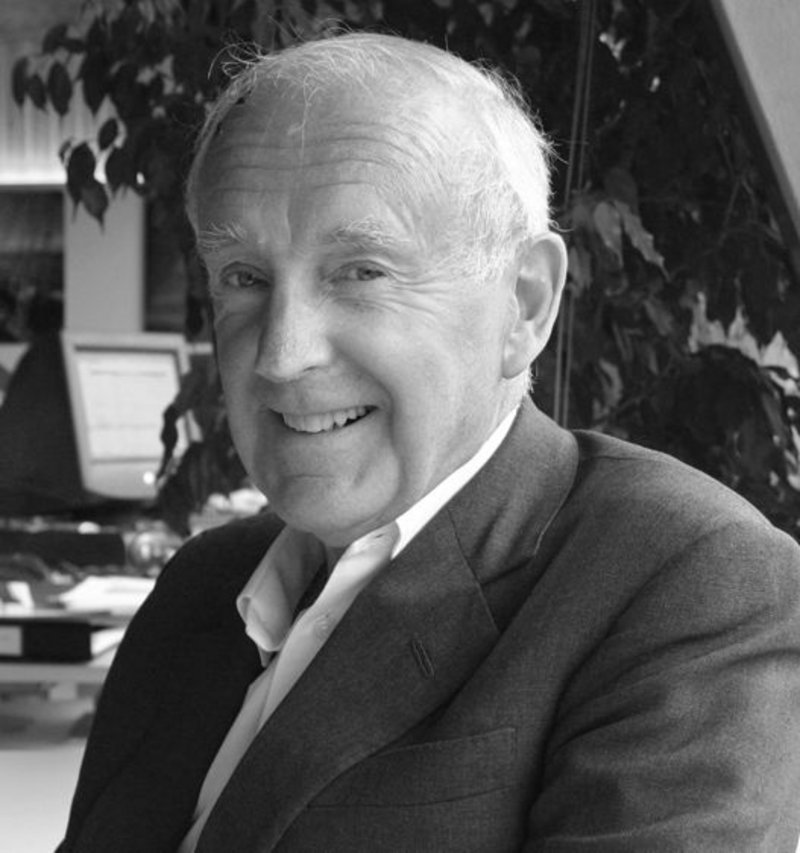 Michael Manser 1929-2016
Every time I walk into the RIBA headquarters at 66 Portland Place I am reminded of the energy and effectiveness of Michael Manser. The stone threshold itself, an elegant shallow double ramp either side of scalloped steps, is one of his legacies as president from 1983-85.
Before that, an ugly short steel ramp up the original steps provided some kind of wheeled access to the building. Manser rightly felt that architects should show a lead on disabled access, taking to a wheelchair himself to test the obstacles and making sure that he was photographed doing so. Then he assembled a team of architects to design the new threshold, including Colin Stansfield Smith of Hampshire architects and Derek Walker, chief architect of Milton Keynes. For a listed building, this was a delicate and relatively expensive job. Manser project-managed it and – by his own account keen to avoid bureaucratic delay from Institute officials and committees – paid for it himself. The work was swiftly done, whereupon (again according to his own story) Manser presented the Institute's secretary, Patrick Harrison, with a bill for it. It was a fait accompli typical of the man.
However the tables were turned in 1984 when Manser was himself caught on the hop by none other than the Prince of Wales. Festival of Architecture year in 1984 marked the 150th anniversary of the founding of the Institute. Manser spearheaded this with his usual brio. A remarkable number of events and exhibitions took place around the country, culminating in a grand gala at Hampton Court Palace, of a lavishness that it would be hard to imagine happening today, complete with a gold and silver fireworks display. The great Indian architect Charles Correa was presented with the Royal Gold Medal. But the other Charles, whose mother had as always personally approved the Royal Gold Medal, used the occasion for his first of many attacks on modern architecture – his famous 'Carbuncle' speech. Manser was not warned in advance of this staggering discourtesy, and both Correa's award and the highlight of the Festival were comprehensively eclipsed in the press blizzard that followed. The wound took years to heal: Manser refused a CBE in 1988 because of the affair, but finally relented and accepted it in 1993. The following year he was elected a Royal Academician.
Quietly flamboyant, for a while he drove an old Rolls-Royce Silver Shadow on the grounds that it was cheaper to buy than a new Mini
As an architect, he was an outright modernist, famous for his early Miesian glass-walled houses such as the now-listed Capel Manor House in Kent from 1971, and later for his 1990 Hilton Hotel at Heathrow Airport, which focused on an internal atrium to make a peaceful oasis in a highly unpromising context. But he made common cause with architects of very different views – notably Robert Adam – in his battle against the aesthetic control of architecture by planners, which he pointed out forcefully was not their remit. The message was that committed modernists and traditionalists alike suffered from a suffocating planning regime which encouraged the anodyne.
Manser was born in Bristol, studied architecture at Regent Street Polytechnic, and worked for Norman and Dawbarn before establishing his own practice in 1961, along with a parallel career as an architecture critic, notably on the Observer. Quietly flamboyant, for a while he drove an old Rolls-Royce Silver Shadow on the grounds that it was cheaper to buy than a new Mini. He wanted to transfer architects' abilities on one-off houses to the volume housebuilding sector, and in 2001 founded the highly successful Manser Medal to encourage emerging talent in this area, though he admitted it remained a bespoke-house prize. This has now become the RIBA House of the Year award.
He leaves his wife, the writer and editor José Manser. His son Jonathan now runs The Manser Practice while his daughter Victoria runs her own practice.
---