As Brexit threatens the end of UK chances to enter the Mies van der Rohe Award, three of its key players talk about the themes and motivations that transcend national borders to produce a winner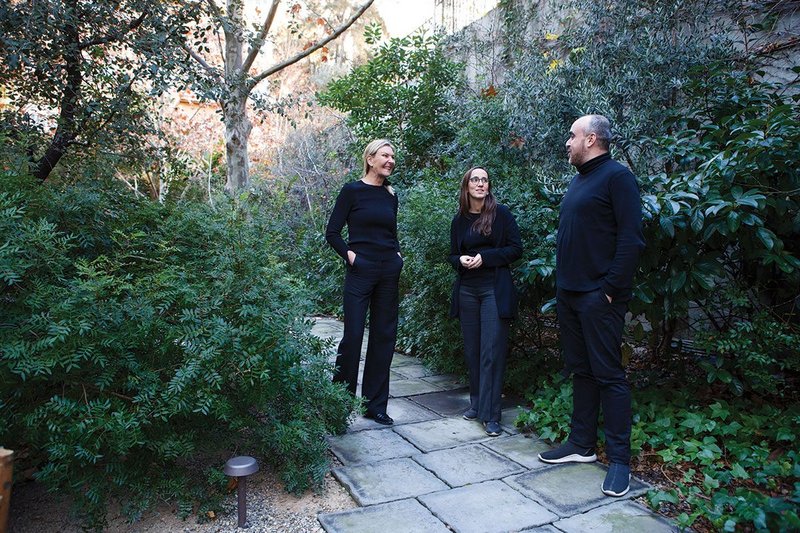 Getting their day in the sun: 2019 Mies Award chair Dorte Mandrup, left; Anna Ramos, centre, and Ivan Blasi, right.

Credit: Anna Mas
This final layer of judging forces the projects to be read on new and different terms
It''s a crisply cold but strikingly sunny January afternoon at the Plaça dels Àngels in Barcelona''s El Raval district. Along the low ramp parapet that leads up to the front of Richard Meier's 1995 museum of contemporary art, T-shirted skateboarders perfect their McTwist, Barley Grind and Axle Stall techniques. Like Place Pompidou, it seems the public space in front has eclipsed the building itself. Despite the life and enjoyment on display, I suspect the architect may, in fact, just have drawn three more lines to demarcate the square in front of his gallery. How can one ever predict the effect of these abstractions, the ability of lines on paper to make or break a place?
But that's what's been considered in the building on the opposite side of the square, in the dark, gothic interior of the 16th century Convent dels Àngels. Here, seven jury members have sat for three days, amid walls of submissions boards forming 383 entries for 2019''s Mies van der Rohe Award – the European Union Prize for Contemporary Architecture. Organised by Barcelona''s Fundació Mies van der Rohe, their task has been to reduce the submissions to a long list of 40, from which five will be selected this month to compete for the €60,000 prize, to be awarded at the Mies' Barcelona Pavilion in May.
In the similarly dark but trendy Alma boutique hotel I'm meeting the chair of this year''s judging panel, Danish architect Dorte Mandrup, Fundació Mies van der Rohe director Anna Ramos and Mies Award co-ordinator Ivan Blasi. The photo shoot starts out in the sun of the hotel's courtyard garden; Mandrup jokes later that one of the judges told her that betwixt convent and hotel, they'd suffered irreversible pupil dilation.
Judged in this cosmopolitan city, there's a particular poignancy to the biennial award this year, certainly for the UK. Our scheduled exit from the EU next month could spell the end for UK architecture to be considered alongside 27 other EU states. This year it had one of the highest number of submissions, though ironically only Stanton Williams Nimes Museum made the final 40.
Whittling down the entries is a tough job and Ramos chose Mandrup, the head of her own 70-strong Copenhagen practice and recipient of a number of architectural awards herself. As vice chairman of the Louisiana Museum of Modern Art, member of the ­Historic Buildings Council in Denmark, adjunct professor at The Royal Danish Academy of Fine Arts and visiting architecture professor at Cornell, Ramos felt Mandrup was clearly up to the task of corralling the opinions of the judges, who come from various creative disciplines.
As Blasi explains, the strength of the award, and the unpredictability of its outcome, stems from the fact that, ultimately, it's not strictly peer-reviewed. Though that is not the case from the outset. 'We have two methods of selecting entries. One involves asking for recommendations from professional national architecture associations in each country; such as the RIBA in the UK. The other way is asking independent experts, academics, critics and the like, who may have a more personal take on the matter,' he adds. To qualify, the building can be in any EU country, built by architects from there or another member state. But the two-pronged selection method means nominations can be a mix of the well-crafted yet conventional and the downright outlandish.
The Mies award is expansionist by nature, Blasi explains. Eleven non-EU member states have joined the Creative Europe programme to participate in it. This includes the likes of Georgia, Albania, Montenegro and North Macedonia. Kosovo is the latest nation to sign up to it, with three buildings in Pristina. Notably, Switzerland is not a member and Turkey, under President Erdoğan, withdrew from Creative Europe in 2017.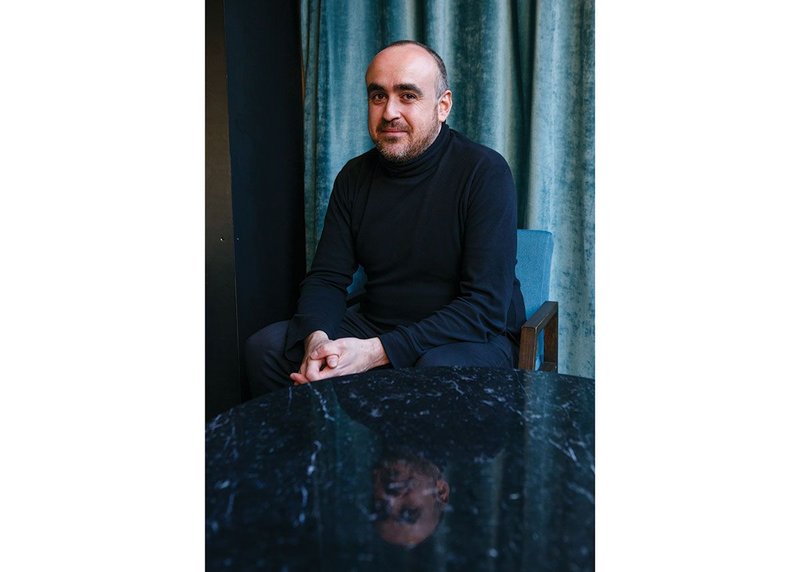 Ivan Blasi, co-ordination of the Mies Award and author of its Atlas that analyses past entries since 1988.

Credit: Anna Mas
But the aspiration to be inclusive is, says Blasi, reflected in the choice of the other judges: Lebanese architect and director of Beirut's Arab Centre for Architecture George Arbid; Arkitecturzentrum Wien's Angelika Fitz; editor of Romanian architecture magazine 'Zeppelin', Ştefan Ghenciulescu; previous Mies Award winner and founder of NL Architects Kamiel Klaase; Spanish practice Langarita-Navarro's Maria Langarita; and Irish critic Frank McDonald. Ramos thinks their diversity is part of the Award's strength: 'The projects may have been pulled together from the various countries' advisory committees but this final layer of judging forces them to be read on new and different terms. Dorte's skill as an architect allowed her to crystallise the jury's range into a ­functioning entity.' It's notable that there are three women in the panel too – something Ramos thinks is part of their mission.' More women should be in the profession and the Fundació has to be seen to be supporting that,' she says. 'Think of Lilly Reich; she collaborated with Mies on the Pavilion and other works for over 15 years, and was effectively airbrushed out of history. I feel it's critical our jury stands up for gender diversity'. Mandrup however seems more ambivalent about it; when I quiz her on positive discrimination for gender she knocks it back: 'If I was a male member of the jury would you have asked me that?'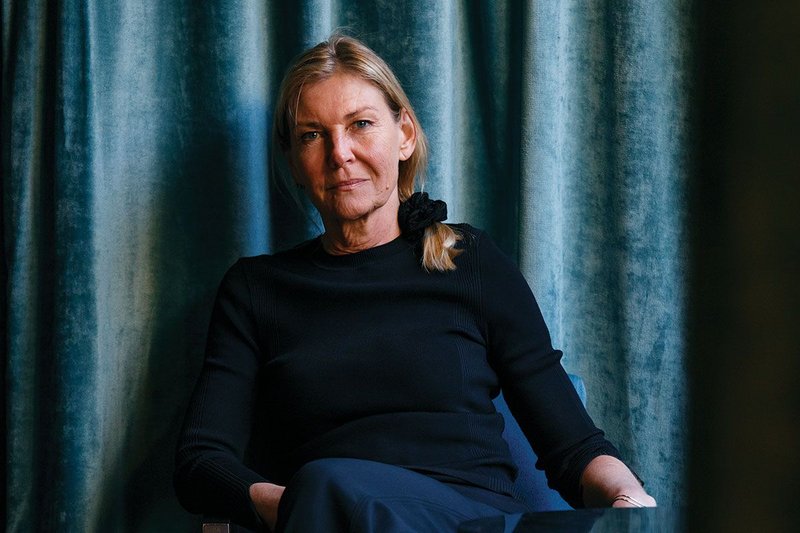 Danish architect Dorte Mandrup, chair of the 2019 judging panel.

Credit: Anna Mas
So we move on to decimating the entries to the final 40 – a job she clearly immersed herself in and enjoyed. It's also not about judging any building in isolation. 'Having already looked at the entries, judges obviously come to the table with their own views. But you find that is open to be changed by the process.' With projects arranged by typology, she says discussions centre not so much on buildings as themes. 'A conversation could start about one building but might include aspects of others, and so become more loaded and dynamic.' And also more organic in how the longlist is arrived at. 'We tend to find that a building falls away not through a conscious decision but because in the broader discussion, there simply seems no more to say about it.' Mandrup adds that it can produce interesting results: 'Surprisingly, you can find yourself supporting a project that originally you might not have done, and inversely, if a building doesn't align with the key conversations it's unlikely to make it through.' Blasi backs this up and confirms its partisan nature: 'Another judging panel would have had different discussions and reached a different conclusion.'
So with the 2017 award seemingly defined by its social agenda, what themes came to the fore this year? The 12-year climate change deadline seems to have taken root, says Mandrup. 'This year we saw themes on adaptive re-use and how it feeds into a broader cultural agenda. Obviously, climate change is imperative and I think the jury's collective choices for the longlist tried to recognise that.' And given the exceptional level of skill in the final 40, what are the esoteric qualities that will nudge a building into the final five? Hard to pinpoint, Mandrup concedes. 'I suppose it's about the building acting as a form of agency – opening up new discussions or looking at an old problem with fresh eyes – about taking the typology forward in some way.' As the only buildings to be visited are the final five, she says expectations are understandably high. 'I'd like to think I'd come away having learned something I never knew before; that the project will have, to some extent, changed the way I think.'
You can find yourself supporting a project that originally you might not have done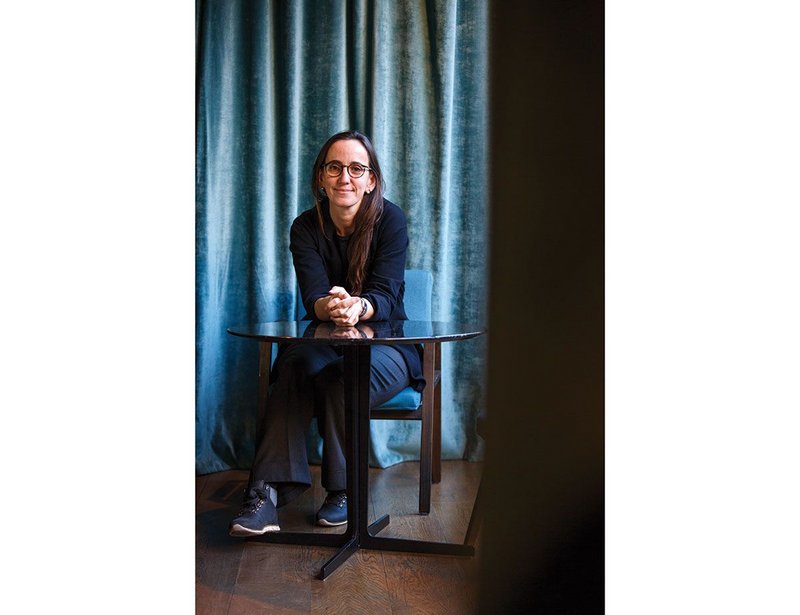 Anna Ramos, director of the Fundació Mies van der Rohe since 2016.

Credit: Anna Mas
I suggest that the European project has resulted in a homogenised architecture that's essentially devoid of regional difference, but Ramos disagrees. 'The idea that an architect educated in one country might work in another designing a building in a third one is liberating and demonstrates that European architecture has really benefited from that cross-pollination of ideas.' And Mandrup still sees the contemporary iteration of the 'SuperDutch' manifesting itself. 'You do get pockets of Europe where architects generate ideas between each other and a region starts to generate a particular kind of work – as in Belgium currently.' But Ramos, a former Erasmus student herself, draws nothing but hope from the idea of Europe as a form of diaspora of nations, feeling 'with people movement across Europe, you find aesthetic ideas move too and gestate in different countries where they take root in unique ways.'
Her optimism is probably called for. Because at the end of the day, the Mies Award itself reflects a time when the concept of Europe was a much simpler thing; when the common goal of integration felt economically beneficial, progressive and aspirational. The Fundació and award was founded when Barcelona itself was experiencing a resurgence as a cosmopolitan cultural capital; outward-looking. Fast-forward to Catalonia's referendum last year to declare independence and cede from Spain, which drew such an aggressive crackdown in the city from the government in Madrid. In this new separatist, populist Europe, where the German government is having to make political concessions to the right, where Hungary unilaterally closes its borders, where Spain's right-wing Vox party secures Andalucia; and, yes, in the UK where Brexit has split the country right down the middle, the Mies Award and the idealistic collective social values it embodies could just be deeply anachronistic and out of touch. Or more necessary than ever.
---
Shortlisted Works
Skanderbeg Square, Tirana, Albania. 51N4E, Plant en Houtgoed, Anri Sala, iRI
House of Music, Innsbruck, Austria. Dietrich | Untertrifaller Architekten
Aspern Federal School, Vienna, Austria. fasch&fuchs.architekten
Performative Brise- Soleil, Vienna, Austria. StudioVlay Streeruwitz ZT-GMBH
Kapelleveld care center, Ternat, Belgium. architecten de vylder vinck taillieu
PC CARITAS, Melle, Belgium. architecten de vylder vinck taillieu
Ryhove Urban Factory, Ghent, Belgium. Trans
De Krook library, Ghent, Belgium. Coussée & Goris architecten, RCR Arquitectes
Former flower market mixed-used, Berlin, Germany. Ifau, Heide & Von Beckerath
Terracehouse, Berlin, Germany. Brandlhuber+ Emde, Burlon, Muck Petzet Architekten
Streetmekka Viborg, Denmark. Effekt
Hammershus Visitors Centre, Denmark. Arkitema Architects, Christoffer Harlang
LEGO House, Billund, Denmark. Bjarke Ingels Group
Arvo Pärt centre, Laulasmaa, Estonia. Nieto Sobejano Arquitectos
Life Reusing Posidonia, Sant Ferran de ses Roques, Spain. IBAVI
Civic Centre Lleialtat Santsenca, Barcelona, Spain. H Arquitectes
Plasencia Congress Centre, Plasencia, Spain. selgascano
Desert City, Madrid, Spain. Garciagerman Arquitecto
House 1413, Ullastret, Spain. H Arquitectes
Solo House, Matarranya, Spain. Office Kersten Geers, David Van Severen
Helsinki Oodi, Finland. ALA Architects
The Perret Hall, Montataire, France. Atelier d'architecture Pierre Hebbelinck, HBAAT
Museum of Arts, Nantes, France. Stanton Williams
E26 (school refectory), Montbrun-Bocage, France. BAST
'Théodore Gouvy' Theatre, Freyming-Merlebach, France.Dominique Coulon et associés
530 unit housing refurb, Grand Parc, Bordeaux, France. Frédéric Druot Architecture, Lacaton & Vassal architectes, Christophe Hutin Architecture
Ensae Paristech Campus, Paris, France. CAB Architectes (Calori Azimi Botineau)
Lafayette Anticipations, Paris, France. OMA
St Mary's Museum, Kilkenny, Ireland. McCullough Mulvin Architects
14 Henrietta Street, Dublin, Ireland. Shaffrey Architects
M9 Museum District, Venice, Italy. Sauerbruch Hutton
Prada productive headquarter, Arezzo, Italy. Canali associati
Musis Sacrum, Arnhem, Netherlands. van Dongen-Koschuch
Visitor centre, Vijversburg, Leeuwarden, Netherlands. STUDIO MAKS with Junya Ishigami & Ass
Silesia University's faculty, Katowice, Poland. BAAS arquitectura, Grupa 5 Architekci, Małeccy Biuro Projektowe
Lisbon Cruise Terminal, Portugal. Carrilho da Graça
HQ of the Order of Architects of Romania, Bucharest. STARH – Birou de arhitectura
Occidentului 40, Bucharest, Romania. ADN Birou de Arhitectura
Museum of Contemporary Art, Belgrade, Serbia. nooto, Dejan Todorovi architect
Factory refurb Mlynica, Bratislava, Slovakia. GutGut