Co-designer with Sandy Wilson of the British Library and designer of many artists' studios and cultural buildings, modest but fiercely committed to architecture
Mary Jane 'MJ' Long died at her home in Sussex in September, aged 79. It was while studying at Yale in the 1960s that she met Sandy Wilson, teaching as a visiting professor from Cambridge. She married him in 1972.
She began working with Sandy in 1965, when they designed a house for the painter Christopher Cornford in Cambridge. This early project revealed the integrity with which MJ approached her work, responding at once to the particularities of the client's brief, a sensitive understanding of sunlight and the environment and the rigorous control of the architectural idea.
As a director of Colin St John Wilson & Partners, the focus of her work for over 15 years was the British Library, but throughout this time she pursued a significant portfolio of her own projects including a series of artists' studios for Paul and Susie Allen-Huxley, Peter Blake, Frank Auerbach, and RB Kitaj.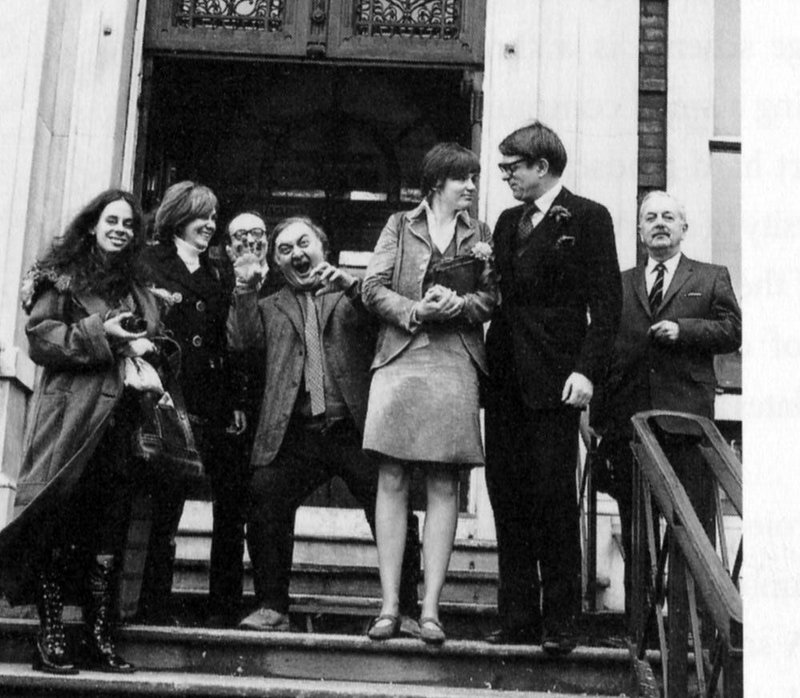 There is one at every wedding. And at the 1972 wedding of MJ Long and Sandy Wilson the person larking about was Jim Stirling
As work on the British Library was drawing to a conclusion, she launched a new practice in 1994 – Long & Kentish – with Rolfe Kentish who had also worked with Colin St John Wilson & Partners. I was one of their first employees, working on the their first competition which led to their commission for a new library for Brighton University. This was followed with an impressive portfolio of cultural buildings including the Jewish Museum in Camden, the National Maritime Museum in Falmouth, the Keeper's House at the Royal Academy, and significantly Pallant House in Chichester, which was designed again in collaboration with Sandy, to help house his art collection which had been donated to the gallery.
Throughout her life, MJ Long was fiercely committed to architecture. For her, it was the work that mattered, pursued above all with the utmost sincerity and integrity.
Despite a consistent series of commission from celebrated artists and major instructions, she never courted the limelight, nor recognition beyond her peers. She was shy of publicity, perhaps after the damaging impact of criticism levelled at The British Library, or more likely she thought it was extraneous to committed practice. She wasn't interested in fashionable architecture, the latest trend. She designed studios for artists to let their work shine, making an architecture as a background to life and art – not self-referential or pretentious.
I met MJ on my first day at Colin St John Wilson and Partners, fresh out of college. I knew nothing about her apart from her enigmatic name. I was told she was 'in charge of the brief'; as a novice I didn't realise what a pivotal role she played as a key partner in its complex design, but as her friend Anthony Vidler has written: 'Much of the quality and strength of the British Library is due to JM Long's critical design sense and ability to bring Sandy's consistent sense of 'potentialities' and shifting design ideas into order and precision.'
Indeed, much of the quality and strength of the British Library is due to her critical design sense and ability to bring Sandy's consistent sense of "potentialities" and shifting design ideas into order and precision.
Invited as the keynote speaker at an Architecture Club event called 'Amazons in Architecture' in 2014, to talk about a career that cut across scales and continents, challenging expectations, MJ spoke about the travails of being a woman in architecture in the early 60s. At the end of her studies at Yale, her portfolio was put forward for a prestigious travel scholarship. When she entered the room of male judges, she was told her initials MJ had let them to expect a man, and that as a woman, she obviously could not be considered for the award. She gracefully stood her ground and was duly awarded the scholarship.
MJ stayed close to Yale where she taught annually, influencing generations of architects. In the UK, as a CABE commissioner and chair of design review, she helped promote the value of design to wide audiences – most notably in the South West where she worked on the celebrated Porthmeor Studios in St Ives and became a visiting professor at Falmouth University.
Working to the last, MJ submitted the planning application for Anchor Studio in Newlyn only three days before she died. She is survived by her children Sal and Harry Wilson, and three grandchildren.