John Galsworthy's astonishingly complete conception of the architecture of Robin Hill in his Forsyte Saga novels is one of the first arguments for modernism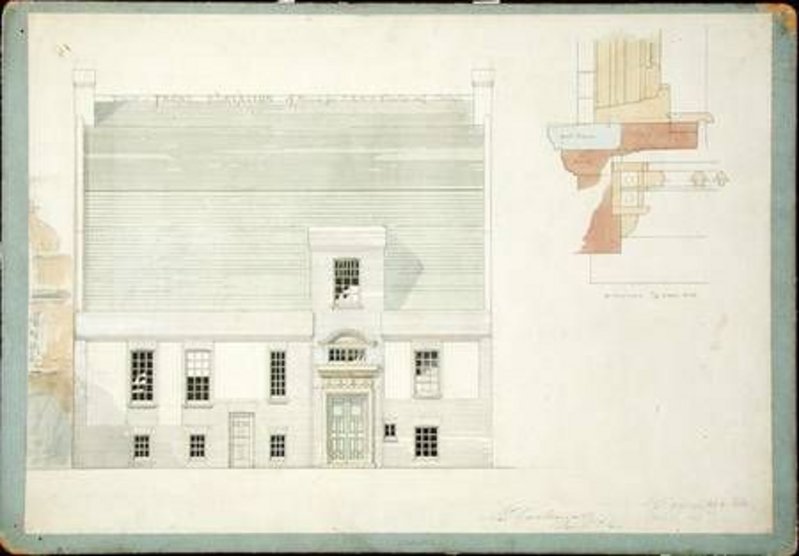 Influence on Galsworthy? Godwin's design for the 'White House' in Chelsea for Whistler.
As an architecture journalist and a student and teacher of English literature, I'm often struck by the ways in which building design can influence a story.
In researching my forthcoming book on the subject I have become especially caught up (via Galsworthy's Forsyte Saga sequence of novels) in the story of Robin Hill. This is the avant-garde house commissioned by Soames Forsyte, the unyielding scion of a wealthy Victorian middle-class clan, for his beautiful but emotionally oppressed wife, Irene. I'm struck by the way that the new house, described in such detail by Galsworthy, becomes the catalyst for the unleashing of dangerous passions, even as it provokes an early modern disputation about the value of art.
Architect Philip Bosinney manages to convince his otherwise penny-pinching client to give him free rein, allowing him not only to build a 'new-fangled' style of house, but to design the interior decoration and fittings. This was the period when practitioners of the arts and crafts and vernacular revival such as CFA Voysey, and Edwin Lutyens and Charles Rennie Mackintosh (with his art nouveau tendencies), were being taken up by clients, both among the landed gentry and the nouveau riche, to build them palaces in the 'new' style, complete with crafted interiors and furnishings. Soames Forsyte's decision to employ the young architect to create just such a complete work in architecture would not have been foreign to the sensibilities of a wealthy gentleman of the period.
For nearly a century, biographers and television researchers have puzzled over Galsworthy's vision for one of the most iconic houses in English literature, and certainly one of the first arguments for 'modern' design in fiction. But the author remained silent on the matter. Luckily for me, some unpublished drawings sitting quietly for decades in the British Library collection revealed at least the author's fictional intentions, which were more complete than anyone could have known.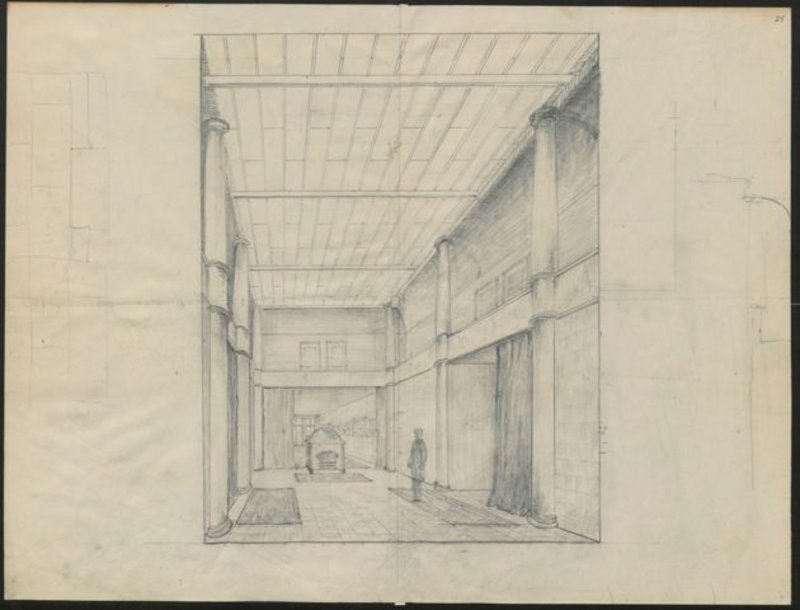 Drawn by Galsworthy: the interior of the fictitious Robin Hill.
Around 1904, when Galsworthy began writing The Man of Property, the first novel of his saga, he had experience of watching the designing and building of some grand houses up close. His father, John Sr, a successful businessman, became something of a property developer, building three large houses in Victorian gothic style in Surrey (from 1868-86). He also built the red-brick Kensington Palace Mansions, and lastly a terrace of residences in Queen Anne revival style on Regent's Park (dubbed Cambridge Gate), in 1887. But none of these approaches the provocative design of Robin Hill. The author himself didn't boast any artistic leanings; he attended Harrow and Oxford and was destined for a career in law.
But around 1895 he began thinking seriously of trying to make his name as a writer. By this time he had met his future wife, to whom he gave most of the credit for his change of heart and success. The only problem was that when they fell in love, Ada was married, unhappily, to Galsworthy's cousin. Unwilling to face the public humiliation of a high-society divorce, they entered into a 10-year affair. I am convinced that, although his diary pages for this period are excised, this is when Galsworthy found at least some of the inspiration for the design of Robin Hill.
Around the time he began writing in earnest he took 'private quarters' at 2 Cedar Studios, Glebe Place, Chelsea. His sister Lillian held regular artistic salons in their house at Campden Hill in Holland Park. One of her artistic connections was James MacNeil Whistler, who had recently commissioned a new house to be built on Tite Street in Chelsea by the young, experimental architect Edward Godwin.
Godwin's purist designs caused an uproar with the planners who called it 'a dead house', and Whistler's legal wranglings with the critic John Ruskin resulted in the painter going bankrupt and having to sell the house. Built in a style that defied the taste for Queen Anne revival, it presented an austere facade of white brick with unadorned windows and a hipped roof covered in green tiles. Godwin also designed the interior decor and furnishings. The design was initially rejected by the Metropolitan Board of Works, obliging Godwin to add stylised ornamentation to the exterior – precisely the kind of 'decorations and gimcracks' to which, in the novel, architect Bosinney objects. But the early, unornamented, drawings show a style that was well in advance of anything that would be built for several decades.
Galsworthy's descriptions of Robin Hill also present a house that is strikingly new and plain for the time. When Soames first views the plans, his immediate reaction is 'It's an odd sort of house!' The two-story, rectangular form is 'designed in a quadrangle round a covered-in court. This court, encircled by a gallery on the upper floor, was roofed with a glass roof, supported by eight columns running up from the ground.' Told that he should 'cut waste' in the size of the house, Bosinney replies that 'The principle of this house … [is] that you should have room to breathe – like a gentleman!' He later adds that 'space, air, light' are his driving aims, a comment that could have come from the most avant-garde modernist.
Elevation and plan of Robin Hill – Galsworthy seems to have drawn it in order to write about it.
In its new design, which is argued for passionately by Bosinney over the more conventional work of the popular architect Littlemaster (read here, perhaps, Lutyens), Robin Hill represents a forward-looking aesthetic that wants to embrace, rather than resist, the modern world.
Bosinney's rhetoric on 'space, air and light' certainly echoes Godwin's belief that an 'abundance of light, air and cleanliness' were key to good design. The white cladding and green slate roof that Godwin applied to Whistler's residence appear as Bosinney outlines his own compromises for the design of Robin Hill: 'The house, of course should be built entirely of stone, but, as I thought you wouldn't stand that, I've compromised for a facing. It ought to have a copper roof, but I've made it green slate.'
Bosinney has developed some very new ideas for the 1880s. For example he suggests using 'hot-water pipes in aluminium casings', which, he says, can be got 'with very good designs'. This was pretty new technology for 1886, when the novel opens.
Searching Galsworthy's biographies and papers, I knew that much had been destroyed. He and Ada, wishing to hide the evidence of their affair, did away with their correspondence and diaries from the 10 years in which she was married to another Galsworthy. The breakthrough came in June 2015 while I was searching through boxes of diaries at the University of Birmingham Library. I chanced to find a hand-written inventory with a notation for 'The plan of the house at Robin Hill by John Galsworthy' that had been given to the British Library along with some other manuscripts. I visited the library and discovered in an oversized folio six double-page spreads with drawings of the house Galsworthy named Robin Hill. A description on the reverse in the author's own flourishing handwriting reads: 'Original Plans of the House at Robin Hill, Built by Philip Bosinney, architect 1887, for Soames Forsyte of Montpellier Square, London'.
It may seem an extravagant bit of play-acting on the part of the author but these are detailed drawings: a front and rear elevation, ground and first-floor plans. In fact, the attention to scale and use suggests that perhaps writing was not the only vocation Galsworthy considered in those early days when he decided against a career in law.
The front and rear facades are presented in a deliberately plain style, without either Queen Anne revival ornament or stylised arts and crafts elements. It's not Mackintosh, Voysey or even Frank Lloyd Wright – architects usually put forward as models for the benighted Bosinney of the novel – but something much more pure, showing precision and what Bosinney calls 'regularity'. As well as the plans and elevations, Galsworthy also made a sketch of the 'inner-court', including its purple leather curtain, and a small detail of the stove that was meant to sit between the court and Soames's picture room. On his plan, Galsworthy even included the spaces for the kitchen, pantry, laundry and servants' hall.
These drawings demonstrate how very clearly Galsworthy conceived the house, and that he had obviously educated himself not only in architectural drawing, but in a new kind of architecture that directly challenged the status quo. These are no lines on the back of a beer mat, but thorough sketches made with a sense of scale and dimension. They are yet another indication of how fact mixes with fiction, but also of the importance of an artistic discussion that was taking place in a period that predates and prefigures much of our current understanding of the disruptive event we call modernism.
---