Since we must all make do just with virtual holidays nowadays, this modernist travel guide is the way to do it, says Michèle Woodger
February 2021. I am still in the attic. My fingers are slowly defrosting in order to write this review. Stefi Orazi's 'Modernist Escapes' is an architectural travel guide of mouth-wateringly well-appointed residences, all of which – once we exit hibernation – may be visited. Orazi has stayed in several herself: Peter Aldington's Anderton House in Devon (1970), was 'the perfect escape and inspiration to help [her] to write'. Insert wistful sigh. Later, when daunted by a deadline, she stayed in a cell at Le Corbusier's La Tourette. At least the cells are perfectly proportioned. At this point I'd even settle for a holiday in Essex; Oliver Hill's Frinton Park Estate (1935) looks just the thing.
From Philip Johnson's Glass House (1949) in Connecticut (all very well, but how does one swim lengths in a circular pool?), to Ernö Goldfinger's 2 Willow Road (1939), many are the architects' own private escapes. Some are family homes in secluded landscapes, others, city-centre hidey-holes. Kisho Kurokawa's Nakagin Capsule Tower in Tokyo, for instance, is a futuristic agglomeration of pods with integrated telephones, televisions and reel-to-reel tape players – everything you need for self-isolation in 1972. It is Japan's best example of Metabolist architecture, and in demolition limbo. Eero Saarinen's TWA Hotel at JFK Airport (1962) was originally a flight terminal, from those heady days of international travel.
My only reservation with this book (an unfortunate word – none of us will be reserving holidays any time soon) is its geographical spread. Almost all 130 examples are American and European, with a sprinkling from Latin America and very few from elsewhere (Israel, Japan and Australia only). Nevertheless, the escapes showcased certainly have us longing for happier times and sunnier climes. Crucially, we're reminded of the aspiration characterising modernist design: it looked to a future that was fresh and filled with promise.
---
Modernist Escapes: An Architectural Travel Guide, by Stefi Orazi, is published by Prestel Publishing, March 2021
Parco dei Principi by Gio Ponti, Italy (1962)
Overlooking the Gulf of Naples, this hotel is a perfect escape – except from the colour blue. Inspired by the sea and 'blue volcano' Vesuvius, the interior is all blue; Ponti even pushed for blue pasta at the opening event. Playfulness and a love of texture, pattern and ceramics are evident throughout; collaborations with Ceramica Joo and ceramicist Fausto Melotti help make this excellent example of a 'design hotel'.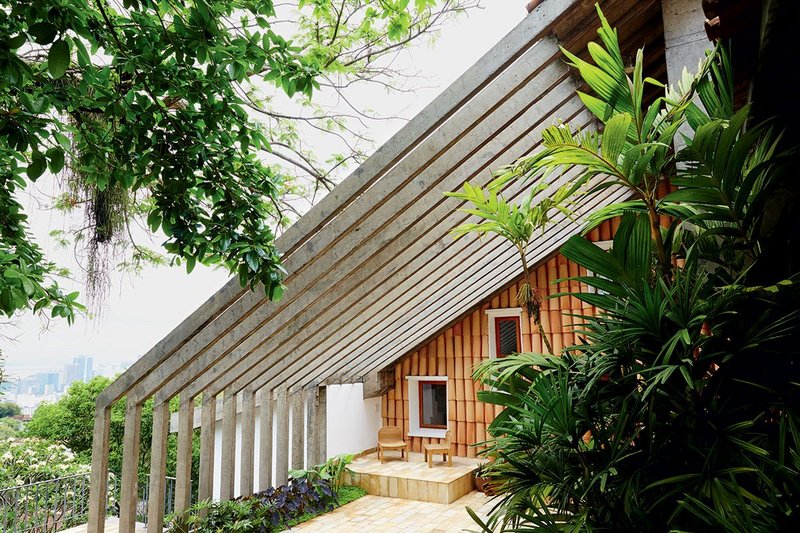 Chez Georges by Wladimir Alves de Souza, Brazil (1974)

Credit: Courtesy of Design Hotels
Chez Georges by Wladimir Alves de Souza, Brazil (1974)
Alves de Souza's concrete, tile and timber house-turned-hotel in Rio de Janeiro has vaulted ceilings, a 6m wooden door and a striking concrete pergola. It blends into the hillside with lush vegetation. As well as recording studio and swimming pool, there's a 360º view across Guanabara Bay and Sugarloaf Mountain.
La Ricarda by Antonio Bonet Castellana, Barcelona, Spain (1949-63)
This culturally-significant mid-century home is a meeting of minds between client (artistic patrons) and architect (ex-colleague of Le Corbusier), who communicated via letters over 13 years to design the home. It has 12 vaulted modules – for children, parents, dining etc – while extensive use of plate glass enables views of surrounding pines.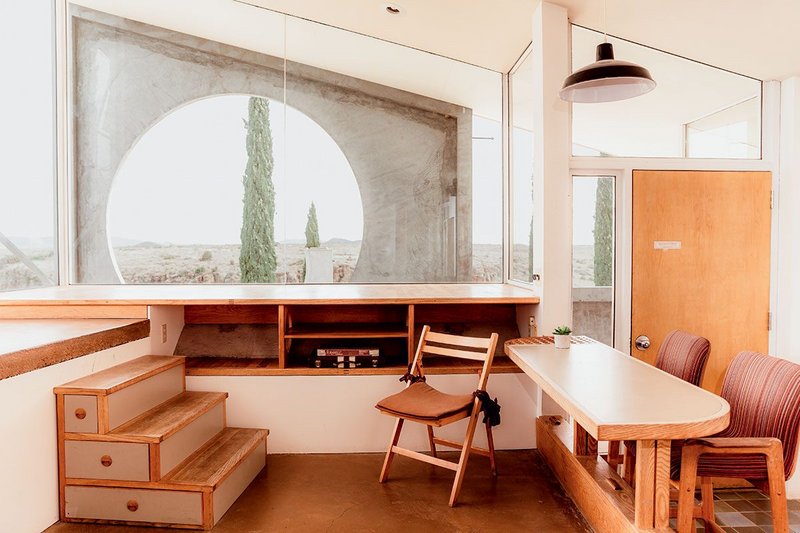 Arcosanti by Paolo Soleri, Arizona (1970).

Credit: Jessica Sypher
Arcosanti by Paolo Soleri, Arizona (1970)
100km north of Phoenix lies a radically unusual 'utopian prototype city' – the stuff of science fiction. 'Archology' is Soleri's conceptual fusion of architecture and ecology; compact walkable cities minimise waste and pollution and encourage human interaction with nature. The settlement is only partly complete, currently including housing, an amphitheatre and a bell foundry.