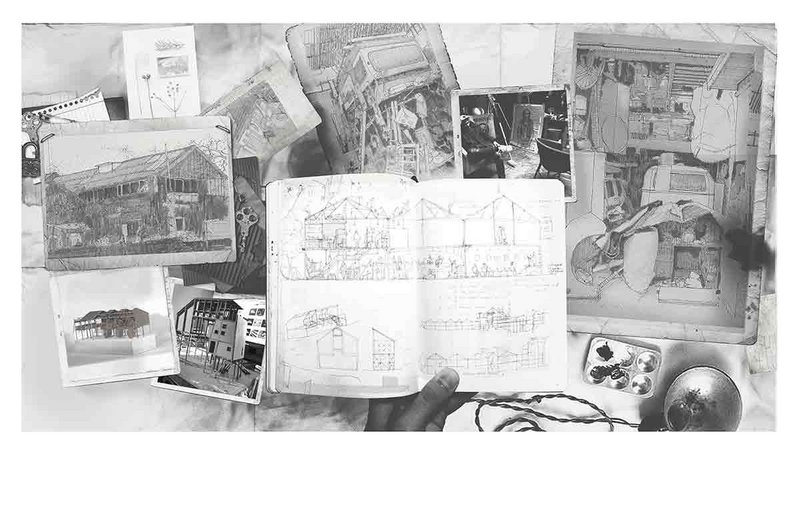 Collage of drawings for the Lewes Art Foundry.
Lewes Art Foundry
London South Bank University
Tutor: Nicolas Pople
Lewes Art Foundry rehouses a community of artists and makers who are being displaced from their homes of the last 30 years by redevelopment in the East Sussex county town.
The live-work project imagines a new permanent cluster of affordable housing on a nearby riverside site occupied by a 19th century warehouse. Inspired by the idea of inhabited bridges, Muneeb Ali Khan's scheme utilises the iron structure of the warehouse, which is reclad and adapted to accommodate new micro-house living units and communal external workshops and studios.
There are four types of 'displacement' units: a basic home with mezzanine sleep­ing area; larger units for a dancer and for a musician; and a unit incorporating a classroom and library where an artist can give art lessons.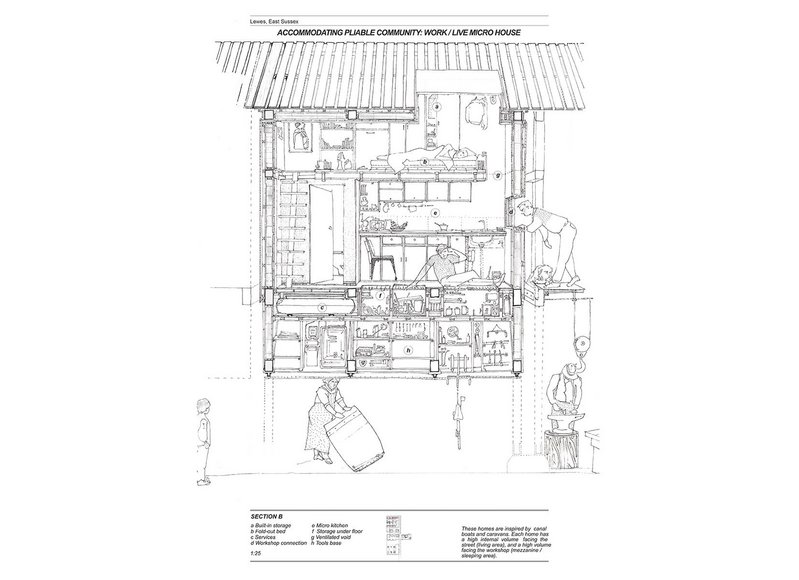 Micro house concept, with living accommodation above communal workshops.
The low environmental impact scheme is designed to cope with extreme weather, including flooding, by raising living accom­modation above ground floor level. It embraces reused and recycled materials, renewable technologies and minimal living spaces with an emphasis on shared facilities, skills, knowledge and equipment.
As well as the affordable rental homes, the development has communal gardens and allotments and a covered market/performance space.
Ali Khan envisages the scheme as preserving both the industrial heritage of former metal warehouses and the heritage of the artists' community, both of which have contributed significantly to Lewes.
---