Wright & Wright is turning the Geffrye Museum's almshouses premises into the Museum of the Home. Painstaking research has been vital to create its period rooms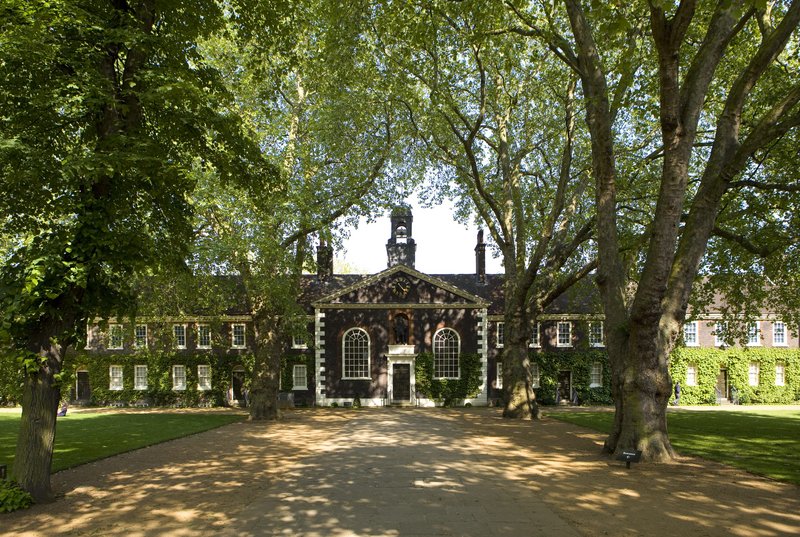 The Museum of the Home is set in the Geffrye almshouses, Grade 1 listed 18th century buildings and gardens in Hackney. Courtesy of Jane Lloyd
It seems appropriate to meet Danielle Patten, curator of the Museum of the Home, in the kitchen. Formerly known as the Geffrye Museum, the grade I listed 18th century almshouses in Hoxton – originally charitable housing for the Ironmongers Company – are being refurbished by Wright & Wright Architects, to reopen in summer 2020 with a change in direction. Meanwhile, the museum staff work in a building site, hence this poring over archival boxes on the kitchen table. Architect Naila Yousuf generously guided me round in hard-hat and boots on a cold afternoon.
In 1914, the row of almshouses was converted into a furniture museum, the area being a furniture making district. In the 1930s, the museum took on its current format: each almshouse is decorated as a 'middle-class' living room typical of its era, from the 1600s onwards. Two of the almshouses were also preserved, in their 18th and 19th century incarnations.
It's a much-loved museum and visitor numbers keep increasing, so the time had come for the building and programming to evolve. Wright & Wright's £18.1 million conversion includes correcting detrimental historic alterations, adding 80% more space, relocating the entrance to outside Hoxton overground, overhauling the lower ground floor – part of which was the collection store, now receiving a dedicated, environmentally controlled space – introducing new learning pavilions, and improving access. The museum will focus more on the socio-political and cultural associations of 'home', as well as maintaining its important collection of furnishings and period rooms.
Of particular interest is a new Victorian room (the original had to be moved), which has been researched in painstaking detail. Working with architectural historian Peter Powlesland, the curators used maps, census records and probate inventories to locate London properties with intact 1870s features. Five patient homeowners allowed their ceiling roses, skirting boards and cornices to be moulded, photographed and sketched; the museum then procured equivalents from specialist plasterers, carpenters and salvage yards.
Paintings of interiors help visualise room layouts and colour schemes. Vibrant green and red seems to have been popular; Victorian interiors were not decorated in dark colours per se, Patten explains, but our modernist sensibilities find the heavy drapery and ornamentation oppressive.
Late 1800s interior decoration guides are helpful too, such as the bestselling 'Hints on Household Taste' (1874) by architect Charles Eastlake – the charmless Victorian equivalent of Marie Kondo. This acolyte of William Morris dogmatically promoted an uncluttered, pared back, subdued aesthetic, but his tone is 'patronising, moralistic and misogynistic', Patten tells me. He repeatedly berates his female readership for their ignorant enjoyment of 'mainstream' Victoriana. 'We're doing the opposite of what he wants,' Patten shrugs, putting Eastlake back in his box. The room will be decorated in deliberately clashing florals.
Sourcing authentic products requires detective work. Furniture and fittings appear in old trade directory adverts. Wallpaper can be recreated from fragments and catalogues. Machine screen-printed wallpapers would have been the economical middle-class choice, so a digitally-printed equivalent will produce a similar flat, mass-produced effect.
Flooring proved more difficult, until the nearby V&A Museum of Childhood discovered that Victorian parents had been using carpet offcuts to decorate their children's dolls-houses. Snippets were sent to manufacturer Grosvenor Wilton to replicate the distinctive Brussels loop. The curators then had the enjoyable task of deciding which florid, leafy pattern would mismatch best with the wallpaper.
On the architectural side, an 'almost forensic' level of historical research was key to gaining planning approval and acceptance from the local community (Chipperfield's previous plans were rejected partly for proposing to demolish a pub on Cremer Street). Wright & Wright's approach has been to embrace the building's quirks, and work with the language of the 1930s Goodheart Rendell additions, and 1990s Branson Coates extension. The materials palette – timber, glass and brick – is consciously modest. 'Many of the national museums inspire awe in Portland stone, but these aren't familiar or accessible, as a museum of the home should be,' Yousuf says.
There was no need for a large extension, given the underused space in the existing building. In addition to excavating and reinforcing the lower ground, the upstairs has been converted into a library, study-room and accessible stores, by replacing a mezzanine with a structurally stabilising full floor. Furniture – also by the architects – has been designed to accommodate library users who may be studying cumbersome objects or unwieldy rolls of wallpaper. An underused café and courtyard become a welcoming entrance and piazza. Glazing in the entrance and studio pavilion visually connects front and back gardens (another domestic metaphor), while the old pub is now the café. Above this, new apartments – of which the museum is the freeholder – will become an additional source of revenue.
Familiar domestic tropes appear in many project details. The masonry wall that had blocked off the back of the museum will be replaced with architectural ironmongery – a tribute to the former residents. Glass balustrades are vinyl printed with a pattern derived from net curtains. A sloped access route winds its way past stepped planters – doubling as public seating – which will grow geraniums and other homely flowers.
This new entrance is one way that Wright & Wright's design addresses logical inconsistences with circulation. Previously, visiting the period rooms was a one-directional, somewhat staccato experience, as groups stopping off at each cordon caused bottlenecks. The inaccessible corridor was 100m long and only 0.8m wide, with one exit at each end – 'quite a commitment with no opt-out' jokes Yousuf. But given that 40% of visitors are returnees, they probably don't want to see each period room every time.
The refurbished corridor is wider, includes additional entrances, and allows for more fluid movement. The almshouses' disused stair enclosures were retained for structural reasons. A 'happy outcome' of this residual feature is the L-shaped footprint; the niche can be used as an info-bay (cue 'Nooks and Corners' manual, 1859). Future plans for curatorial programming include making more use of the rooms through activities and interventions into the spaces.
Unexpected discoveries were made during construction too. A hobnail boot was unearthed in a chimney (an apotropaic charm), an elaborate coal chute was uncovered (now preserved for display) and rafters in the ceiling were found to bear strange markings; these turned out to be imaginary Roman numerals invented by 18th century builders.
While the museum's collection of over 40,000 objects will continue to be a vital resource – especially for furniture designers – contemporary programming will shift away from showcasing artefacts to wider thematic considerations. The 'Room of Now' considers the different places Londoners call home: sheltered accommodation, property guardianship, narrow-boats and more. The new 'Home Gallery' will discuss issues such as homelessness, intergenerational living and style and taste. Patten tells me that an area resembling a kitchen will be used for #TableTalk, a program of informal debates and learning sessions. The most interesting chats take place at kitchen tables – and what's needed now is tea.