There's renewed interest in fungi – as artistic motif, a workable material and of course every trendy menu has a wild one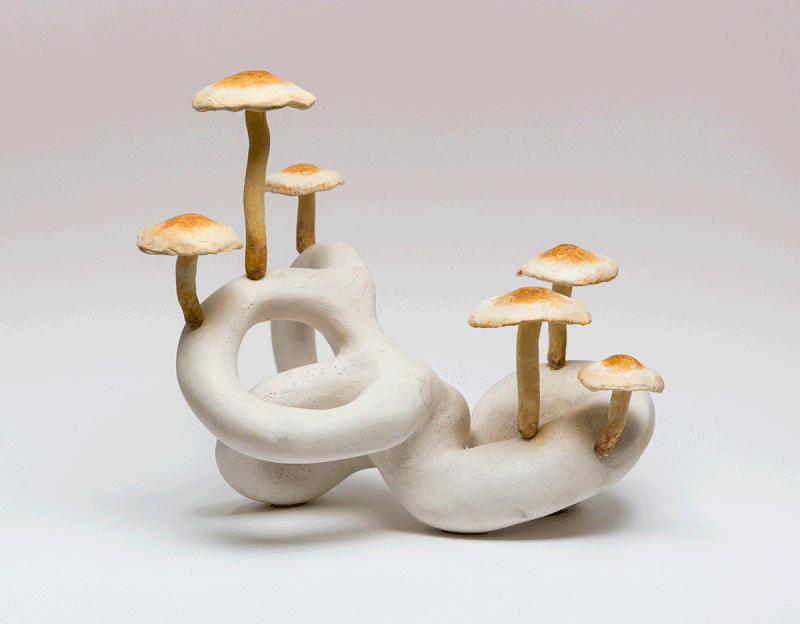 Hamish Pearch, 'Cochlea Brick Tuft', courtesy of the artist.
Recent visitors to Somerset House enjoying the winter ice rink will probably have been oblivious to the presence of mushrooms growing way beneath their blades in the disused coalholes and storage areas under the central courtyard. These real mushrooms, grown for consumption using waste coffee grounds, will soon be joined by a new exhibition dedicated to the cultural legacy of the mushroom.
Mushrooms: The Art, Design and Future of Fungi opens at the end of the month in the Terrace Rooms with an exhibition design inspired by the form of fungi and a mushroom typeface 'grown' using an AI algorithm (both by Pentagram). Curator Francesca Gavin had the idea for the show after noticing the proliferation of mushroom references cropping up in art and design in recent years – something, she says, was clearly 'brewing in the Zeitgeist'.
So why is this? She speculates that this interest in fungi could be a response to society's increasing reliance on technology.
'There's a real desire to reconnect to nature,' she says, adding that mushrooms' strange aesthetic and sometimes fantastical and magical character makes them particularly appealing to artists and writers alike.
'The more I researched them, the weirder they got,' she says, referring to the subterranean web of mycelium that supports the above ground mushrooms that we see, and the fact that their genetic make-up is 'closer to animals than plants'.
The exhibition will examine the poetic, psychedelic and counterculture appeal of mushrooms as well as how fungi aesthetics have appealed to artists. These include Takashi Murakami, who frequently, and famously, uses mushrooms as motifs, and artist and former agricultural scientist Carsten Höller, who is contributing a kinetic mushroom piece. Seana Gavin (the curator's sister) creates surreal artworks of hybrid mushroom-humans while more historic exhibits include Beatrix Potter's watercolour and pencil study of a mushroom from 1894.
There's also a look at the responses of designers to both the form of fungi and the potential of mycelium as a material. These include mycelium and timber lamps designed by Sebastian Cox and Ninela Ivanova as part of their project to create compostable furniture. There will be work by shoe designer Kristel Peters, who has worked with mycelium as part of her research into using bio-based materials, and, it is hoped, a prototype for a new chair by Tom Dixon made from mycelium.
'A lot of people are using the material. It's very much at a prototype level – flesh coloured and natural looking,' says Gavin.
The show also includes an installation of mycelium bricks by architectural historian-turned building scientist Mae-ling Lokko. These were chosen as the most aesthetically innovative of the various research projects currently under way into the use of mycelium as a construction material and were recently featured in Lokko's Hack the Root exhibition at RIBA North.
Gavin hopes that visitors to the new exhibition will be stimulated to find out more not only about mushrooms but about nature in general. The show will be accompanied by a programme of events including a rather intriguing-sounding mushroom film night.
---
Mushrooms: The Art, Design and Future of Fungi, from 31 January-26 April 2020, Terrace Rooms, South Wing, Somerset House, Strand, London