Georgia O'Keefe's remarkably prolific landscape paintings give a different insight into an artist best known for her flowers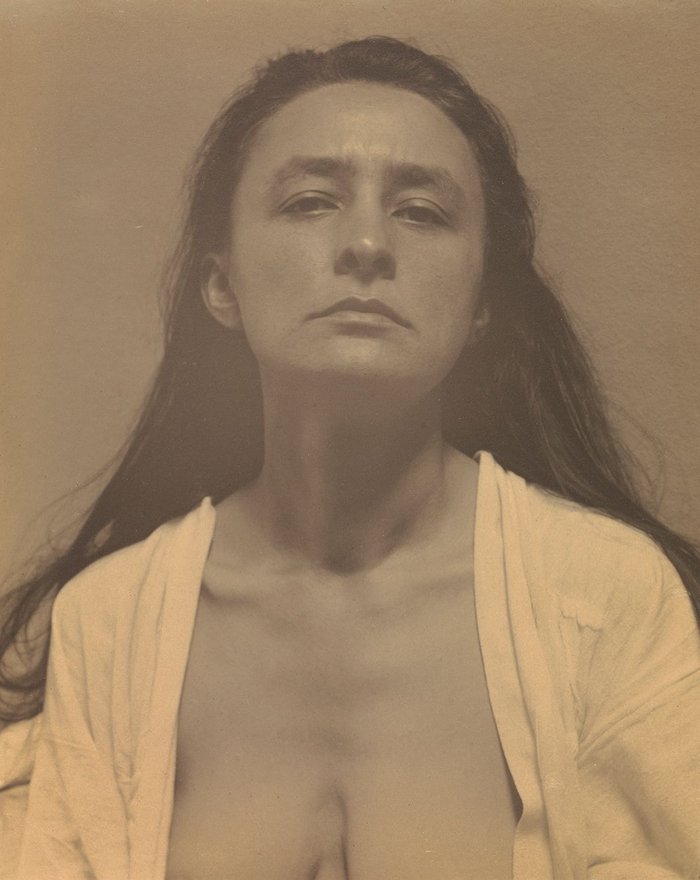 Georgia O'Keeffe (1887-1986) is so readily associated with exquisite depictions of flowers and bones that it's a revelation to discover the full breadth of her work in the Tate Modern's new retrospective of the great American modernist painter.
Unlike her previous, rather negatively-reviewed, London show at the Hayward Gallery in 1993 which focused primarily on florals, the stars of this new exhibition are abstracted landscapes, particularly those of New Mexico, where she eventually made her home. And most unexpectedly of all from an artist with such an affinity with natural form, the show also includes cityscapes and studies of buildings, which reveal her interest in unusual perspective.
O'Keeffe's work was first exhibited 100 years ago in New York by her partner and later husband, the photographer and art promoter Alfred Stieglitz. During her time in New York, her paintings explored the fast transforming city landscape, with O'Keeffe seizing on the aerial perspective provided by their home some 30 storeys up in the Shelton hotel, then the tallest hotel in the world. Other paintings such as New York Street with Moon (1925) made the most of views from street level looking up the full height of the skyscrapers.
Lake George Barns by Georgia O'Keeffe, 1926. 
 Collection Walker Art Center, Minneapolis. Gift of the T.B. Walker Foundation, 1954
.

· Credit: 2016 Georgia O'Keeffe Museum/DACS, London

New York Street with Moon, by Georgia O'Keeffe, 1925. Carmen Thyssen-Bornemisza Collection on loan at the Museo Thyssen-Bornemisza, Madrid
.

· Credit: 2016 Georgia O'Keeffe Museum/DACS, London

Farmhouse Door and Window by Georgia O'Keeffe, 1929. The Museum of Modern Art, New York. Acquired through the Richard D. Brixey Bequest, 1945.

Black Cross with Stars and Blue by Georgia O'Keeffe, 1929
. Private collection
.

· Credit: 2016 Georgia O'Keeffe Museum/DACS, London

Black Mesa Landscape, New Mexico / Out Back of Marie's II by Georgia O'Keeffe, 
1930. Georgia O'Keeffe Museum. Gift of The Burnett Foundation.

· Credit: 2016 Georgia O'Keeffe Museum/DACS, London

Jimson Weed/White Flower No. 1 by Georgia O'Keeffe,1932
. 
Crystal Bridges Museum of American Art, Arkansas, USA
Photography by Edward C. Robison III.

· Credit: 2016 Georgia O'Keeffe Museum/DACS, London
She stopped painting cityscapes after the Wall Street crash and found new inspiration in the lush landscape of Lake George in upstate New York, in particular the dynamic nature of clouds and rivers. While landscapes began to dominate, throughout her career she continued to engage with architecture according to curator Tanya Barson, and was particularly interested in doorways, as in Farmhouse Door and Window (1929). This element is increasingly abstracted in later, highly reduced works such as My Last Door (1952-54). In these and her landscapes alike she demonstrated a modernity hitherto associated with city subjects, adds Barson.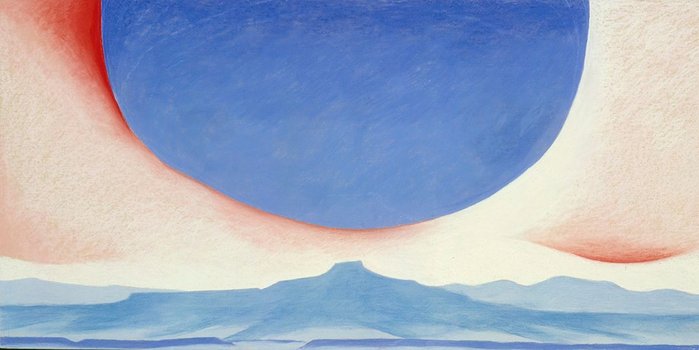 There are several splendid floral paintings, most notably Jimson Weed/White Flower No I (1932) as well as her well-known bones, but it's the New Mexico work that one senses was closest to her heart as it depicted the scenery that she loved the best.
'When I got to New Mexico that was mine. As soon as I saw it that was my country. I'd never seen anything like it before, but it fitted to me exactly,' she said of the expansive, often challenging desert.
The Black Place III, by Georgia O'Keeffe, 1945. Private collection.

· Credit: The Owings Gallery, Santa Fe, New Mexico

Wall with Green Door by Georgia O'Keeffe, 1953
. National Gallery of Art, Washington, Corcoran Collection
.

· Credit: 2016 Georgia O'Keeffe Museum/DACS, London

My Last Door, by Georgia O'Keeffe, 1952-54. Georgia O'Keeffe Museum, Gift of the Burnett Foundation.

Exhibition view showing Sky Above the Clouds III/Above the Clouds III by Georgia O'Keeffe, 1963. Private collection, Texas.
The contours of the landscape proved highly fertile subject matter, turning natural formations into abstracted patterns and colours, sometimes juxtaposed with objects such as bones, which O'Keeffe said she liked for their shape rather than symbolism. In Pedernal (1945), the sky appears peeled open above a mountain with spiritual significance to Native Americans in the area.
'It's as if my mind creates shapes that I didn't know about,' said Georgia O'Keeffe of her landscape depictions.
Her later phase of abstractions in the 1950s and 1960s are another surprise, inspired by flying trips that gave her a further, aerial perspective of the landscape that she now knew so well. These sparse, tranquil paintings show a greater level of abstraction, with the clouds resembling lily pads on a pond as seen from above in Sky Above the Clouds/Above the Clouds III (1963).
O'Keeffe will probably always be best known for her floral paintings. But this exploration of her very long career provides a context for them and goes a long way to giving her landscapes – and cityscapes – the greater recognition they deserve.
Georgia O'Keeffe, until 30 October 2016, Tate Modern, Bankside, London
---