Architects need critical friends among the public they build for if they are to remain connected, and their work relevant
At a recent gathering of architects B Corp came up. It is a way of telling the world you are on the side of the good. You sign up to it as a company for verifiable proof that, among other things, you 'aspire to do no harm and benefit all'.
But of course most architects do find themselves enemy number one at some time in their professional lives. You see it at the planning committee, or during community consultation when most in the room are suspicious of the project, questioning the size, scale and impact of the design, seeing how you threaten their way of life whether it is bringing cars, noise, more people, the wrong people or taking away views, light or familiar territory.
As I watch an excavator taking sofa-sized scoops out of a local field for phase 2 of a development, I think about all the consultations I have looked up or taken part in over the years. Architects and consultancy consultants turn up with bright drawings and soft-edged renders as the vanguard for the actual physical violence brought by scraping away the earth to lay foundations and queues of lorries delivering clouds of dust. The balloons at the consultation door don't last beyond planning, though the promising website remains as testament to the art of persuasion and aspiration. Consultation has become a phase and it stops at the planning decision. What's left after that is marketing.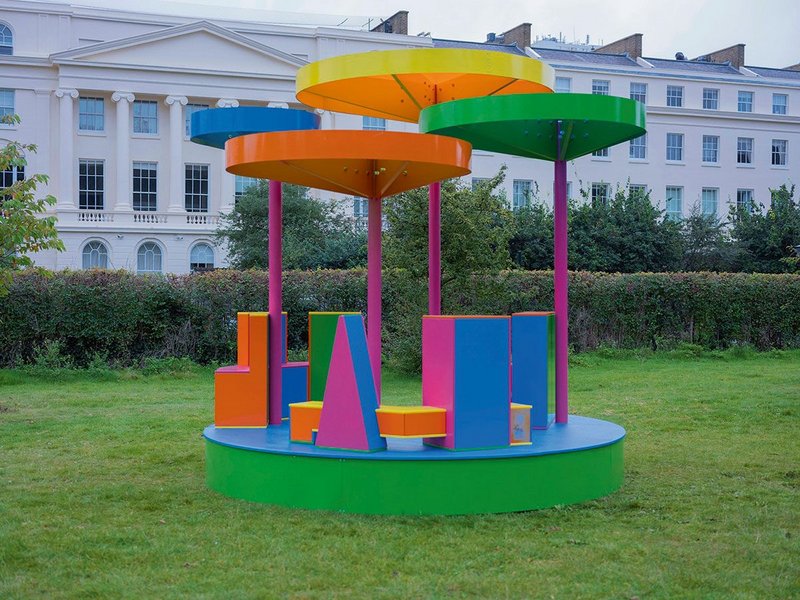 Bringing Home to the Unknown in Regent's Park gives skill and voice to the young people of Becontree.
So I am cheered to hear about the other ways that architects are engaging the public with the hope and joy of architecture; cheered by the visits and videos of Open House, the energy of Scotland's Architecture Fringe and the London Festival of Architecture. And there are all those grass roots projects both in schools and out, soon to be recognised by the Inspiring Future Generations Award, set up by Open House founder Victoria Thornton, that will encourage those who help children and young people to engage in and advocate for a better built environment.
Last month a bright and playful little structure, Bringing Home to the Unknown, staked out a piece of ground in Regent's Park in central London with a piece of Becontree. RIBAJ Rising Star Shaun Adams' POoR Collective has been co-designing with students from the alternative provision school of Mayesbrook Park to put their mark on this distant 'mythical' place that is only 15 miles up the road from their homes in Dagenham. It is a hopeful sign of how architecture can embolden those who society marginalises.
Architecture and development need critical voices from the communities they are building in. They need a public that will engage and can interrogate schemes intelligently rather than fearfully. And by reaching out in other ways architects can make consultation a little bit more meaningful, perhaps coming to a deeper understanding that it is a genuine two-way exchange. And to be on the side of the good.