There's a new and already very successful architect on the block – yet it seems strangely familiar. RIBA Journal introduces you to MICA Architects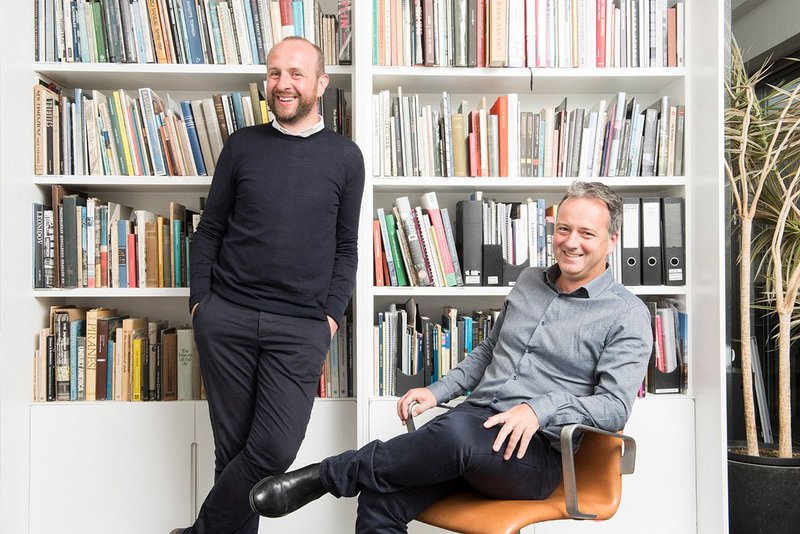 Stuart Cade (left) and Gavin Miller in Rick Mather's old office, now a library.

Credit: Ivan Jones
Meet MICA Architects. Never heard the name? Hardly surprising – this article is its first appearance. But you will very likely be familiar with their old one, Rick Mather Architects. Rick, the urbane, witty garden-making American who became indispensable to universities (Oxford and UEA among them) and arts institutions (Dulwich Picture Gallery, Ashmolean, Virginia Museum of Fine Arts) plus housing and much else, died at 75 in April 2013. Since then the projects he was involved with have mostly completed and the practice has flourished under his younger partners, doubling in size. It's time, say Gavin Miller and Stuart Cade, to let go of Rick's name. But never let go of the Rick ethos.
MICA? It's simply the first two letters of each of their surnames. Miller and Cade are 50 and 42 respectively, so are anyway in the decade many architects choose to establish their own practice after working for others. In this case, they explain – because of Rick's habit of letting younger architects in the firm take command of projects earlier than most – they have long been used to representing the practice anyway. There was a succession plan in place which simply clicked into action. Notoriously they lost one significant American competition win, the Peabody Essex Museum in Salem, Massachusetts, immediately on the news of Rick's death – indeed, even before his funeral, says Miller drily. As far as that museum was concerned, Rick was the firm. How wrong it was. All the other clients stayed loyal.
Miller and Cade steadied the ship, keeping the name, new and larger jobs were won, staff recruited. While Mather's practice famously punched above its weight (coming second in the competition for the British Museum revamp won by Foster), it was sometimes seen as being too small for larger projects, finding itself yoked with other practices (such as BDP at Greenwich's National Maritime Museum). Not any more: the urbanism strand of its work, which came to the fore with the very effective Mather masterplan for London's South Bank as carried out by Allies & Morrison and others, has borne fruit in such large-scale commissions as the Croydon town centre plan including the revitalisation of the Fairfield Halls ­theatre/concert hall/art gallery complex. That's under way right now and will include a lot of new social/affordable housing.
But that is only one project among many, including a continuing series of careful expansions for Oxford colleges , a regeneration masterplan for the city of Lancaster, a new social housing mini-tower to the rear of London's Centre Point which is a classic piece of Matherish efficient planning, and a new medical school complex for King's College London at St Thomas's Hospital in Lambeth. Since Rick's death they have won more than 20 competitions and created dozens of jobs. At present there are 52 people in the parquet-floored former snooker hall above the shops on Camden High Street – originally Montague Burton the tailor – where the practice has been for decades.
Both men arrived when Rick was staffing up to handle the flurry of Lottery-funded projects he had won, helped by the exposure he'd received over the British Museum. Miller joined in 1995 to work on the Maritime Museum, Cade a year later as a part 1 student to help with Dulwich ('I was doing toilet layouts for eight months,' he says. 'They're classically tight. That was always the Rick test: how many toilets do you need? Right –make them as tight as you can to allow maximum space for café, gallery, front of house.' Rick's famous planning efficiency is something the new practice is imbued with, says Miller.
Equally key to the Rick approach was not to over-control his talented staff. 'For our age we did big things,' says Miller, Cade adding: 'He was the lead, but he gave a lot of latitude to people in the office to run projects.' Again, this attitude has continued so that today the two partners are part of a leadership group of 14 people including five associate directors.
We meet and talk in the semi-private space that used to be Rick's office, overlooking the garden terrace behind. These days it's a small library, lined with classic titles but otherwise kept pretty much as it was. Elsewhere in the office are piece of Rick's tubular-steel furniture as inspired by Eileen Gray and the Bauhaus. Some have recently been restored. So there's no erasing of the past going on here, rather an acknowledgment of the patrimony of the place as the practice moves forward.
If the large-scale masterplanning and landscape is one of the expansion moves – something the partners see as associated with Rick's aptitude for gardening – they continue to be known as a go-to practice for new buildings in incredibly sensitive historic contexts. Often this means sinking new facilities into the ground. 'We get approached for highly challenging jobs and we do like digging down,' acknowledges Cade. 'It's all about solving difficult problems in tricky contexts,' Miller agrees. In project after project – Keble and Mansfield and Queen's Colleges Oxford, the medical school for King's College London, the library and lecture theatre for Lincoln's Inn college of barristers – there is a lot of excavation before the roof goes on, the terraces, quads or gardens are put on top and daylight is brought down to the depths through various clever means (Mather was a disciple of Soane in this regard). In Oxford, often there's a specialist institute involved rather than merely expansion of existing functions.
And then there's some important but largely invisible work, such as a series of beautifully-produced feasibility studies for Transport for London which are all about the potential for housing around transport hubs existing and – reviving the Metroland principle – on possible new lines. Add to this the low-energy credentials that the practice has been noted for since the 1980s, and it's a formidable combination of aptitudes to find in one place.
They don't have a motto, but when I ask Miller and Cade about the Mather approach, they come up with a phrase I constantly heard Rick utter: 'Giving something to the street'. He meant that the building should never be an isolated or defensive object, but one that activates the spaces around it. For MICA, this mantra continues to hold good and clearly strikes a chord with its clients. The work will continue to be all about people.