As the author and designer turns 70 he selects three books from his overflowing shelves to launch our new series on volumes that have been influential markers in designers' lives and practice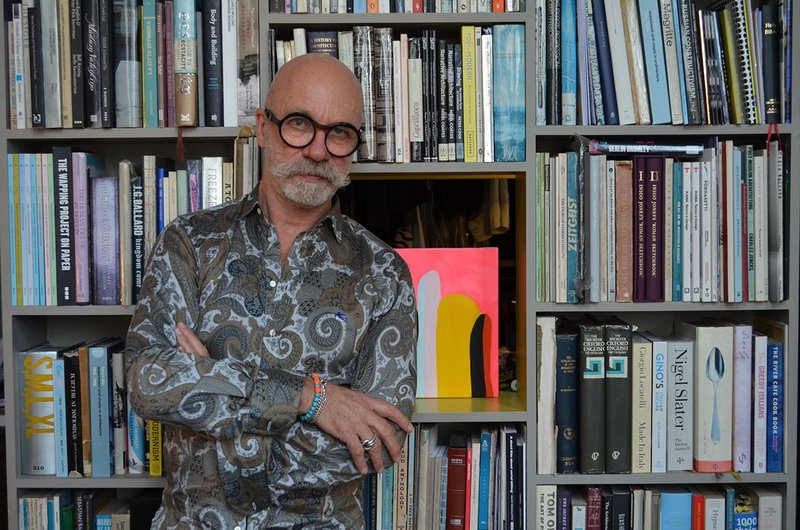 Nigel Coates at home in front of his bookshelves.

Credit: Charlotte Collins, RIBA.
Nigel Coates' bookshelves are in his studio home above a small supermarket on the Old Brompton Road. The street perfectly appeals to his love for both tat and the exuberant. Parallel delights in gritty urban life and baroque expression have characterised his work since the 1980s, when he made his name with NATO magazine at the Architectural Association and designing a series of extraordinary bars in Tokyo. His Japanese interiors fused found and design objects with high art and everyday references, encapsulating the spirit of the music and fashion subculture of the time.
Ascending the stairs to Coates' apartment you leave behind a surprisingly unkempt corner of South Kensington, and are struck by a sense of European elegance and the diffusion of natural light. Full-length windows and high ceilings elicit grandeur from the interlinking rooms which form an enfilade around a corner block.
Coates has lived in the flat since 1971 when he shared it with nine other students. London then was grey yet extraordinarily exciting for a boy who had just left the provinces – he was brought up in Malvern and went to university in Nottingham before attending the Architectural Association. The city remained under a film of soot, the legacy of coal fires. The grander houses nearby had been converted as many as 30 bedsits. Coates' social life was contained in a circle between South Ken/Earls Court and with the emerging Punk scene prompting occasional incursions to The Roxy in Neal Street. By the early 80s he had taken ownership of the flat and removed the dirt and debris left by decades of tenants. He transformed it into a fun palace: a gallery for his artist friends' work with clouds painted on the ceiling and revamped furniture scavenged from the street. It also provided the essential springboard for his career. In 1982 Peter York, the style editor and author of The Official Sloane Ranger Handbook, featured the interior in Harpers & Queen. The article was syndicated internationally and came to the attention of Sy Chen, then a scout for the World Corporation, which directly resulted in Nigel undertaking 25 projects including three buildings in Japan over the next few years.
Coates' bookshelves are in a study/dining room in a freestanding unit that is both bookcase and partition (behind it the room is given over to a wardrobe). These shelves house but a fragment of his book collection, which is divided between his homes in London and Tuscany. An eclectic range of volumes represent his preoccupations with history and theory on the top shelves and a cluster of cookery books in the middle.
Coates picked out three titles for RIBA Journal:
Italy: The New Domestic Landscape
Since the late 1960s, Coates has been a constant visitor to Italy, living there for much of the year. He travelled to Milan in 1967 to stay with his pen friend and had his first experience of homecooked Italian food. Italy has provided him with a point of reference for modernity as well as gastronomy and party culture and, for him, it has retained an essential authenticity. He has recently opened a studio in Florence by the Porta Romano, around the corner from the convent where he stayed as a student.
Italy: The New Domestic Landscape was the catalogue for the exhibition of the same name at MoMA in the summer of 1972, curated by Emilio Ambasz. It combined 'environments and objects' and brought to the fore Italy's most exciting architects and designers, such as Gaetano Pesce, Superstudio, Archizoom, Ettore Sottsass and Gae Aulenti, many of whom Coates was to meet at a later date. He did not see the exhibition or even visit New York for another decade or so, but the catalogue reached him at an important time in 1973, when he was in Bernard Tschumi's newly formed unit at the AA. Tschumi, who had been attracted to London by Archigram, was preoccupied with choreography, notation and a structuralist approach. The catalogue opened up a whole new range of radical and vibrant design possibilities for Coates.
Peter Ackroyd's London: the Biography
The city, and particularly London, is a consistent thread running through Coates' work. It culminated in his book Guide to Ecstacity (2003) and exhibitions at Tate Modern and Venice Architecture Biennale in 2007 and 2008.
For Coates, Ackroyd's biography (2000) perfectly captures the irrepressible spirit of place with 'a beautiful turn of phrase'. Through an artful use of narrative, it taps into London's temperament. 'It gets under the city's skin by describing its weaknesses and obsessions, exposing its fault lines,' says Coates. 'Its passages on its enduring magnetism, its waves of immigration, and cyclical interdependence between its gentry and the hoy palloi, could not be more apt. The Thames is its life blood; dumped in for centuries, it is simultaneously lifeline and sewer.' It highlights the extreme separation between London and other cities in the UK. London is uncompromisingly confident. It understands itself. This is also its nemesis. To the rest of the country, the metropolis can all too easily appear 'loud, snotty and privileged'. People across the ages from outside the capital have remained suspicious of it. This included Coates' dad. For Coates, leaving for London meant a one-way ticket from Malvern.
Piranesi's 'Views of Rome' (Vedute di Roma)
Coates has recently returned to Piranesi's 'Views of Rome', which highlights a startling similarity with contemporary London. The views reveal an accumulated sense of ruin and adaptation. Everyday 18th-century life takes place among the Eternal City's ancient monuments and muddy Baroque streetscapes, depicting a whole cast of small figures ranging from strolling aristocrats to tradesmen and cowherds. These skillful images pitch documentary accuracy against a picturesque sense of the shambolic. With the use of a painting programme on his iPad, Coates has been experimenting with the prints by adding further layers and accretions to Piranesi's original engravings, as if hauling these scenes into the present. It is a project that builds on Coates' enduring passion for the accidental extremes of urban life, encompassing decay and splendour in a single view.
---
Helen Castle is publishing director at the RIBA